The Mindfulness Coloring Book – Volume Two
More Anti-Stress Art Therapy for Busy People
Engage Your Creativity and Color Your Way to Calm
In The Mindfulness Coloring Book, an international bestseller, illustrator Emma Farrarons invited busy people everywhere to relax and re-center by coloring in her delightful, hand-drawn scenes. Now, with The Mindfulness Coloring Book—Volume Two, Emma shares 100 pages of all-new designs that will inspire you to cultivate mindful focus—simply by coloring!
Here are intricate geometric patterns, flowers, and friendly squirrels—plus owls, charming knickknacks, a surprise pineapple, and more. This travel-size book is the perfect antidote to too much screen time. Find whimsy—and mindfulness—wherever you are!

Download sample coloring pages!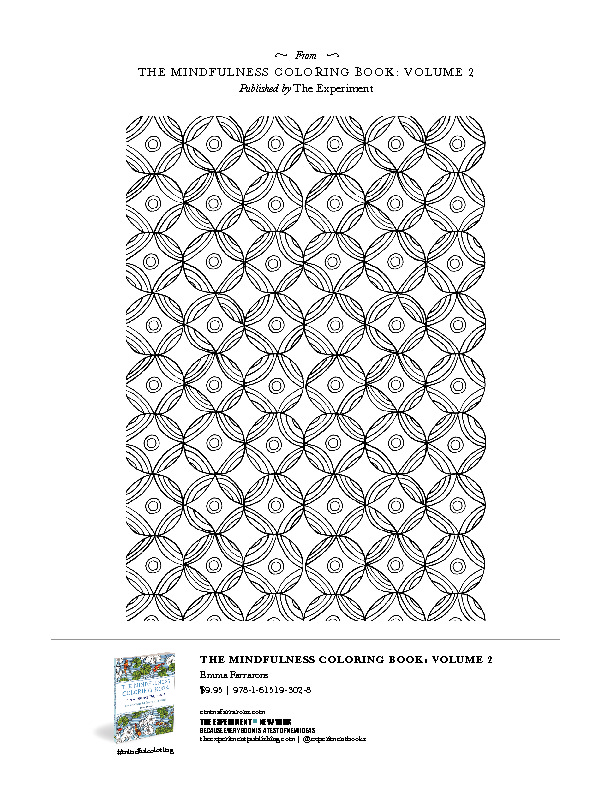 We are so excited to see what you can color! Share your creations via social media with #MindfulColoring
★ National Bestseller
Mindfulness Coloring series
Two counter displays available
16-copy dual display:
978-1-61519-303-5 | $159.20
6-copy single book display:
978-1-61519-330-1 | $59.70
To order, please contact our distributor,
Workman Publishing
, and reference product number 779303 (dual) or 779330 (single).