In case you didn't hear the fireworks from Philly two weeks ago, the Philadelphia Eagles will play the New England Patriots in the Super Bowl in just a few short days. It's going to be a heated game: the (maybe) greatest quarterback of all time versus the entire city of Philadelphia's wildest hopes and dreams for a second stringer. Whatever, we're just here for the snacks.
Super Bowl Sunday is arguably the most important snacking holiday of the year. Maybe you're a devout fan of the game, maybe your team didn't even make the playoffs, maybe you only watch football once a year–no matter your interest, chances are you're still going to that viewing party because people will be too distracted to notice you make a second (third, fourth) trip to the snack table. You could order a bunch of greasy pizza and chicken wings, but we think this holiday, as other holidays, deserves some careful, thought-out preparation. Which is why we're bringing you the ultimate snack guide for game time. Oh, and side note: these recipes are all vegan. The snacks are just as good, you won't alienate any party attendees, and you might even do a nice thing for your body (good fuel for not climbing greased street poles).
We've got a New England-themed dish if you're a Patriots fan, a Philly-themed dish for the Eagles fans, and then just some darn good snacks for the rest of us. Read on, friends.
###
For Patriots fans:
Sea Chowder & Shiitake Bacon from Ocean Greens
Sea-based chowders are a New England staple. Now, vegans can enjoy this slightly sweet, perfectly salty treat, too. This chowder uses sweet and summery corn, and its creaminess comes from potatoes. The saltiness is courtesy of a true king of the sea: kombu. The shiitake bacon with its intense, savory flavor tops it all off.
SEA CHOWDER
Olive oil for sautéing
1 large white onion, finely chopped
3 garlic cloves, minced
1 small red chile pepper, seeded and minced
3½ cups (500 g) fresh corn kernels (from about 2 ears)
3 medium potatoes, peeled and cubed
1 teaspoon thyme
2 bay leaves
5¼ cups (1.25 L) water
0.25 ounce (7 g) dried kombu
Fine sea salt and freshly ground pepper
SHIITAKE BACON
Olive oil for sautéing
7 ounces (200 g) shiitake mushrooms, wiped clean and thinly sliced
2 tablespoons soy sauce
1 heaping teaspoon smoked paprika (pimentón)
2 to 3 teaspoons maple syrup
1. To make the sea chowder, heat a splash of olive oil in a stockpot. Sauté the onion until golden brown, about 5 minutes. Add the garlic and the chili pepper and cook for 3 more minutes. Add the corn, potatoes, thyme, and bay leaves. Stir for a couple of minutes. Add the water and kombu. Bring to a boil and lower to a simmer for 20 minutes, the pot partially covered with a lid.
2. To make the shiitake bacon, heat a splash of oil in a skillet and sauté the shiitakes until golden brown all around. Douse with the soy sauce and stir, allowing the shiitake mushrooms to fully absorb the liquid. Sprinkle with smoked paprika and the maple syrup. Stir thoroughly and allow the mushrooms to caramelize (this process goes quickly, so be careful). Remove from the heat.
3. Remove the kombu from the soup. Cook for another 5 minutes, uncovered. Remove from the heat. Scoop out the bay leaves. Puree the soup with a stand or immersion blender until completely smooth. Season with sea salt and pepper.
4. Serve in bowls together with the shiitake bacon and garnish with fresh herbs.
###
For Eagles fans:
Pretzel Dumplings with Mushroom-Sauerkraut Gravy from But I Could Never Go Vegan!
There's nothing more Philadelphia than a good soft pretzel–this recipe takes the best of soft pretzels and gives you a delicious, hearty meal. Need we say more?
DUMPLINGS
4 medium soft pretzels, chopped into ½-inch (1 cm) chunks
1¾ cups (430 ml) warm non-dairy milk
¼ cup (30 g) chopped shallots
6 tablespoons (60 g) bread crumbs
5 tablespoons (55 g) whole wheat flour
¼ teaspoon garlic powder
¼ cup (10 g) chopped fresh parsley
Salt and black pepper to taste
GRAVY
4 cups (1,000 ml) vegetable broth, divided
3 tablespoons arrowroot powder
1 teaspoon extra virgin olive oil
½ medium yellow onion, diced
1 garlic clove, minced 8 ounces (225 g)
sliced button or cremini mushrooms
½ cup to ¾ cup (130 to 195 g) sauerkraut (depending on preference), optional
1 teaspoon dried sage
1 teaspoon dried thyme
⅛ teaspoon black pepper
2 tablespoons nutritional yeast
Salt to taste
1. Place the pretzel pieces in a large bowl. Add the warm non-dairy milk to the bowl and stir until all the pieces are submerged. Cover and let sit for 30 minutes.
2. After 30 minutes, use a potato masher to mash the pretzel pieces for a couple minutes, until a little mushier, with chunks still remaining. Add the shallots, bread crumbs, flour, garlic powder, parsley, salt, and pepper.
3. While the pretzel pieces are soaking, start the gravy. In a medium bowl or large measuring cup, whisk together 2 cups of the broth with the arrowroot powder. Set aside.
4. Heat the oil in a large pot or saucepan over medium heat. Add the onion and garlic and sauté until the onion is just starting to become translucent. Add the mushrooms andcook until tender, stirring occasionally. Add the broth mixture and the remaining 2 cups of broth. Stir in the sauerkraut, sage, thyme, and pepper.
5. Bring to a boil, then quickly reduce the heat and simmer for 10 minutes, stirring occasionally, until slightly thickened and reduced. Add the nutritional yeast, taste, and add salt if necessary.
6. Measure out a scoop of the mixture (using a ⅓-cup/80 ml scoop for smaller dumplings or a ½-cup/120 ml scoop for larger dumplings). Gently shape into a ball and place into the gravy. Repeat with the remaining dumpling mixture. It is okay if the dumplings are close or barely touching, but try to space them evenly. Simmer (not boil!) for 15 minutes. Gently flip over the dumplings and simmer for 5 more minutes. Use a slotted spoon to scoop out the dumplings; serve them topped with the gravy. Leftovers can be chilled in an airtight container 1 to 2 days.
###
For the rest of us
:
Curried Lentil Walnut Sliders from Superfoods 24/7
When mixed together, ground lentils and walnuts have a "meaty" texture, with all the protein and fiber your body needs. These mini sliders are spicy, sweet, and tangy and topped with a fresh, crunchy salsa. For a gluten-free option, use gluten-free buns.
SLIDERS
1 cup (75 g) cooked lentils (brown, French, or puy)
1 cup (100 g) walnuts
1 teaspoon curry powder
1⁄2 tablespoon liquid aminos
2 tablespoons mango chutney, plus extra to serve (optional)
8 mini slider buns
SALSA
1 mango, peeled and diced
1⁄2 cup (75 g) edamame beans
1⁄2 cup (50 g) diced, seeded cucumber
squeeze of lime juice
pinch of chili flakes
1. Preheat the oven to 400°F (200°C). Line a baking sheet with parchment paper.
2. Place the lentils and walnuts in a food processor and process to a chunky mixture. Remove to a bowl and mix in the curry powder, liquid aminos, and mango chutney by hand.
3. Form the mixture into eight equal patties and place on the baking sheet. Bake for 20 minutes, flipping the patties after about 12 minutes, until they are lightly browned on both sides.
4. For the salsa, combine all the ingredients in a food processor and pulse just a few times to chop finely.
5. Serve the sliders on buns with salsa and any other toppings you desire. Another smear of tangy mango chutney is perfect.
###
Cucumber Dill Hummus
from
Easy. Whole. Vegan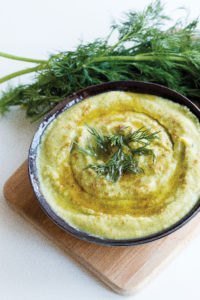 1½ cups (250 g) cooked chickpeas (or one 15-ounce [425 g] can of chickpeas, drained and rinsed)
¾ cup (100 g) peeled and chopped cucumber
¼ cup (8 g) freshly chopped dill
¼ cup (75 g) tahini
2 garlic cloves, minced
1½ teaspoons ground cumin
Juice of 1 lemon (2 to 3 tablespoons lemon juice)
½ teaspoon salt (or to taste)
1 to 3 tablespoons water
1 tablespoon olive oil, optional
1 Place the chickpeas, cucumber, and dill in a food processor. Blend for 1 minute.
2. Add the remaining ingredients except the water and olive oil and blend until smooth, 1 to 2 minutes.
3. Add the water 1 tablespoon at a time, until you reach your desired consistency. It should be very creamy.
4. Serve immediately or refrigerate for later. This hummus should last at least a week in the fridge. You can also freeze it for up to 3 months.
###
Mocha, Almond & Chocolate Chunk Brownies
from
YumUniverse Pantry to Plate
Roasted chicory root tea is a nice caffeine-free substitute for coffee in these brownies if you want to change it up.Be sure to source a gluten-free, vegan chocolate bar if you have sensitivities. I highly recommend serving warm with vanilla Nice Cream and/or Butterscotch.
¾ cup (110 g) raw, unsalted almonds
Pinch plus ½ teaspoon salt
½ cup (120 ml) unrefined coconut oil, gently warmed to liquid, plus more for greasing
1¼ cup (200 g) brown rice flour
1 cup (200 g) Sucanat
¾ cup (85 g) blanched almond flour
½ cup (25 g) cocoa/cacao powder
1 teaspoon baking powder
1 teaspoon baking soda
¾ teaspoon ground psyllium husk
1½ cups (195 g) diced carrots, steamed and puréed
½ cup (120 ml) warm water
3 tablespoons maple syrup
2 teaspoons vanilla extract
1 cup (170 g) chopped dark chocolate (one to two 3-ounce/85 g bars)
¼ cup (20 g) fine-ground coffee
1. Preheat the oven to 350°F (180°C) and line a baking sheet with unbleached parchment paper. Scatter the almonds in one layer on the sheet and sprinkle with a pinch of salt. Roast for 7 minutes, remove, cool, chop, and set aside.
2. Grease an 8- or 9-inch (20 to 23 cm) square baking dish with oil. In a large bowl, stir together the rice our, Sucanat, almond our, cocoa powder, baking powder, baking soda, psyllium, and the remaining 1⁄2 teaspoon salt.
3. In another bowl, whisk together the carrot purée, oil, water, maple syrup, and vanilla extract. Pour into the dry ingredients and mix together until thoroughly incorporated, then fold in the chocolate, coffee, and almonds. Spread in the baking dish and bake for 25 to 35 minutes, until the edges and center are dry. Cool entirely in the dish, slice, and enjoy. Store in the fridge for a few weeks, or freeze for a few months.
###
Credit Lines:
Recipe from Ocean Greens: Explore the World of Edible Seaweed and Sea Vegetables by Lisette Kreischer and Marcel Schuttelaar. © Kosmos Uitgevers Utrecht/Antwerpen 2015, 2016. Translation © Maria M. Reimer and Victor Verbeck, 2016.
Recipe from But I Could Never Go Vegan!: 125 Recipes That Prove You Can Live Without Cheese, It's Not All Rabbit Food, and Your Friends Will Still Come Over Dinner, copyright © Kristy Turner, 2014.
Recipe from Superfoods 24/7: More than 100 Easy and Inspired Recipes to Enjoy the World's Most Nutritious Foods at Every Meal, Every Day © Quantum Publishing, 2015.
Recipe from Easy. Whole. Vegan.: 100 Flavor-Packed, No-Stress Recipes for Busy Families © Melissa King, 2016.
Recipe from YumUniverse Pantry to Plate © Heather Crosby,2017