Happy World Vegetarian Day! World Vegetarian Day occurs every year on October 1st and was created to celebrate the healthy, compassionate option of going meat-free–even if only for one day! Eating meat-free for even one day a week, or one month per year, would have enormous benefits for both your health and our planet. And we think it might inspire some creativity in the kitchen as well. But you don't need to just take our word for it–here is a full day's worth of recipes from a variety of our vegetarian-friendly cookbooks–why not take a vegetarian lifestyle for a test run? Even if it's just for a day!
Learn more about World Vegetarian Day here.
###
Breakfast Tofu
From:
The No Meat Athlete Cookbook: Whole Food, Plant-Based Recipes To Fuel Your Workouts–And the Rest of Your Life
by Matt Frazier and Stepfanie Romine
Makes: 12 slices
Time: 10 minutes to prep, 30 minutes to cook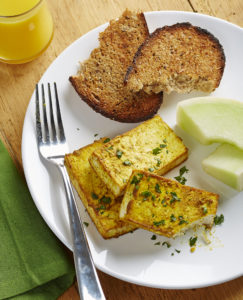 This breakfast tofu is a mobile version of a tofu scramble, which—while delicious—doesn't travel well and requires stovetop supervision. Wrap a couple of slices of this tofu in a brown rice tortilla, or sandwich it between two slices of sprouted grain bread with loads of arugula, avocado, and even a few leftover cold roasted root veggies. If you make a big batch on the weekend, you can have your weekday breakfasts prepped and ready to go in three minutes flat. Although we prefer to serve this tofu at room temperature or cold from the fridge (it firms up as it cools), it can be eaten right away, too.
Two 16-ounce (454 g) packages sprouted or extra-firm tofu, drained
1 tablespoon reduced-sodium, GF tamari
¼ cup (15 g) nutritional yeast
1 teaspoon ground cumin
½ teaspoon garlic powder
½ teaspoon ground turmeric
½ teaspoon yellow curry powder
¼ teaspoon black pepper
1. Preheat the oven to 400°F (200°C). Line a baking sheet with parchment paper.
2. Slice each package of tofu into six pieces. Pat dry. Drizzle evenly with the tamari.
3. Combine the nutritional yeast, cumin, garlic powder, turmeric, curry powder, and black pepper in a large rectangular food storage container with a tight-fitting lid. Place the sliced tofu in the container and shake gently until all slices are covered. (You might need to open the container and rotate the slices a bit.) Let sit while the oven preheats. (The marinated tofu can be refrigerated for up to 1 day.)
4. Place tofu on the baking sheet. Spread any extra seasoning mix on top. Bake for 30 minutes, flipping halfway through.
5. Serve at room temperature or cold from the fridge.
###
Chickpea Tzatziki Dip
From:
Chickpea Flour Does It All: Gluten-Free, Dairy-Free, Vegetarian Recipes for Every Taste and Season
by Lindsey Love
Tzatziki is a Greek yogurt–based sauce and dip. It's served cold and is flavored with cooling cucumbers, garlic, and lemon juice. Chickpea flour is used here to form that creamy base that tzatziki is known for without the yogurt and does a remarkable job of duplicating it entirely. This is best made the day before you plan to serve it, but can also be made the morning of; it needs time to cool and for the flavors to meld. This dip is great to serve alongside chickpea flatbread for dipping, olives, and a big salad.
Makes: roughly 1ó cups // serves: 4 to 6 // prep time: 12 hours // cook time: 4 hours
1 medium cucumber, grated with a box grater
1 cup (240 ml) water
¼ cup (30 g) chickpea flour
¼ cup (45 g) raw cashews, soaked overnight and drained
2 garlic cloves, roughly chopped
1 tablespoon apple cider vinegar
1 tablespoon extra virgin olive oil
1 tablespoon lemon juice
Coarse sea salt and freshly ground pepper
2 tablespoons chopped dill
1. Place the grated cucumber in a fine-mesh sieve. Use your palm and push to squeeze out as much liquid as possible; set aside.
2. In a small saucepan, whisk together the water and flour until smooth. Turn heat to medium and continue whisking until the mixture thickens, about 6 to 7 minutes; the mixture will resemble a roux or melted cheese. Remove from the heat.
3. Place the flour mixture, cashews, garlic, vinegar, oil, lemon juice, and salt and pepper, to taste, in a high-speed blender; blend for 1 minute, until smooth. Pour the mixture into a bowl; stir in the grated cucumber and dill. Let the tzatziki come to room temperature then refrigerate for at least 4 hours.
4. Remove from the refrigerator when ready to serve and give it a good stir.
###
Slow-Baked Artichoke Frittata, Watercress Pesto and Slow-Roasted Tomatoes
From:
Good Veg: Ebullient Vegetables, Global Flavors–A Modern Vegetarian Cookbook
by Alice Hart
Serves 4 to 6
Cooking a frittata slowly and gently, as you would a quiche, makes perfect sense if you have ever tried cooking one under the broiler—as I have—and cut into it only to find an unwelcome layer of runny egg hiding under a beautifully browned top. You won't have that problem here. Use any almonds you like in the watercress pesto: Skin on, blanched or sliced will all do perfectly.
1 pound (500 g) flavorful tomatoes, halved if larger than a walnut
1 cup (200 g) charred artichoke hearts in olive oil, drained (oil reserved)
Sea salt and freshly ground black pepper
2 garlic cloves, roughly chopped
Large pinch of chile flakes
¼ cup (30 g) roughly chopped almonds
2 bunches of watercress
½ to ¾ cup (120 to 200ml) extra virgin olive oil, or other cold-pressed oil, plus more to serve
½ cup (50 g) finely grated vegetarian Parmesan cheese
Lemon juice, to taste
1 red onion, finely sliced
12 eggs
1. Preheat the oven to 350°F (180°C). Put the tomatoes on a baking sheet, drizzle with a little oil drained from the artichokes, season with salt and pepper and put in the oven to roast slowly; they'll be ready at the same time as the frittata.
2. Pound or blend the garlic, chile flakes and a pinch of salt with a mortar and pestle or in the bowl of a mini food processor. Add the almonds and pulverize by hand or machine until roughly chopped. Reserving a handful of the prettiest watercress sprigs for later, add the rest of 1 bunch of watercress to the mortar or food processor bowl. Again, pound or blend, adding enough extra virgin olive oil to loosen and get the pesto running freely, starting with ½ cup/120 ml. Stir in half the grated Parmesan and check the seasoning, using a little lemon juice to brighten, if you like.
3. In a large, heavy-based frying pan (ideally 10 inches/25 cm in diameter), cook the sliced onion in 2 tablespoons more drained artichoke oil with a pinch of salt over low heat for 10 minutes, until softened and lightly browned.
4. Lightly whisk the eggs with the remaining Parmesan and some salt and pepper in a mixing bowl.
5. Increase the heat under the onion pan. Add the artichokes and remaining watercress (except the reserved sprigs), stirring over the heat for 30 seconds to wilt the greens. Pour in the egg mixture and cook for a further 30 seconds. Slide the pan into the oven and cook for 25 to 30 minutes, until the eggs are just set and the tomatoes look a bit shriveled (they will have had about 1 hour). Serve the frittata with a squeeze of lemon juice and a drizzle of extra virgin olive oil, the roasted tomatoes, watercress pesto and reserved watercress sprigs.
###
Apricot & Pear Crisp
From:
YumUniverse Pantry to Plate: Improvise Meals You Love—from What You Have!—Plant-Packed, Gluten-Free, Your Way!
by Heather Crosby
Serves 6+
In this recipe, we add flavor and sweetness by tossing fruit with apricot jam, and also adding some dried fruit for moments of chewy texture. This recipe is also nice with added dollops of Probiotic Cream Cheese before baking, but either way, serve warm with coconut cream, Nice Cream, and/or a drizzle of Butterscotch.
1/3 cup (80 ml) unrefined coconut oil, plus more for greasing (solid or liquid)
½ cup (75 g) raw, unsalted almonds, chopped finely
¼ cup (40 g) brown rice flour
¼ cup (20 g) flaked dried coconut
¼ cup (25 g) rolled oats
¼ cup (30 g) sorghum flour
¼ cup (60 g) plus 2 tablespoons Sucanat
¾ teaspoon sea salt
2 teaspoons arrowroot flour/starch
3 pears (Bosc, Bartlett or Anjou), peeled or skin on (chef's choice), sliced or diced (about 6 cups/480g)
½ cup (160 g) apricot jam
½ cup (85 g) dried apricots, chopped
2 teaspoons fresh lemon juice
1 teaspoon almond extract
1 teaspoon vanilla extract
1. Preheat the oven to 375°F (190°C) and lightly grease a 10- to 12-inch (25 to 30 cm) round or square baking dish with coconut oil and set aside. In a medium bowl, use a fork to combine the oil, almonds, rice flour, coconut, oats, sorghum flour, ¼ cup (60 g) of the Sucanat, and ¼ teaspoon of the salt until crumbly; set aside.
2. In a large bowl, sprinkle the arrowroot evenly over the pears and toss until thoroughly coated. Fold in the remaining 2 tablespoons Sucanat and ½ teaspoon salt, the jam, dried apricots, lemon juice, almond extract, and vanilla extract until well mixed.
3. Fill the baking dish with the fruit mixture and sprinkle evenly with the crumble mixture. Bake for 30 to 35 minutes, until browned and bubbling
###
Credit Line
: Recipe from The No Meat Athlete Cookbook: Whole Food, Plant-Based Recipes to Fuel Your Workouts and the Rest of Your Life © Matt Frazier and Stepfanie Romine, 2017. Photographs copyright © Ken Carlson, Waterbury Publications Inc.; Recipe from Chickpea Flour Does It All: Gluten-Free, Dairy-Free, Vegetarian Recipes for Every Taste and Season © Lindsey S. Love, 2016; Recipe from Good Veg: Ebullient Vegetables, Global Flavors—A Modern Vegetarian Cookbook © Alice Hart, 2016, 2017. Photographs copyright © Emma Lee, 2016, 2017; Recipe from YumUniverse Pantry to Plate © Heather Crosby, 2017. Photographs copyright © Heather Crosby, 2017. Reprinted by permission of the publisher, The Experiment. Available wherever books are sold. theexperimentpublishing.com