A day off work in the middle of summer to celebrate America, watch fireworks and parades, and hang out with family and friends? It's no wonder that the Fourth of July is one of the most beloved holidays in America.
Most typical Fourth of July food—think cookouts with burgers and hotdogs—is pretty meat-heavy, but there are plenty of options for those who don't eat animal products. Here, we present five vegan recipes perfect for a picnic or barbecue. (They're even red, white, and blue!)
Quinoa, Red Bean, and Walnut Burgers (from Veggie Burgers Every Which Way by Lukas Volger)
Makes six 4-inch burgers
Quinoa is a complete protein (a protein that itself contains all the necessary amino acids for our dietary needs) and a valuable grain to keep in your pantry. Its grassy flavor, which I'm not crazy about on its own, is a perfect component in this burger, with the scallions and ginger offering a clean, slightly spicy finish.
½ cup quinoa, rinsed thoroughly
1 small potato (4 to 5 ounces), peeled and chopped into 1-inch pieces
3 tablespoons olive oil
1 bunch scallions, including an inch of the green parts, thinly sliced
½ cup roughly chopped fresh parsley
2 tablespoons minced fresh ginger
1 ½ cups cooked red beans
½ cup roughly chopped toasted walnuts
½ teaspoon salt
Juice of ½ lemon
2 tablespoons Pomegranate-Sesame Sauce (see below)
Bring 1 cup water to boil in a small saucepan and add the quinoa. Reduce to a simmer, cover, and cook for 10 to 12 minutes, until the water is absorbed. Let stand for 5 minutes.
Meanwhile, steam or boil the potato until tender. Mash with a fork.
Heat 1 tablespoon of the oil in a medium skillet over medium heat. Add the scallions and cook just until fragrant, 1 to 2 minutes. Add the parsley and ginger and cook until fragrant, about 30 seconds.
In a large bowl, combine the cooked quinoa, cooked potato, parsley-scallion mixture, red beans, and walnuts with a potato masher or your hands. Add the salt and lemon juice. Shape into 6 patties.
In a large skillet or nonstick sauté pan, heat the remaining 2 tablespoons oil over medium-high heat. When hot, add the patties and spoon 1 teaspoon pomegranate sauce on top of each. Cook until the bottoms are browned, 4 to 5 minutes. Flip and cook the other sides until crisped and slightly firmed, 4 to 5 minutes more.
Pomegranate-Sesame Sauce
Makes ⅓ cup
Pomegranate molasses is a standard ingredient in Middle Eastern cuisines. It's nothing more than reduced pomegranate syrup, and is delicious in sauces and marinades and by itself as a drizzle over ice cream and oatmeal. It packs a puckering punch in this recipe; a little bit of the sauce goes a long way. Many grocery stores now carry pomegranate molasses, but you may need to head to a specialty store.
¼ cup pomegranate molasses
¼ cup soy sauce or tamari
1 tablespoon molasses
1 teaspoon sesame oil
Combine the pomegranate molasses, soy sauce, molasses, and sesame oil in a small saucepan. Cook over low heat, stirring occasionally, until reduced by half, 6 to 8 minutes. It will thicken as it cools. This sauce will keep for up to 2 weeks in the refrigerator.
---
Potato Salad
(from
Quick and Easy Vegan Celebrations
by Alicia C. Simpson)
**Bonus: Because there are no animal products in this potato salad, you don't have to worry about it spoiling in the sun!
Makes 6 to 8 servings
A cookout isn't a cookout without potato salad, at least in my humble opinion. I like to give my potato salad plenty of time to sit and let all of the flavors meld. I highly recommend refrigerating it overnight if you have the time. But if you're short on time, it is still sure to be the hit of your cookout even with only 30 or 40 minutes in the fridge.
1 pound russet or Yukon Gold potatoes, peeled and cut into ½-inch chunks
Pinch of fine sea salt
½ cup diced red onion
½ teaspoon yellow mustard
½ cup vegan mayonnaise
1 teaspoon sugar
6 tablespoons sweet pickle relish
1 celery rib, diced
Pinch of paprika
Place the potatoes in a medium stockpot with the salt and enough water to cover them by 1 inch. Boil until tender, about 20 minutes. Drain the potatoes and cool completely.
Mix the potatoes with the onion, mustard, mayonnaise, sugar, sweet relish, and celery in a large bowl. Transfer to a serving dish and sprinkle with the paprika. Serve cold.
---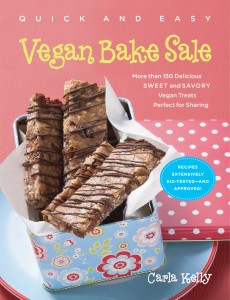 Strawberry Rhubarb Squares
(from
Quick and Easy Vegan Bake Sale
by Carla Kelly)
Makes 16 squares
I got the idea for these from an old magazine in a dentist's office somewhere. I love rhubarb, so they appealed on all sorts of levels. The eggs and cream theywere loaded with appealed less, so I took the idea and changed it just for me!
BASE
½ cup canola oil
¼ cup light brown sugar, packed
1 ½ cups all-purpose flour
½ cup whole-wheat pastry flour
½ teaspoon ground ginger
½ teaspoon ground cinnamon
½ teaspoon baking powder
¼ teaspoon salt
TOPPING
2 tablespoons vegan panko (see Notes)
1 cup granulated sugar
½ cup (5 ounces) tofu, firm silken (vacuum-packed)
3 tablespoons cornstarch
2 tablespoons soy milk
2 teaspoons baking powder
1 ½ teaspoons vanilla extract
½ teaspoon salt
2 ½ cups finally chopped rhubarb, about 4 medium stalks (see Notes)
½ cup sliced strawberries
Preheat the oven to 350°F and line an 8-inch square cake (brownie) pan with parchment paper.
Make the base
In a large bowl, mix together the brown sugar and oil.
Sift in the ingredients from flour through salt and mix to combine. The mixture will look crumbly but will hold together if squeezed.
Press the base evenly and firmly into the bottom of the prepared pan, then bake for 8 minutes, until very lightly golden.
Make the topping
In a small bowl, combine the turbinado sugar and panko.
Using your blender or food processor, blend the ingredients from granulated sugar through salt for the topping until smooth and creamy. Scrape down the sides of the bowl as necessary.
Transfer the blended mixture to a large bowl and stir in the rhubarb and strawberries.
Pour this mixture on top of the hot base, and sprinkle with the panko mixture.
Bake for a further 45 minutes, until the topping is golden brown with a crisp-looking sugar crust.
Remove from the oven and let cool in the pan. Slice into sixteen equal squares, and remove from the pan once completely cool.
Store, covered, in the fridge.
NOTES:
• Panko is a Japanese type of bread crumb that stays crisp during baking. Available in most supermarkets, health food stores, and Asian food stores, it is not hard to find.
• Ensure the rhubarb is chopped into small enough pieces to enable it to cook in the oven as the squares bake. Always remove any leaves or leaf bases from the stalks, as these are poisonous.
---
Patriotic Parfait
(from
Quick and Easy Vegan Celebrations
by Alicia C. Simpson)
Makes 4 servings
Presentation is everything when it comes to parfaits. The natural colors of the fruits and whipped cream are what make this healthy dessert so beautiful, so accentuate these colors with the perfect serving cups. Vintage milkshake glasses are a favorite to layer these parfaits in, or try using large wine glasses for a more sophisticated feel.
½ vanilla bean, split lengthwise
12.3 ounces firm or extra-firm silken tofu
⅓ cup Grade A maple syrup
1 tablespoon plain soy milk
2 tablespoons canola oil, optional
Pinch of fine sea salt
1 pound fresh strawberries, stemmed and sliced
1 pound fresh blueberries
Scrape the seeds out of the half vanilla bean with a spoon.
Put the tofu, maple syrup, milk, vanilla bean seeds, oil (if using), and salt into a food processor and blend until smooth. Refrigerate for at least 30 minutes. It is preferable to refrigerate this whipped cream overnight.
Divide the strawberry slices among 10- to 12-ounce serving glasses, then top with a few dollops of whipped cream. Top the whole thing off with fresh blueberries and serve.
Cook's Tip: I like using a little bit of agar to fluff up the whipped cream a bit. If you'd like to try this option, simply simmer 1 teaspoon agar flakes with ⅓ cup water until the agar flakes are dissolved. Simmer on low heat for 5 minutes, then add to the tofu mixture before blending.