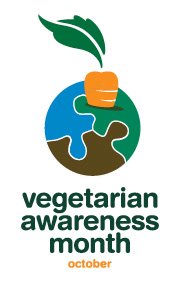 Happy Vegetarian Awareness Month! October 1st marked the kick-off of the North American Vegetarian Society's month-long campaign to encourage and educate people about vegetarianism—and we're very excited to help celebrate! World Vegetarian Day was first celebrated on 1st October in 1977 by the NAVS, and in the seventies, the day's motto was: "To promote the joy, compassion and life-enhancing possibilities of vegetarianism." The slogan hasn't changed, and the NAVS has become one of the most prominent non-profit, educational organizations creating and supporting networks for vegetarians.
All month, NAVS is encouraging non-vegetarians to pledge going meat-free for a day, a week, or the entire month of October. And each self-sacrificing omnivore who is willing to stay away from meat, fish, and fowl can be entered into a random drawing for cash prizes (as high as $1000, if you undertake abstinence for a month.) Not that anybody needs more of a reason besides considerably reducing the risk of heart disease and cancer, and the environmental benefits of a more plant-based diet, but if you've been on the fence about going vegetarian, let that sweeten the pot for you.
We at The Experiment would like to do our part by giving away three of our vegetarian titles to one lucky winner: Veggie Burgers Every Which Way and Vegetarian Entrees That Won't Leave You Hungry by Lukas Volger, and Simply Satisfying by Jeanne Lemlin.
Click here to be entered to win!
The giveaway closes on Monday, Oct. 7. Good luck!