It's the sweetest mathematical day of the year! Pi Day is the celebration of the Greek symbol Π, the symbol used in mathematics to represent a constant—the ratio of the circumference of a circle to its diameter—which is approximately 3.14159… Some celebrate by baking pies in the shape of Π, but here at the Experiment we celebrate by doing a book giveaway!
Bestselling math author Alex Bellos' latest book Can You Solve My Problems? is a puzzle lover's dream with over 125 of the world's best brainteasers from the last two millennia. In addition to being a casebook for daring puzzlers, Can You Solve My Problems? also tells the story of the puzzle—from ancient China to Victorian England to modern-day Japan.


Armed with logic alone, you'll detect counterfeit coins, navigate river crossings, and untangle family trees. Then—with just a dash of high school math—you'll tie a rope around the Earth, match wits with a cryptic wizard, and use four 4s to create every number from 1 to 50. (It can be done!)
If you loved Bellos' two math coloring books, Patterns of the Universe and Visions of the Universe, you will rejoice at his latest book that makes math and logic puzzles fun!
Giveaway Guidelines
To be entered to win one of two signed copies of Can You Solve My Problems? simply visit our Facebook page and share the "Giveaway" post by 11:59 PM on Friday March 17 for your chance to win! The two lucky winners will be notified on Monday, March 20!
Happy Pi Day!
Solution: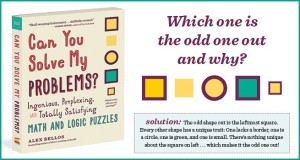 Can You Solve My Problems? publishes March 21 and available wherever books are sold.