Happy publication to Adventures in Veggieland: Help Your Kids Learn to Love Vegetables with 100 Easy Activities and Recipes by Melanie Potock! So long to scary vegetables; hello to friendly new textures, colors, and flavors.
Here is a foolproof plan for getting your kids to love their veggies.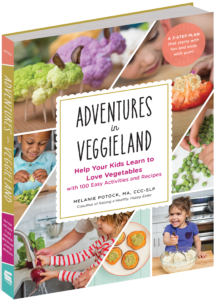 Adventures in Veggieland goes beyond the tired and unsuccessful idea that repeatedly putting veggies in front of kids is enough to get them to love vegetables. Potock takes parents through three simple steps and encourages them to get their kids to love veggies through exposure, exploration, and expansion. Expose your kids to new vegetables with hands–on activities. Explore the characteristics of each veggie (texture, taste, temperature, and more) with delectable recipes. Expand your family's repertoire with more inventive vegetable dishes—including a sweet treats!
Adventures in Veggieland is where play and exploration meets nutrition. The book is broken up by season and features more than 20 veggies. Each chapter contains not only recipes that kids will love–Rosy Red Fries, Parsnip-Carrot Mac'n'Cheese, Tropical Carrot Confetti Cookies–but fun activities to get kids excited about vegetables.
Below are Potock's instructions for making Beet Tattoos (Expose) and then following that is a recipe for Can't Be Beet Dip (Explore) to eat up those beets after the tattoo fun. For more adventures and recipes, check out Adventures in Veggieland, available now wherever books are sold.
###
Beet Tattoos
Beets come in a variety of colors and, fortunately, can temporarily stain your skin yellow, red, pink, and purple. Yes, it's a good thing! Kids need to explore foods in a fun way before they consider tasting them. Temporary tattoos are sure to be a hit with kids of all ages.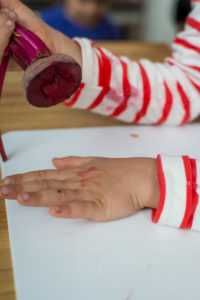 What you'll need:
• Fresh beets
• Kid-safe knife
• Mini cookie cutters in simple shapes, like a heart or diamond (optional)
What to do:
1. KIDS: Wash any dirt from the beets under running water.
2. PARENTS: Boil about an inch (2.5 cm) of water in a shallow pan. Slice off the root ends of the beets. Place the beets upright in the water with the greens sticking upward. Boil gently on medium-high for 4 to 6 minutes, until the bottoms are fork-tender. Remove from the water and wait until the beets are cool enough for kids to handle.
3. KIDS: Press a cookie cutter into one of the beet halves and then remove it, leaving an imprint of the shape.
4. PARENTS AND OLDER KIDS: Cut away the beet around the shape to leave a raised "stamp" for the tattoo. Or create your own shape by whittling away at the beet!
5. KIDS: Lick the stamp, press onto skin, and let dry. The pattern will be faint on the skin at first, but if you hold still and let it dry (it takes about a minute) you'll have a lovely light-pink tattoo!
6. PARENTS AND KIDS: Be creative! How about putting the stamp to use for a little face painting? It all comes off in the bathtub or with a secret vegetable that magically erases beet stains (see Tip).
Tip: Use a piece of raw potato under running water as a magic eraser to rub off beet juice . Another cleanup trick is to gently rub the beet stains with a paste of lemon juice and sugar and rinse. But don't be surprised if the kids decide to lick the lemon sugar off, getting a taste of sweet beets along with the "lemonade."
How your child benefits: You just helped your kid lick and smell beets, without ever mentioning eating them. If they took a crunch in the process, that's a bonus. Most importantly at this stage, they had a good time being with you—and with beets, too!
###
Can't Be Beet Dip
Whether you're feeding a baby or a teenager, dipping is the best way to introduce small tastes of a new food, especially if your child is a hesitant eater. This quick beet dip brings out the natural sweetness of the beets, and the gorgeous color is ideal paired with crisp apple slices. Got a strict carb lover at home? Start with dipping a cracker, providing the crunch that many kids crave, then progress to the crunch of apples over time.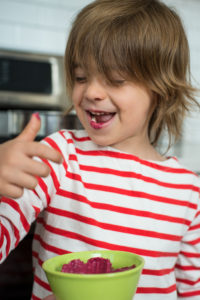 • 1 medium beet, peeled and roasted, or 2 or 3 small packaged cooked beets
• 1 medium banana2 tablespoons plain yogurt (or slightly more if your preference is a thinner dip)
• 1 tablespoon honey
Toss all the ingredients in a blender and blend into a sweet creamy dip! Add a touch more yogurt if you feel like the dip is too thick.
All Kids Can…
• Put ingredients in the blender
• Turn the blender on and off
Plus, Big Kids Can…
• Help peel the cooled roasted beets (or cut open the package)
• Pour the dip into a bowl
###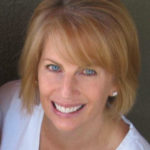 Melanie Potock, MA, CCC-SLP, is an international speaker on the topic of picky eating and feeding disorders in children, and the author of Adventures in Veggieland and coauthor of Raising a Healthy, Happy Eater. Her advice, found on her website MelaniePotock.com, has been shared in national publications including Parents magazine. In her over fifteen years of experience as a feeding therapist, her work visiting homes and schools to support families and children at mealtimes has been one of the most rewarding aspects of her career.