10 days into the new year, and it's already feeling tempting to sink back into old habits and patterns – especially when it comes to those healthy eating and exercise resolutions we make year after year. Nothing really changes, you say to yourself, glancing longingly at the guilty pleasure you're trying to avoid as you make your way through the grocery store.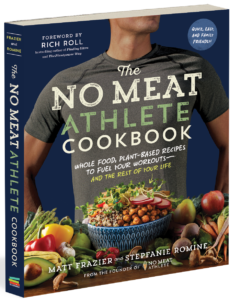 But don't give up just yet: If keeping your body healthy through good food and exercise is one of your main goals for the upcoming year and you're starting to despair, we're here to help. Second only to saving money, one of the most popular New Year's resolutions is losing weight or getting in shape, according to this survey. If you're one of the many who return to this idea time after time but have trouble seeing it through, you might just be missing the right inspiration. Knowing which foods will best fuel you up for you exercise or help your body rebuild after a tough workout can make all the difference – when you're able to look forward to the healthier alternatives, it'll no longer seem like a chore.
To get your day started in the best possible way, try this plant-based recipe from The No Meat Athlete Cookbook to fuel your morning workout, or just fuel you up for the day. And for more healthy eating inspiration that'll pair perfectly with your new workout schedule, whatever it may be, check out the rest of the recipes in The No Meat Athlete Cookbook by No Meat Athlete founder Matt Frazier and health coach Stepfanie Romine.
SAVORY OATMEAL
 Makes: 2 bowls
Time: 15 minutes
Oatmeal is an incredibly popular breakfast among athletes and health foodies, but even if you vary the toppings, it's easy to get bored with the same sweet flavors every morning. But who said oatmeal has to be sweet? This savory recipe lends itself well to customization, so you can adapt it to suit your palate and vary it when you want something new.
INGREDIENTS
1 cup (95 g) GF old-fashioned rolled oats
1 carrot or small beet, peeled and shredded
1½ cups (360 ml) water
1 cup (15 g) stemmed and chopped kale or (30 g) chopped spinach
¼ cup (60 g) salsa or marinara sauce
2 tablespoons nutritional yeast
½ avocado, chopped
2 tablespoons roasted pumpkin seeds
Smoked paprika and/or crushed red pepper, optional
Salt and black pepper
INSTRUCTIONS
Combine the oats and carrot in a small saucepan over medium heat. Add the water. (Use more or less to achieve the consistency you prefer; 1½ cups/360 ml water yields a fairly thick oatmeal.)
Heat until simmering, then cook, stirring often, until everything is tender, about 5 minutes.
Stir in the kale, salsa, and nutritional yeast.
Pour into a bowl and top with the avocado and pumpkin seeds. Sprinkle with smoked paprika and crushed red pepper, if using. Season with salt and pepper to taste, and serve.
Variation: Swap in different flavors of salsas or pasta sauces to turn this into a whole new dish.
Recipe from The No Meat Athlete Cookbook: Whole Food, Plant-Based Recipes to Fuel Your Workouts and the Rest of Your Life © Matt Frazier and Stepfanie Romine, 2017. Photograph copyright © Ken Carlson, Waterbury Publications Inc. Reprinted by permission of the publisher, The Experiment. Available wherever books are sold. theexperimentpublishing