Have you heard? Three of our favorite—and critics' favorite!—narrative nonfiction hardcover titles are publishing in paperback this month.
First, on August 22nd, comes a tale about the panic (and humor) of aging in Sixty: A Diary by Ian Brown, and a passionate memoir about finding hope in a natural world of extinction in Citizen Scientist by Mary Ellen Hannibal.
Then, on October 3rd, A Woman On the Edge of Time by Jeremy Gavron comes to paperback to tell the story of a mother whose life ended too soon and her struggle to rise above the oppression that came with living in a man's world in the early 20th century.
Sit back, relax, and pick up one of these awesome titles to enjoy as summer winds down.
Can't wait til the paperbacks come out? The hardcover versions can be found wherever books are sold!
***
Sixty: A Diary
My Year of Aging Semi-Gracefully
by Ian Brown
As Ian Brown's 60th birthday loomed, every moment seemed to present a choice: Confront or deny the fact that the end was now closer than the beginning. Brown instead chose to notice every moment, try to understand it, capture it . . . all without panicking.
"Mr. Brown is charming, thoughtful, and edifying company. . . . [His] reflections on friendship are soulful and worth committing to heart. So are his meditations on marriage and parenthood."—The New York Times
"A rich new book . . . laugh-out-loud passages."—Forbes
"Witty and poignant. I laughed aloud."—The Wall Street Journal
Publishes August 22, 2017 | Preorder here
Citizen Scientist
Searching for Heroes and Hope in an Age of Extinction
by Mary Ellen Hannibal
On a quest to uncover vanishing species—and how we might save them—Mary Ellen Hannibal discovers the power of citizen scientists: the heroic volunteers who are committed to fighting mass extinction. Combining original reporting, meticulous research, and memoir in passionate prose, Citizen Scientist is a literary event, a blueprint for action, and an unforgettable story of how one woman confronts loss—with a new kind of science.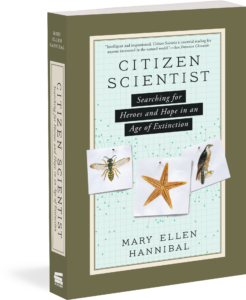 ★ A 2016 Nautilus Award winner in Ecology & Environment
★ A 2017 Northern California Book Award finalist
"[A] celebration of nonexperts' contributions to science."—Scientific American
"Intelligent and impassioned, Citizen Scientist is essential reading for anyone interested in the natural world."—San Francisco Chronicle
Publishes August 22, 2017 | Preorder here
A Woman on the Edge of Time
A Son's Search for a Mother Who Wanted Too Much
by Jeremy Gavron
London, 1965: A young woman has just gassed herself to death, leaving behind a note, two young sons, and a soon-to-be-published book. Hannah Gavron was beautiful and sophisticated, a feminist ahead of her time. No one had imagined she might take her own life.
Jeremy Gavron was just four when his mother killed herself. Years later, he attempts to piece her life together from letters, photos, and others' memories. Ultimately, he not only uncovers Hannah's struggle to carve out her place in a man's world; he examines the constrictions on every ambitious woman in the mid-20th century.
"Beautifully written—wholly unique."—Joyce Carol Oates
"Pioneering, intense . . . a revelation of life."—Ali Smith
"A thoughtful meditation on a ruthless, mysterious final act."—Kirkus Reviews
"Poignantly touches the enigmatic interior life of a mother 'forever out of reach.'"—Publishers Weekly
Publishes October 3, 2017 | Preorder here