In celebration of In Vino Duplicitas' much anticipated release, we thought we'd give you an insider's look at the book that critics are calling "Law & Order for oenophiles," (Imbibe).
In 2002, Rudy Kurniawan, a 20-something Indonesian immigrant, burst onto the rarified scene of ultrafine wines. A virtual unknown, for the next six years he would reign as purveyor of the last century's most storied vintages. Collectors shelled out tens of millions of dollars on wines from his cellar, considered at the time among the greatest on earth.
But in April 2008, crates of Domaine Ponsot red burgundy—dating as far back as 1945—were abruptly pulled from an auction. The winemaker was certain that particular wine was first produced in 1982. It would mark the first step in the sensational unraveling of perhaps the most notorious hoax in wine history.
Armed with the gift of a discerning palate, Kurniawan had managed to fool the wine elite for years before his con came crashing down. Journalist Peter Hellman was there at the moment Kurniawan's deceit was discovered, and he shares the story from start to finish with In Vino Duplicitas: The Rise and Fall of a Wine Forger Extraordinaire.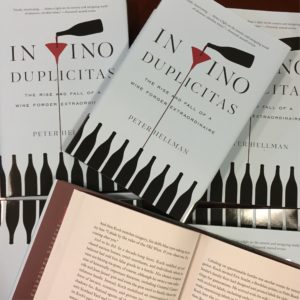 An iBooks Best Book of July, In Vino Duplicitas "is a fast-paced and suspenseful real-life thriller brimming with rich, vivid detail." Maclean's s called it "[a] compelling mix of wine devotion (journalist Hellman's included) and true crime (complete with avenging furies, from a bloody-minded Koch brother to a passionate French vintner)."
Mark Oldman, author of How to Drink Like a Billionaire said, "The best account of fraudster Rudy Kurniawan to date. Riveting, deftly-researched, entertaining, it's a page-turner that reveals all sorts of new details about the largest wine fraud in history."
Frances Dinkelspiel, author of Tangled Vines, raved, "A page-turning cautionary tale about the elite world of wine, and a gripping and disturbing read. You won't be able to put it down."
In Vino Duplicitas
The Rise and Fall of a Wine Forger Extraordinaire
by Peter Hellman
Available now wherever books are sold