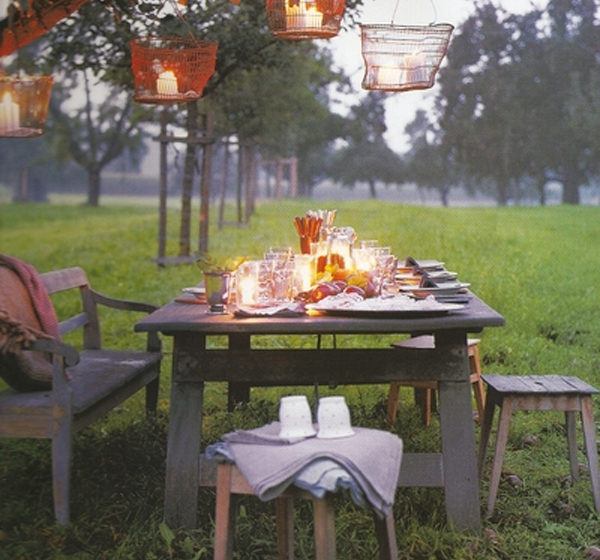 This July 4th, be sure to satisfy your vegan and vegetarian, and yes, even meat-eating, guests' with these dishes bursting with ingredients from the Caribbean and Japan as well as more traditional American staple foods like veggie burgers, potatoes, and collard greens. These delicious recipes make it easy to swap out your heavy and meat-based products for healthy and delicious vegan food that (we promise!) don't lack in taste. Vegans and omnivores alike will leave your celebration asking for more after trying our revamped versions of classic Independence Day dishes.
We recommend you cater your celebration with a few of Melissa King's hearty White Bean and Zucchini Burgers from Easy. Whole. Vegan. As a side dish, serve the veggie-based Caribbean Coconut Collards & Sweet Potatoes from The No Meat Athlete Cookbook. Finally, some Maple-Miso Tempeh Cutlets from Kristy Turner's But My Family Would Never Eat Vegan! will keep your guests full throughout a day of celebration!
We wish all our readers a Very Vegan July 4th! See below for the delicious recipes.
###
WHITE BEAN & ZUCCHINI BURGER
From Easy. Whole. Vegan by Melissa King
Prep and cook time: 1 hour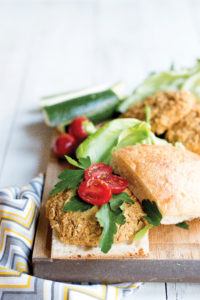 Makes 6 small burgers
1 small zucchini, chopped
2 cups (360 g) cooked white beans (or one 15-ounce [425 g] can white beans, drained and rinsed)
2 tablespoons diced onion
½ teaspoon garlic powder
½ teaspoon smoked paprika
¼ teaspoon salt (or to taste)
¼ cup (30 g) flaxseed meal
¼ cup (25 g) gluten-free oat flour
Preheat the oven to 350°F (180°C). Line a baking sheet with parchment paper.
Add the zucchini and white beans to a food processor and mix for 1 to 2 minutes, until they break down into a coarse texture. You may have to scrape down the sides a few times.
Add the diced onion, garlic powder, smoked paprika, and salt and mix for another minute. Next, add the flaxseed meal and the oat flour and mix until everything is incorporated, about 1 minute.
Using your hands, form the mixture into small patties and place them on the baking sheet.
Bake for 25 to 30 minutes. Let the burgers cool before removing from the baking sheet, about 20 minutes.
Serve immediately or refrigerate for later. Store them in an airtight container in the fridge. These should last a couple weeks in the fridge. You can also freeze them for up to 6 months.
• • • • • • • • • • • • • • • • • • • • • • • • • • • • • • • • • • • • • • • • • • • • • • • • • • • • • • • • • • • • • • • • • • • • • • • • • • • • • • • • • •
CARIBBEAN COCONUT COLLARDS & SWEET POTATOES
From The No Meat Athlete Cookbook  by Matt Frazier and Stepfanie Romine
Prep and cook time: 55 minutes
Collard greens grow well in the South where No Meat Athlete authors Matt Frazier and Stepfanie Romine live; they're cheap at farmers markets and abundant in CSA shares. Once they learned of Callaloo-style collards, which hail from the Caribbean, this became a go-to recipe. To bulk it up, add beans. Serve over rice if it's a hungry group of guests!
Serves 4
1 tablespoon coconut oil (OF: 1 tablespoon of the light or full-fat coconut milk listed below, plus broth as needed)
1 yellow onion, diced
3 garlic cloves, chopped
½ teaspoon crushed red pepper
2 bunches collard greens (about 2 pounds/900 g), stemmed, leaves chopped into 1-inch (2.5 cm) squares
1 large sweet potato, peeled and diced
One 15-ounce (425 g) can red kidney beans or chickpeas, drained and rinsed
One 14.5-ounce (411 g) can diced tomatoes with juice
1½ cups (360 ml) water (see Tip)
½ cup (120 ml) light or full-fat coconut milk
Salt and black pepper
Melt the oil in a large, deep skillet over medium heat. Add the onion, garlic, and crushed red pepper. Cook over medium heat for 3 minutes, then stir in the collards and sweet potato. Add the beans, tomatoes with their juice, water, and coconut milk.
Bring just to a boil, lower the heat to medium-low, and cook, covered, until the collards and sweet potato are tender, about 30 minutes.
Season with salt and pepper and serve.
Tip: Don't waste the good stuff. Refill the tomato can, which holds about 1½ cups, and use that to measure the water needed for the recipe.
• • • • • • • • • • • • • • • • • • • • • • • • • • • • • • • • • • • • • • • • • • • • • • • • • • • • • • • • • • • • • • • • • • • • • • • • • • • • • • • • • •
MAPLE-MISO TEMPEH CUTLETS
From But My Family Would Never Eat Vegan! by Kristy Turner
Prep and cook time: 25 active; 20 inactive
Serves 4
These tasty tempeh cutlets, glazed in a savory maple-miso sauce, are best enjoyed the day they're prepared. If you need to prepare them somewhat in advance, steam the tempeh and prepare the sauce so that all you need to do on the day of is cook the cutlets in the sauce.
Two 8-ounce (225 g) packages tempeh
¼ cup (60 ml) low-sodium vegetable broth
¼ cup (60 ml) liquid aminos (or gluten-free tamari)
¼ cup (60 ml) maple syrup
2 teaspoons white soy miso (or chickpea miso)
1 teaspoon dried sage
1 teaspoon dried thyme
Salt and black pepper to taste
 Chop each tempeh block in half horizontally, then chop each half diagonally so you have eight triangles.
Fill a large shallow saucepan with a couple of inches of water and fit with a steamer basket. Place the tempeh triangles in the steamer basket and cover with a lid. Bring to a boil, then reduce to a simmer. Steam the tempeh for 15 to 20 minutes, flipping the triangles once halfway through. Remove the steamer basket from the pan (keep the
tempeh in the basket) and set aside.
Dump the water from the saucepan. Combine the vegetable broth, liquid aminos, maple syrup, miso, sage, and thyme in the pan and stir to mix. Add the tempeh triangles and bring to a boil. Once boiling, reduce the heat to a low simmer. Let the tempeh simmer in the sauce for 10 to 12 minutes, flipping them once halfway through, until the sauce is absorbed and starts to caramelize. Remove from the heat and add salt and pepper. Serve immediately. Leftovers will keep in an airtight container in the fridge for 4 to 5 days.
###
Recipes from Easy. Whole. Vegan.: 100 Flavor-Packed, No-Stress Recipes for Busy Families © Melissa King, 2016; The No Meat Athlete Cookbook: Whole Food, Plant-Based Recipes to Fuel Your Workouts and the Rest of Your Life © Matt Frazier and Stepfanie Romine, 2017; But My Family Would Never Eat Vegan!: 125 Recipes to Win Everyone Over © Kristy Turner, 2016. All reprinted by permission of the publisher, The Experiment. Available wherever books are sold. theexperimentpublishing.com