We all make New Year's resolutions, but how many of us truly ever stick with them? Big changes can be exciting, but rarely is it sustainable. So what's to be done? Enter the Micro-Action!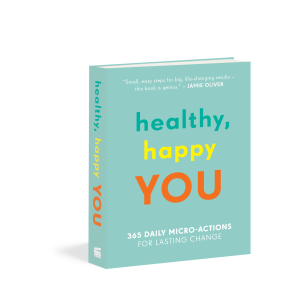 What is a micro-action?
A micro-action is small, simple, and achievable in a normal day. For anyone. "Meditate for twenty minutes" isn't a micro-action, but "sit quietly for two minutes" is. "Run a marathon" isn't a micro-action, but "take the stairs" is. Simple, but they make all the difference.
The authors from our latest book, Healthy, Happy YOU show how small micro-actions—taking over the course of many days—are what lead us to real defining change and growth.
MICRO-ACTION CATEGORIES
Each micro-action falls under one of these four categories:
FOOD: Food is such an integral part of how you live that small, simple changes in how you eat can add years to your life. "Food" micro-actions are not only about what you eat, but also how, when, how much, and with whom. "Stop eating chocolate" is not a micro-action. "Snack on a veggie" is.
MIND: The mind determines who you are and how you act. But it isn't set in stone—it can be trained. "Mind" micro-actions tackle mindfulness (being present in the moment), productivity, and organization (making sense of the world around us). "Clean the house" is not a micro-action. "Organize a kitchen cabinet" is.
MOVE: "Move" micro-actions are about everyday movement—small, easy micro-actions that you can incorporate into your daily routine. "Sign up for a triathlon" is not a micro-action. "Do two minutes of heel kicks" is.
LOVE: Don't be fooled by the title—it's not about romance. "Love" micro-actions are about your relationship with yourself and with others. Here, micro-actions really matter. Treating someone well triggers a positive reaction in that person, which triggers a positive reaction in you too. "Make a new friend" is not a micro-action. "Reach out to someone" is.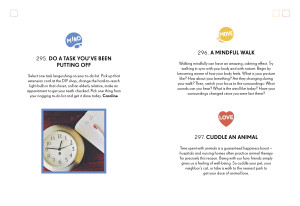 (Click here for an enlarged version of these micro-actions.)
We've got some truly amazing contributors for this book, including world-renowned health activist and chef Jamie Oliver.
Below is another excerpt that demonstrates how you'll be able to get the most out of our book.
HOW TO USE THIS BOOK
Healthy, Happy YOU makes self-improvement bite-sized. Give the book just one minute of your day, every day, and it will give you simple micro-actions you can do for a healthier, happier you.
When you've completed a micro-action, tick it off in the square provided at the top of the page. You'll find space on every page to write down your thoughts and note down your achievements. There are also "Reflect and Renew" sections throughout.
HOW DO I START?
There are 365 micro-actions in this book: one for each day of the year. We suggest you start with number 1, then after the first few you can either follow the daily order or jump around to mix things up—it's completely up to you!
###
So, this New Year we invite you to start small with your resolutions. With some daily micro-actions, a healthier, happier you isn't far behind. Healthy, Happy YOU is available anywhere books are sold.