Chef Lee Watson was once, in his own words, "the mightiest nose-to-tail carnivore of them all." Since adopting a healthful vegan lifestyle, though, his culinary vision has truly come into focus: combining influences from east to west, Watson's recipes are at once excitingly adventurous and comfortingly homey. Available now, his new cookbook Peace & Parsnips is perfect for anyone interested in flavorful, worldly, plant-based cooking. With 200 vegan recipes inspired by love and travel, Watson brings plant-based inspiration from all around the world right to your kitchen. Packing plenty of ready-made summertime recipes, the timing couldn't be better.
Peace & Parsnips: Adventurous Vegan Cooking for Everyone
by Lee Watson
To celebrate the U.S. release of Peace & Parsnips, we'd like to share a fresh, healthy, summer-friendly breakfast with you all. Taken straight from Lee Watson's new cookbook, this berry breakfast bowl is sure to please all:
# # #
Raw Chia Seed Breakfast Bowl with Seasonal Berries
For 2
When the body wakes up it needs gentle, nutritious food. It craves a good start to the day, and chia seeds mixed with healthy berries are just the ticket. Use any berries you prefer – summer and early autumn are the finest times for making this breakfast bowl. Chia, a member of the Mexican mint family, is a hero of the plant world and can seed within days of planting. They have more omega-3 fats than salmon, are a complete source of protein, boast more fiber than flaxseeds and have a huge amount of antioxidants and minerals. You can add them to a cake/bread mix, sprinkle them on soups and salads, and pop them into smoothies.
I sometimes like to serve this kind of breakfast bowl with arugula. It's a real surprise to the taste buds, as you can imagine, but it completes the amazing nutritional properties of this dish and adds a dash of greenery.
THE BITS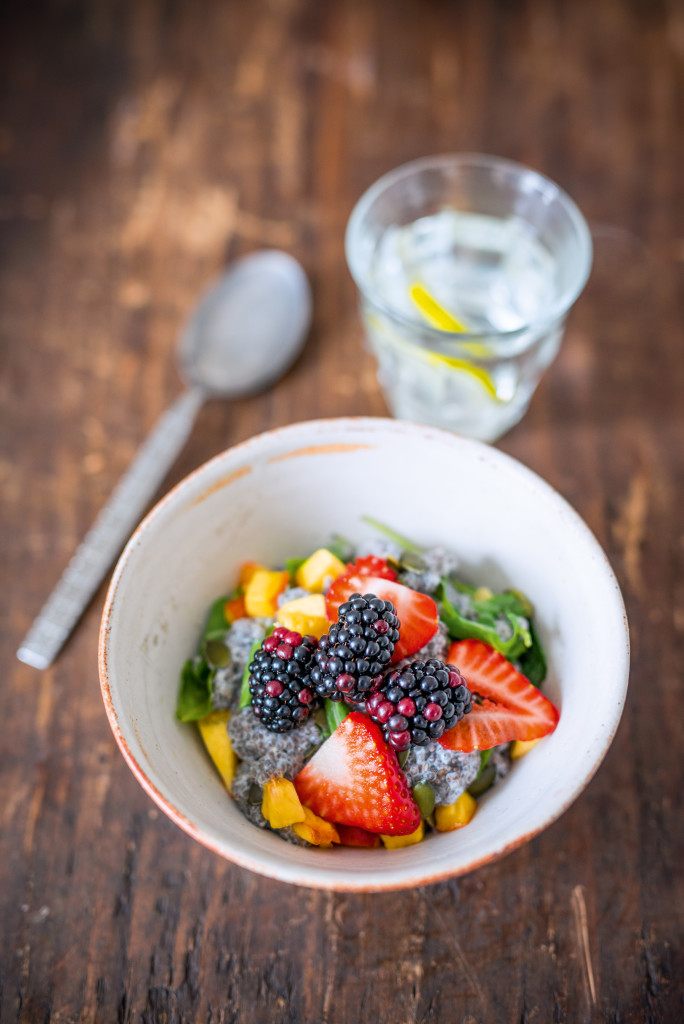 • ½ cup (80g) chia seeds
• 2 tablespoons pumpkin seeds or hemp seeds (sprouted is best)
• 2 teaspoons brown rice syrup (adjust sweetness accordingly)
• ½ a handful of fresh mint leaves, finely chopped
• 4 tablespoons organic coconut milk or unsweetened soy yogurt
• ½ teaspoon vanilla extract
• 1 peach/nectarine/small pear, or 2 plums, finely diced
• ½ a handful of raspberries or strawberries
• a handful of blackberries or blueberries
• a handful of arugula leaves (optional)

DO IT
Put the chia seeds into a bowl and cover with about 1 inch (2.5cm) of fresh water. Leave to sit for 15–20 minutes. Make sure all the chia seeds are covered, and add a little more water if needed. The chia seeds should resemble a cold rice pudding crossed with frog spawn (YUM!).
Stir in the rest of the ingredients, sprinkling the berries and arugula on top last.
# # #
Recipe from Peace & Parsnips: Adventurous Vegan Cooking For Everyone © Lee Watson, 2016. Reprinted by permission of the publisher, The Experiment. Available wherever books are sold. theexperimentpublishing.com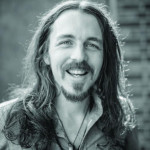 Passionate about vegan food without being preachy, Lee Watson brings a singular sensibility to the vegan cookbook shelf. He has worked in restaurants for more than 20 years, has cooked on TV as one half of the presenting team on Fox's Meat v Veg and helped open a restaurant on the beach in Murcia, Spain. Besides growing his own organic fruit and vegetables, Lee writes poetry and plays guitar, practices yoga, hikes in the mountains, swims in the sea, surfs and enjoys nature. He lives "the good life" with his partner, Jane, in western Wales, where he works as a vegan chef at an idyllic retreat center in Snowdonia National Park.