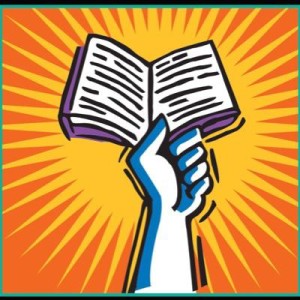 Independent Bookstore Day is coming up! Happening on April 30th this year, it's the bookstore world's response to record store day. Over 400 bookstores are participating in the US, which means that the country will be covered in great book deals and excuses to get out and support your local indie. Click here to find a participating location.
To honor this special day in the literary world, some of us took a moment to recall a hometown or NYC-based indie bookstore that helped shape our love of reading (or that happened to be closest to our favorite popcorn shop in the case of Nick Cizek). We love our indie bookstores and are so glad there is a day devoted to them. If you live nearby any of these locations, maybe you can even check them out for yourself:
Karen Giangreco, Copy Chief and Digital Publishing Manager, Bernardsville, NJ, The Bookworm
"I love visiting The Bookworm, which is somewhat hidden on a woodsy road—off the beaten path through the center of town—but around the corner from my piano teacher's. More than once they have saved me when I needed a last-minute gift (or, for myself, the latest Harry Potter book). When I was finishing eighth grade, I received an unexpected and generous gift certificate that gave me my pick of their young adult shelf, where I had the good luck to discover Tamora Pierce's Alanna series. That one has staying power!"
Nick Cizek, Editor, Chagrin Falls, OH, Fireside Book Shop
"It's a nice little town near where I grew up outside Cleveland, with a waterfall in the center, and Fireside is right around the corner from the old Popcorn Shop. You can grab a book at Fireside, stop by the Popcorn Shop to get ice cream, and then watch the falls and read a bit."
Jennifer Hergenroeder, Publicity and Marketing Manager, The Triangle, NC
"I spent 9 years in The Triangle in NC where we're lucky to have some of the best independents in the country. Even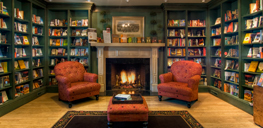 after so many years, it's hard for me to pick a favorite. Raleigh's Quail Ridge Books & Music has an amazing staff and events program, McIntyre's Books has a wonderful fireplace that welcomes you to curl up and read, Flyleaf Books is a local favorite right off of campus in Chapel Hill, and Regulator Bookshop is a must-visit in Durham. How could I pick just one?"
Matthew Lore, Publisher, Oakland, CA, Pegasus Books
Way back when I started out in publishing, I lived in north Oakland's Rockridge neighborhood. On my three-block walk home from BART late each afternoon or early each evening, I walked past College Avenue's Pendragon Bookstore. More days than not I'd pop in to browse and check out the new arrivals. Back then I was in the habit of writing lightly in pencil on a book's first page or endpaper where and when I bought a book. My Pendragon-notated books are my Proustian madeleines, taking me right back to those sunny, golden afternoons, when the tinted sun shades would be
pulled own over the plate-glass windows (which face west) and my trip home could easily be delayed by an hour or more.
How happy it made me on a November 2014 trip back to the Bay Area, to stop back in and find not only the store (now rechristened Pegasus Books, to match its sibling stores) as chock-a-block with used, new and remainder books as ever—but our very own Moon Calendar Card display situated right in front of the cash register!
Sarah Smith, Art Director, Montclair, NJ, Watchung Booksellers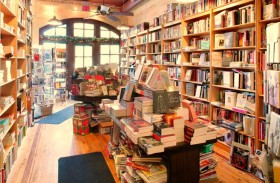 "My favorite indie is Watchung Booksellers in Montclair, NJ. It's a gorgeous store inside and out—the sort of place I'd like to live in. I love the way they display the books; they put hand-written notes on them telling why they enjoyed it. The people who work there are passionate readers and those are the sort of folks that make wonderful booksellers."
Batya Rosenblum, Associate Editor, Everywhere in the Country, USA, Every Independent Bookstore
"Growing up, we didn't have a nearby indie bookstore, now, you can find them anywhere. Check out this awesome website, which is a directory of indie bookstores throughout the country. Whenever you travel you can find a local bookstore."
Ana Ban, Rights Associate, Park Slope, Brooklyn, NY, Community Bookstore
I discovered the Community Bookstore when I had to do some research for school and decided to try a bookstore I did not know. During my first visit, I spent hours browsing the picture books at the back of their shop. They have a great selection of children's books and an area with sofas and a piano where the little ones can browse the books while the grown ups read for them. That afternoon I got to talk to other clients who showed me their favorite books, and even got to show a mother my favorite board book, which she got for her daughter. I always go back for their authors' events and their great selection of books, often offering signed volumes and special editions. In 2015, they had a talk and signing with my favorite author Neil Gaiman – just after he said he was no longer doing signings. It was on the same day I interviewed to work at The Experiment.
Evan Malmgren, Publishing Assistant, Madison, WI, Rainbow Bookstore Coop
"Not only does Rainbow have an amazing selection, but they are so much more than just a bookstore! Cooperatively owned and collectively managed, the space also runs the Wisconsin books to prisoners program, maintains a free zine library, and hosts the Madison InfoShop—all on an impressively tiny budget. I used to work at Rainbow, and it is still a very special place for me. Radical bookstores are a vital and endangered species, and it's so important to support them whenever possible!"
Sarah Schneider, Design and Production Associate, Williamsburg, BK (NY), Spoonbill & Sugartown Books
"One of my favorite indies is Spoonbill & Sugartown Books in Williamsburg. On three separate occasions I stumbled upon ​books on their tables that I now consider three of my favorite books of all time. If ever I need a new book rec, I can usually count on the selection at Spoonbill to point me in the right direction."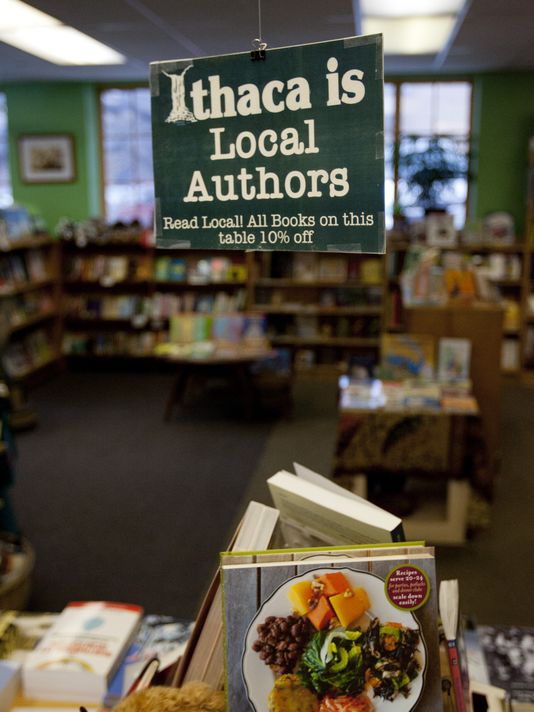 Vivienne Woodward, Associate Publicist, Ithaca, NY, Buffalo Street Books
"Buffalo Street Books (previously known as The Bookery) was one of my favorite places as a little kid. I was a relatively um, high-spirited (read: obnoxious) child, but there was something about browsing through the shelves here that put me in some sort of book-ish trance. I think it was my mother's favorite place, as well."
Daphne Palasi Andreades, Intern, New York, NY, Strand Bookstore
I could spend my entire evening and half of my paycheck at Strand without even realizing it. I love getting completely lost in the rows and rows of books, especially in the massive fiction section where the shelves stretch from the floor to the ceiling and sometimes you need to climb on ladders to reach the top of the shelf and the book you need. I love that you can find classics for three dollars apiece (I just purchased Joyce, Woolf, and Faulkner for three bucks!), as well as contemporary poetry, memoirs, travel guides, and all types of books at discounted prices. I also appreciate that the staff are always willing to help you find what you need, and know how to navigate the maze-like bookstore.
Now here's the real question—what's your favorite bookstore?