From whole-wheat to all-purpose, the typical Westerner's flour palette is something of a monochromatic, wheat-y affair. Our cultural lack of familiarity with non-wheat flour alternatives has been the source of many a headache for curious eaters, as well as those who want or need to avoid gluten for health or dietary reasons. We could use a greater variety of substitutes for people living with Celiac disease, or those who want to pack more nutrition into their baked goods, for example. Many people don't know it yet, but there is a better way: chickpea flour is starting to gain traction in American diets for its rich flavor, cheap cost, numerous health benefits, and easy implementation as a substitute.
Ground from raw garbanzo beans, chickpea flour (also known as gram flour, garbanzo bean flour, cici flour, or besan) isn't just cheaper than typical wheat flours, it's also higher in protein and lower in fat and carbohydrates. Wheat flour may be widespread in the United States, but there's a reason that countries like Nepal, India, and Pakistan have preferred a different staple for millenia: chickpea flour does it better!
Now, I know what you may be thinking: "I wouldn't know where to start cooking with chickpea flour." If you were to assume that a chickpea flour-centered diet would require a total overhaul of your pantry, though, you would be wrong. Chickpea flour certainly lends itself well to authentically exploring a wide range non-Western ethic cuisines, but it can also fit perfectly into most of the flour-based dishes that you may already know and love. From Vegan Richa to Livestrong to The Huffington Post, an army of lifestyle bloggers are starting to offer up chickpea-based recipes to a growing segment that fully appreciates the huge benefits that this alternative flour can bring.
Now, Dolly and Oatmeal blogger-slash-chickpea evangelist Lindsey S. Love has stepped up to the plate, offering a full 240 pages of practical, garbanzo bean-induced goodness. Now available, Chickpea Flour Does It All is a new cookbook that details the hows and whys of gram flour's emergent status as the next go-to pantry staple. You don't need to be vegan or gluten-free to enjoy these recipes: from thickening and flavoring hearty dishes to packing your on-the-go snacks with nutrients, chickpea flour has plenty to offer any curious eater.
But why just take our word for it when you can try the glorious benefits if chickpea flour for yourself? From Chickpea Flour Does It All, the below recipe for Chickpea Pizza with Asparagus and Pea Shoot Tangle is a perfect foyer into the wonderful world of besan:
# # #
Chickpea Pizza with Asparagus and Pea Shoot Tangle
Makes: two 11-inch pizzas // prep time: 1 hour 30 minutes // cook time: 10 to 15 minutes
Gluten-free pizza dough is really hard to come by, especially when you're looking for one that doesn't have a long list of hard-to-digest gums and starches. When I first started making my own pizza dough, I was super surprised to find out how easy it was and was even happier that I could make an eggless one for when my vegan family and friends come over. The chickpea flour adds a bit of sturdiness and substance, not to mention a bit of protein as well, making this pizza ideal for a wholesome meal. While you can add whatever toppings you please, I love going for more of a salad vibe, especially when there's tons of delicious and beautiful spring produce at every turn.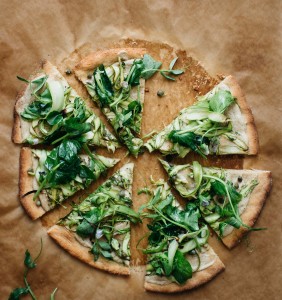 Dough*
• 1 ¼ cups warm water (105°–115°F)
• 1 teaspoon natural cane sugar (or 1 teaspoon raw honey)
• 1 packet instant yeast (approximately 2 ¼ teaspoons)
• 1 cup (140 g) brown rice flour
• 1 cup (120 g) chickpea flour
• ½ cup (55 g) sorghum flour, plus more for dusting
• ½ cup (60 g) arrowroot powder
• 2 teaspoons psyllium husk powder
• 1 ½ teaspoons sea salt
• 2 tablespoons extra virgin olive oil
Toppings
• 1 bunch asparagus (456 g), peeled into ribbons
• 2 tablespoons capers
• 1 tablespoon extra virgin olive oil
• 1 ½ teaspoons lemon juice
• Sea salt and freshly ground pepper
• 2 cups (112 g) pea shoots
• 8 ounces garlic hummus, or hummus of choice
1. In a mixing bowl, whisk together the water and cane sugar until dissolved; sprinkle in the yeast and let the yeast proof for about 10 minutes, until the surface is foamy and bubbly; if yeast does not proof, start over with more yeast.
2. In a large bowl, whisk together the flours, arrowroot, psyllium husk, and salt. Make a well in the center of the bowl and add the yeast mixture and oil. Using a dough hook on an electric mixer or a paddle attachment on a stand mixer, mix the dough until smooth. Dough should be able to hold its form but be sticky to the touch. If the dough is too sticky and not able to hold its form, add more chickpea flour 1 tablespoon at a time until the dough is firmer. Cover the dough in the bowl loosely with plastic wrap and allow dough to rise in a warm place for 30 to 45 minutes, until roughly doubled in size.
3. Place a wire rack at the lowest position in your oven, place a baking stone or baking sheet on it, and preheat oven to 500°F (260°C).
4. Line two baking sheets with parchment paper and lightly dust them with sorghum flour. Using a dough scraper, divide the dough into two even pieces; gently form each piece of dough into a ball. Place a piece of dough on each prepared piece of parchment; dust the dough with a light coating of flour and press it into an 11-inch round, working your fingers from the inside of the dough to the outside until the crust is about ¼ inch thick, dusting with more flour as needed.
5. Cover the dough loosely with plastic wrap and allow the dough to rise once more for 15 to 20 minutes; dough should puff up slightly and be springy to the touch.
6. While the dough is rising again, prepare the toppings. In a large bowl, combine the asparagus, capers, 2 teaspoons of oil, and 1 teaspoon of lemon juice; season with salt and pepper. In a separate bowl, combine the pea shoots with the remaining 1 teaspoon of oil and ó teaspoon lemon juice; season with salt and
pepper; set aside.
7. Use a pizza peel or cookie sheet to gently slide one piece of parchment with the dough onto the baking stone and bake for 5 minutes, until the dough is slightly golden and a bit stiff. Use the peel to slide the dough out of the oven, and spread half the hummus over top of the pizza; then distribute half the asparagus and capers over the hummus; place back in the oven and bake until the edges are lightly browned and crisp and asparagus is lightly charred in places, about 8 to 10 minutes.
8. Remove the pizza from the oven and top with pea shoots. Let the pizza rest for 5 minutes to let the pea shoots wilt a bit. Serve warm or at room temperature.
9. Repeat with remaining dough and toppings.
*Note: Pizza dough can be stored in the freezer for up to 1 month. To thaw, remove from the freezer the morning of, or at least 5 hours before cooking, and allow the dough to come to room temperature. If not using the dough right away, store in the refrigerator until ready. Prepare the dough as directed.
# # #
Chickpea Flour Does It All is now on sale! With recipes for dishes like Sunchoke and Leek Soup, Vanilla Bean Lavender Cupcakes, and Loaded Sweet Potatoes, the complete book will help you find excuses to squeeze chickpea flour into dishes for every occasion. Available wherever books are sold.
In honor of the book's publication, Bob's Red Mill is hosting a giveaway of one copy of the book plus 4 bags of their chickpea flour! Visit their Instagram page here to enter! Lindsey is also hosting a giveaway for two lucky winners on her blog–get your entry in here.
# # #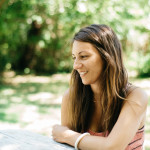 Lindsey S. Love
is a food photographer and recipe developer living in Brooklyn, New York, with her husband and dog. She is the creator of the blog
Dolly and Oatmeal
, which has been a finalist for
Saveur
magazine's Food Blog Awards numerous times. Her work has been featured in
Food 52
,
The Huffington Post
,
People.com
,
BuzzFeed
,
Epicurious
,
InStyle
,
Thoughtfully Magazine
and
Saveur
.