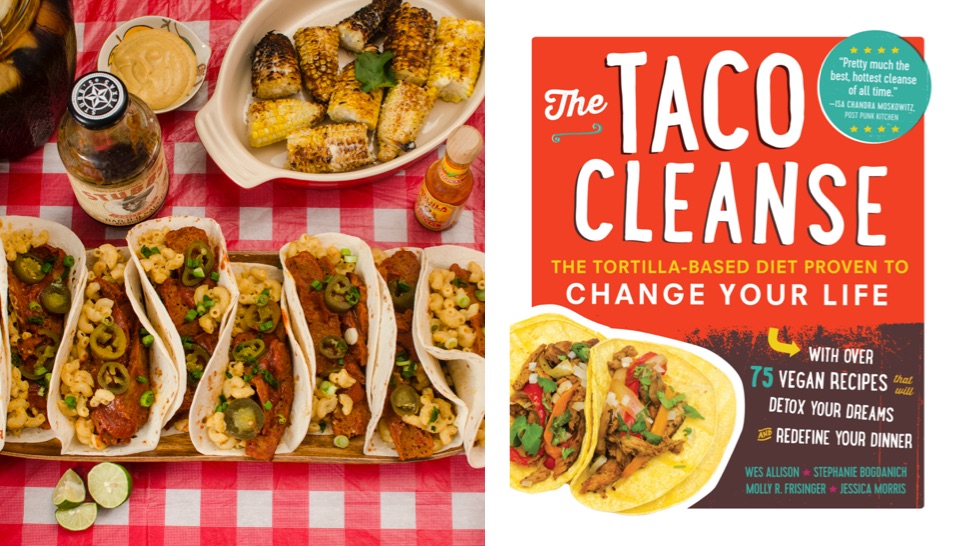 "If you really want to make a friend, go to someone's house and eat
with him. The people who give you their taco give you their heart."
—CESAR CHAVEZ
There seems to be a common belief that new years beget new beginnings. Closing out a month-long gauntlet of holiday-induced gluttony (Making a Murderer binge-watching was a popular vice this year), January 1st seems like the perfect time to get a gym membership, restock the fridge with healthier staples, and start enforcing a strict ban on Sunday afternoon Netflix sessions. For all the talk, though, many of us are not very good at sticking to our ambitious new life plans: we've all got at least one friend who wont shut up about her ridiculous new diet program–but didn't we hear the same speech delivered with equal conviction last year? If memory serves correctly, she didn't even make it to Valentine's day. Oftentimes, the "new you" burns out quickly in the natural friction of the new year. What we need is change we can stick to. Something healthy but satisfying–something that we can actually enjoy for once. We need something delicious, and preferably something that comes with extra avocado and a side of gallo pinto. We need The Taco Cleanse.
In case you've been living under a burrito bowl for the past few weeks, The Taco Cleanse is the trendy new cookbook-slash-diet program that has been taking 2016 by storm. Taco scientists Wes Allison, Stephanie Bogdanich, Molly Frisinger, and Jessica Morris have finally revealed their secret findings to the world, rolling out a cookbook of over 75 vegan recipes that have been anecdotally proven to improve mood, reverse hair loss, increase savings interest rates, boost fertility, and enhance beard growth among men. The co-authors have been featured on The Today Show, discussed by Kathie Lee & Hoda, and have been appearing at events around the country (check to see if they are coming to your area!). Jennifer Aniston is "riveted;" People magazine named it a "cleanse we can get behind;" Cosmopolitan writer Laura Beck was driven to *praise hands*. From a sizable write-up in The LA Times to features in Popsugar, Jezebel, Huffington Post, and Refinery29, the cleanse has been making some pretty serious rounds. It's kind of a big deal.
It should come as no surprise that this tongue-in-cheek title has caught on in such a big way: the Austin-born cookbook delivers enough taco formulas to keep you satisfied all day every day for the duration of your month-long cleanse, from breakfast taco to desert taco. You'll also find plenty of condiment and supplement recipes–including margaritas and other mixed drinks (alcoholic and non-alcoholic!). Every recipe is vegan, and certainly wont leave you starving. Even better, they are delivered with a healthy dose of humor and self-awareness; this is nacho average cleanse!
###
Still not sure if The Taco Cleanse is right for you? Why not try it out for a meal! Below we've included a complimentary recipe for some tasty taco-stuffing–Beer-Battered Portabello Mushrooms–ripped straight from the pages of the book itself (figuratively, of course). If we haven't won you over yet, we're positive that a taste-testing experiment will convince you to join the growing movement:
BEER-BATTERED PORTOBELLOS
Fills 16 tacos
We talk a lot in the taco cleanse about the importance of tequila, but other alcoholic beverages are great, too. Beer is one of the most ancient elixirs used to help people deal with their feelings. Serve these on a Flour Tortilla (page 47) with french fries and malt vinegar.
• Cooking oil
• 1½ cups (180 g) all-purpose flour
• 1½ teaspoons baking powder
• ½ teaspoon salt
• 12 ounces (355 ml) beer
• 4 portobello mushrooms sliced into 1-inch (2․5 cm) wide strips
1. Pour a 1½-inch (4 cm) layer of oil into a deep pot. Heat the oil to 375°F (190°C). (If you don't have a candy or frying thermometer, throw in a pinch of batter. The oil is hot enough if the batter sizzles and is immediately surrounded with bubbles.) In the meantime, line a baking sheet with paper towels.
2. To make the batter, mix together the flour, baking powder, and salt, then add the beer and mix again. Coat a mushroom slice in the batter and place it in the hot oil with a slotted spoon. Repeat until the pot has mushroom slices in one layer with space between all of them. After one side of each mushroom is browned, flip it to cook the other side. Remove the mushrooms one at a time and place on the prepared baking sheet. You will have to do several batches depending on how big your pot is. Eat these as soon as possible for maximum crunchiness.
Tip: Watching your oil consumption? Don't make Beer-Battered Portobellos! But consider why you are watching your oil consumption. Did you discuss it with your doctor or nutritionist? If not, maybe you should rethink it. After all, you only live once, and if you want to be happy in that time, eating deep-fried mushrooms might help.
Recipe from The Taco Cleanse: The Tortilla-Based Diet Proven to Change Your Life, copyright ©Wes Allison, Stephanie Bogdanich, Molly R. Frisinger, Jessica Morris, 2015. Reprinted by permission of the publisher, The Experiment. Available wherever books are sold. theexperimentpublishing.com
###
Wes Allison, Stephanie Bogdanich, Molly R. Frisinger, and Jessica Morris live in Tacotopia (Austin, TX). They introduced the Taco Cleanse at the 2013 Vegan Month of Food by eating tacos for breakfast, lunch, and dinner for 30 days. Veganmofo.com said, "It should come as no surprise that the newsworthy, tortilla-stockpiling Taco Cleanse . . . not only tops my own list of memories, but everyone else's." The crack team of taco scientists are pictured below in full garb, presumably on the verge of presenting some of their paradigm-shifting taco research. You can follow them on Twitter, Instagram, Tumblr, Pinterest, and Facebook. Be sure to check out their website for more info!