Happy publication to Carrie Hope Fletcher and All I Know Now—her version of a big sister in a book!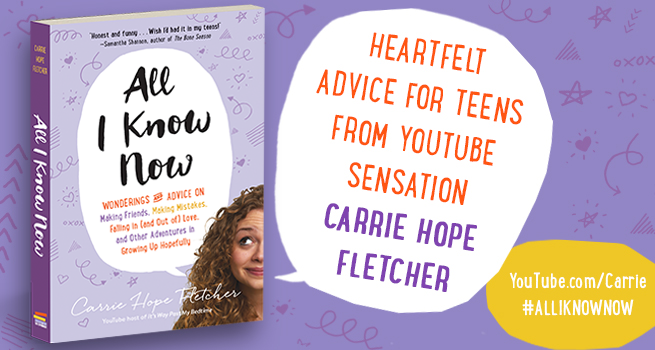 All I Know Now is Carrie's first book, but this is her second publication day. The book was originally published in the U.K. on April 23 of this year and was an instant smash hit and Sunday Times #1 Bestseller. Teens and more easily relate to her friendly tone, confidences, and sound advice for surviving these tough years, and moms are happy to give their daughters a book from such an inspiring, worthy role model.
After all, Carrie is no stranger to giving advice. Her YouTube channel, ItsWayPastMyBedtime has been a favorite of her young fans "Hopefuls" for years and she now has over 588,000 subscribers and 64 million views on her videos. Here, in her newest video, she announces the publication of our edition of the book—with an all-new purple cover (one of Carrie's favorite colors!). Watch and let us know: is it hard to see why she has so many adoring fans? (We certainly don't think so!)
Her energy, charm, and enthusiasm are contagious. If that preview wasn't enough to convince you, here she is leading a crowd in Hyde Park through a rendition of Frozen's "Let it Go" in order to break the Guinness World Record for "Most People Singing Live in a Radio Broadcast" or check out this video
of her revealing the U.S. cover of All I Know Now. Just like her lovable personality, her book is full of her characteristic wit and fun-loving attitude. She offers advice on everything from bullies to Twitter to the disgusting business of falling in love.
Carrie is relatable—she has faced bullies, she was a high school misfit herself. She never lectures her readers and fans because she's walked in their shoes—she confides in them. But of course, not everything about Carrie is totally average. Not only is she a singer, vlogger, and role model, she is also the first and only actress to have played both Éponine and young Éponine in the London West End's production of Les Misérables. A role for which she received the 2014 WhatsOnStage Award for Best Takeover in a Role.
The beautiful thing about this book is that readers need not take our word on its magnificence. Search #AllIKnowNow on Twitter or Instagram to instantly reveal the many, many fans and Hopefuls who have found support and recognition in the book. And be sure to check out her Huffington Post interview. Pick up your copy of All I Know Now today. Happy Reading!
Follow Carrie on social media!
Twitter
Facebook
Instagram
#AllIKnowNow