Nearly seven million people in the United States suffer from Mild Cognitive Impairment (MCI), one of the largest risk factors for Alzheimer's disease. And those who don't already have it may later develop it. According to researchers at the Mayo Clinic, seven percent of older adults develop MCI each year. Odds of the disease progressing to Alzheimer's worsen the longer MCI is allowed to progress. Every year, the condition of ten percent of individuals living with MCI converts to dementia. The good news is that research indicates this onset can be delayed—meaning, those at risk for Alzheimer's can do something to keep their brains stronger for longer.
The first step is recognizing MCI, and to do that one must first be able to recognize the disease for what it is. MCI is cognitive decline that is greater than normal age-related decline. It may include increased forgetfulness, confusion, difficulty finding the right word, and/or the decreased ability to learn. Cognitive decline is one of the greatest fears among the elderly, and this fear is exacerbated by feelings of helplessness accompanying MCI diagnosis. However, while there is no cure, there is also no need to sit around waiting for the condition to worsen unchecked. In fact, mindless passivity is exactly what speeds up decline.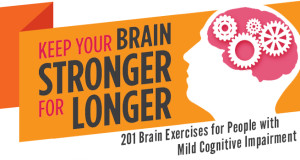 Keep Your Brain Stronger For Longer by sought-after Alzheimer's and MCI specialist Tonia Vojtkofsky, Psy.D is a workbook including 201 brain exercises specially designed to help slow cognitive decline in people with Mild Cognitive Impairment and prevent the development of MCI in healthy adults. Dr. Vojtkofsky is a clinical researcher at the University of California Irvine's Institute for Memory Impairment and Neurological Disorders and its Alzheimer's Disease Research Center. The exercises that Dr. Vojtkofsky includes in her book are those that have been helping patients at her own clinical practice, Cognitive Care Solutions, in Santa Ana, California for years.
Cognitive interventions can effectively improve memory, executive functioning, processing speed, attention, and other aspects of cognitive performance both in people with MCI and in healthy older adults.
Dr. Vojtkofsky's confidence in the effectiveness of these evidence-based exercises comes not only from her first-hand experience but also from peer-reviewed, published science. One study published in the New England Journal of Medicine examined 469 people above seventy-five years of age, asking them questions about their daily lives and charting changes in their performance on neuropsychological tests every five years. The study concludes that the risk of dementia is significantly lower in those who engage more frequently in "brain exercising" activities such as reading books or newspapers, writing for pleasure, doing crossword puzzles, playing board games or cards, participating in organized group discussions, and playing musical instruments.
Despite the proven effectiveness of brain exercise, Dr. Vojtkofsky is afraid that the public isn't aware of its importance—one of the many reasons she wrote Keep Your Brain Stronger for Longer. And time is something of the essence here. With the baby boomer generation aging, the number of people with Alzheimer's and other dementias is going to skyrocket, putting Medicare at risk for bankruptcy. The solution is early intervention. In Dr. Vojtkofsky's own words:
"Due to the power of neuroplasticity, mental abilities can be strengthened even in those with MCI. Research has shown significant improvement on neuropsychological performance scores after cognitive training. In addition to cognitive exercise, there are several other modifiable risk factors that are highly correlated to brain health, such as nutrition, physical exercise, treating stress and depression,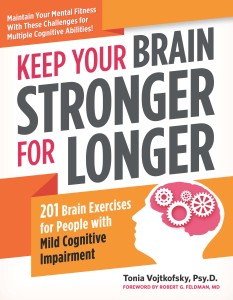 and managing comorbid health conditions. Addressing these lifestyle factors can improve brain abilities and keep people with cognitive impairment functioning at their highest optimal potential for longer."
Take action! Order a copy of Keep Your Brain Stronger For Longer for yourself or for a loved one today.
Click here for sample puzzles to try yourself.
###
Tonia Vojtkofsky, Psy.D., is the founder of Cognitive Care Solutions in Santa Ana and a clinical researcher at the University of California Irvine Institute for Memory Impairment and Neurological Disorders and Alzheimer's Disease Research Center. She is a member of the American Psychological Association and a founding member of Women Against Alzheimer's. She lives in Southern California.