Last week, Chirlane McCray, the First Lady of New York, launched a two-year initiative to distribute 200,000 baby book bundles, donated by Scholastic, to New York City families with children ages zero to three. This initiative is being launched in conjunction with the City's "Talk to Your Baby" campaign which was created to ensure that all families have access to books during the time (ages zero to five) when their children's brains are developing most rapidly. In addition to distribution of the book bundles and a partnership with Scholastic, the campaign also aims to raise awareness with a major public movement. (Perhaps you've seen the #talktoyourbaby hashtag featured around the city and in the Twitterverse.) The "Talk to Your Baby" campaign is an effort to bridge the "word gap" and put more young people on the path to success—a sentiment Barack Obama has been supporting for many, many months.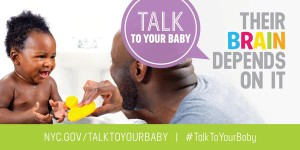 New York is not the first city to launch such an initiative and "Talk to Your Baby" is not the first time a public official has helped mobilize support for the issue. Cambridge, MA and Providence, RI have both supported similar awareness-raising campaigns. In fact, Providence was profiled by Margaret Talbot in The New Yorker just this past January for its pioneer program, "Providence Talks." "Too Small to Fail," an organization that the Clinton Foundation launched in 2013 has also been a critical asset in the larger national campaign by supporting community movements.
The problem here is that 90% of brain development occurs before the age of five—during a time when children are surrounded almost exclusively by their parents and/or other family members. And tragically, studies have found that by age four, children in middle to upper-income families have heard 30 million more words than their lower-income peers. They're already 30 million tiny steps behind even before they've set foot in a school.
In her New Yorker piece, Talbot discusses just how ubiquitous the problem of the "word gap" has become:
"The notion of the word gap even turned up on "Orange Is the New Black," when one of the inmates urged her boyfriend to talk with their new daughter, because 'there's all these studies that say that if you don't talk to the baby they end up, like, f***ed by the time they're five.'"

It's very fortunate, indeed, that politicians, celebrities, and the Twittersphere are all activating to raise awareness for this troubling issue. But they aren't the first to recognize the importance of talking to your baby. Around the time in 2014 that Obama was holding his conference on how best to bridge the word gap, Nicola Lathey and Tracey Blake's book, "Small Talk: How to Develop Your Child's Language Skills from Birth to age Four," was publishing. Nicola Lathey, a children's speech and language therapist with over 15 years of experience, and journalist Tracey Blake teamed up to write Small Talk in order to coach parents through this critical language development stage.
Small Talk is comprehensive in its scope. It tackles all the advice and tools a parent needs to encourage their child's communication skills; the six stages of speech development to help parents recognize milestones; how to "tune in" to what children are saying to encourage language and vocabulary development; anecdotes, case studies, and 50 "Small Talk Time" games to play; and, a guide to the most important techniques to promote language development, which communication skills will help calm tantrums, how to help with stammering and struggling with certain sounds, and the truth about pacifiers, baby signing, and the impact of TV on language development.
While it's wonderful and encouraging how "on-trend" the subject has become and how many in positions of power are chipping in to increase awareness about the "word gap" and importance of talking to babies, there are still so few books available that speak directly to the subject of talking early and intensively to young children. Small Talk is the comprehensive guide to leading children through these crucial four years.
###
Nicola Lathey is a pediatric speech and language therapist specializing in children under five. Nicola has worked all over the world, including England, Australia, Sri Lanka, and Vietnam. She is the founder of the Owl Centre, a private speech and language therapy clinic for children. She lives in Oxford, England, with her husband and daughter. Tracey Blake is an experienced journalist and editor at the Daily Mail, where she writes the parenting blog Small Talk. She lives in Buckinghamshire, England, with her partner and their two children.