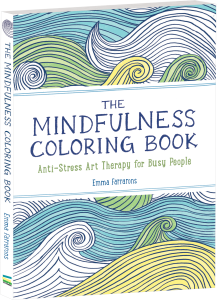 Whether you were naturally artistically-inclined or your parents were simply looking for a distraction, chances are you spent some quality time with coloring books as a child. Favorite animated characters, stained glass, color by numbers, abstract patterns—the coloring book possibilities were endless. Even if coloring was what your mother encouraged (insisted) you do rather than spend another hour in front of the TV, once you sat down with a coloring book, there was something captivating about the act of coloring. Distractions melted away, and your mind was left to your creation (and concentrating on staying in the lines—let's be honest.)
So how did we pull away from those simple joys of coloring for so many years? Lucky for us, they're back in full force. Coloring books for adults are suddenly everywhere—and we couldn't be more excited about it! Buzzfeed noted that Johanna Basford's coloring book The Secret Garden is blazing the way for a resurgence of adult coloring books, and we're thrilled to be introducing Emma Farrarons' The Mindfulness Coloring Book: Anti-stress Art Therapy for Busy People ($9.95, available June 2) as the next coloring book in line—with a specific focus on mindfulness and meditation. A New York magazine article talks about adult coloring clubs. In a recent CNN article, Farraron's coloring book was featured on a list of adult coloring books topping bestseller lists (it's been in the Amazon UK top 100 for more than three months!). The article also quoted our very own Matthew Lore:
"Adult coloring is absolutely a growing trend and consumers are really taking to the idea," Farrarons' U.S. publisher, Matthew Lore of The Experiment, wrote in an email. "Not only is it calming and good for your health, it's just fun!"
Though its resurgence is relatively recent, coloring as a relaxation technique is nothing new: Carl Jung was one of the first to introduce the technique in the early 20th century although the practice has the same meditative qualities as the tradition of Buddhist mandalas. In laymen's terms, according to a recent Huffington Post article, "coloring has a de-stressing effect because when we focus on a particular activity, we focus on it and not on our worries." Additionally, coloring brings out our imaginations and takes us back to childhood—a time when we clearly had far less stress. Farrarons' coloring book, containing 70 intricate and beguiling patterns, is the perfect tool to achieve tranquility through coloring. Flowers, leaves, butterflies, birds, rolling waves, and kaleidoscopic designs present the perfect backdrop for your designs—and meditation!
One of our favorite parts about The Mindfulness Coloring Book is that it's to-go ready. It's perfectly sized for your pocket or handbag. Mindfulness is all about focusing on the present moment, the present activity, and given how easily our days can spiral into chaos, The Mindfulness Coloring Book is the perfect strategy to refocus and re-center. Taking a few moments to color will help tune out the outside noise, even briefly, and remind us to focus on what is at hand, rather than what is distracting us.
Tom Stoppard, the famous British playwright, once said: "If you carry your childhood with you, you never become older." The Mindfulness Coloring Book is the perfect opportunity to carry the ease and carefree moments of childhood with you. (Quite literally—it fits in your pocket.)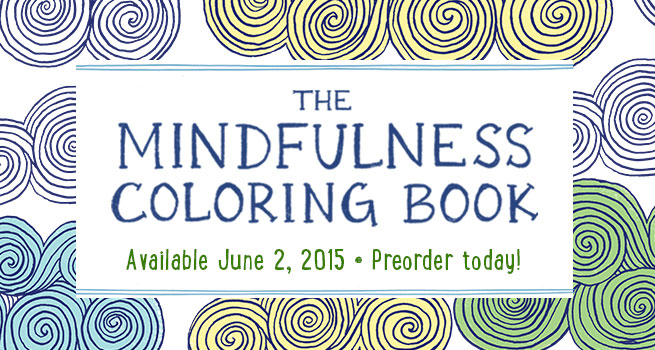 Can't wait to start coloring? Download a sample page!
SAMPLE COLORING PAGE
Mindfulness Coloring Book Sample Spread

We are so excited to see what you can color! Share your creations via social media with #MindfulColoring