Despite the one hour less sleep from which we're all suffering, we are thrilled that spring has finally sprung (forward). The sun is shining, the snow is melting, and we aren't cringing every time we look at the forecast.


Given our love of food, one of the most exciting aspects of spring is the fresh produce we can look forward to. Cabbage, kale, avocado, collards, spinach, broccoli, cauliflower, carrots, and asparagus are just a few of the seasonal veggies we're looking forward to using this month. And luckily, we don't have far to look for delicious recipes.
Eat Right For Your Sight from Jennifer Trainer Thompson and the American Macular Degeneration Foundation, just published two weeks ago, is full of healthy recipes which help combat macular degeneration. Greens 24/7 by Jessica Nadel, and But I Could Never Go Vegan! by Kristy Turner, both released in fall of 2014, are chock full of recipes highlighting vegetables. And Vedge, from Rich Landeau and Kate Jacoby of James Beard Award-nominated Vedge Restaurant in Philadelphia was published in spring of 2013.
We could go on, but if you're also feeling inspired by the sneak peek of spring we're experiencing in New York today, we'll leave you with a couple recipes to take advantage of March's best produce.
Cabbage, Kale, Avocado
Shredded Rainbow Salad with Lemony Avocado Dressing from Greens 24/7
Avocado and White Bean Salad Wraps from But I Could Never Go Vegan!

Three Greens and White Bean Soup from Greens 24/7
Roasted Broccoli and Apple Salad with Lemon-Tahini Dressing from But I Could Never Go Vegan!
BBQ Cauliflower Salad with Zesty Ranch Dressing from But I Could Never Go Vegan!
Asparagus
Roasted Asparagus with Hazelnut Picada from Vedge
Carrots
Carrot-Cumin Soup from Eat Right for Your Sight (recipe below)
Carrot-Cumin Soup
A root vegetable with origins in Asia, the carrot is rich in beta-carotene, vitamin A, minerals, and antioxidants. Carrots are one of the highest vegetable sources of vitamin A—two carrots yield roughly four times the recommended daily allowance.
Serves 4
• 2 tablespoons olive oil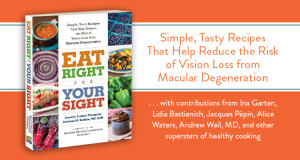 • 1 medium yellow onion, chopped
• 2 garlic cloves, minced
• 1 pound large carrots, peeled and cut
• into 1-inch pieces (about 2½ cups)
• 2½ cups vegetable broth
• ½ teaspoon ground cumin
• ¼ teaspoon ground coriander
• ½ teaspoon sea salt
• Freshly ground black pepper
• 1 teaspoon freshly squeezed lemon juice
• ½ cup plain Greek yogurt
• 2 tablespoons toasted cumin seeds, for garnish
1. In a heavy saucepan, heat the olive oil over medium-high heat and sauté the onion for 2 minutes, then add the garlic and sauté an additional minute. Add the carrots, broth, cumin, coriander, salt, and pepper. Bring to a boil. Reduce the heat, cover, and simmer until the carrots are tender, about 15 minutes.
2. Purée the soup with an immersion blender or, working in batches, purée in a blender or food processor until smooth, then return it to the saucepan. Whisk in the lemon juice and yogurt. Season to taste. Ladle into bowls and sprinkle with the cumin seeds.
Nutritional Profile
Serving size: 1 cup
Calories: 178
Protein: 4 g
Fiber: 4 g
Fat: 11 g
Saturated fat: 3 g
Sodium: 1,031 mg
Vitamin A: 19,312 IU
Vitamin C: 10 mg
Vitamin E: 3 IU
Beta-carotene: 9,420 μg
Lutein and zeaxanthin: 307 μg
Lycopene: 1 μg