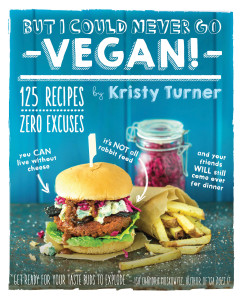 Have you been hesitant to try going vegan? You're not alone—lots of people have been known to utter the words "I could never go vegan," including author Kristy Turner! Now she has brought together all the excuses (and tips on how to get past them) in her delicious cookbook, But I Could Never Go Vegan! We sat down with Kristy to talk about how her book makes it easy for anyone to go vegan!
Q: You're the creator of the popular blog Keepin' It Kind. You've also been a Nutritional Advisor, personal trainer, and fromagier/cheesemonger. How have your experiences prepared you to write this book?
Kristy: My time as fromagier/cheesemonger helped me refine my tastebuds and taught me how to determine what flavors work well together. What I loved most about being a personal trainer and Nutritional Advisor was being able to help people change their lives. That was part of what inspired me to start Keepin' It Kind—I wanted to help people live a more compassionate lifestyle. This book allowed me to combine my ability to pair flavors with my passion for helping people give their lives a compassionate makeover—two things I'm absolutely in love with!
Q: What inspired you to go vegan yourself?
Kristy: I saw an interview with Ellen DeGeneres where she was asked why she is vegan. I don't remember the exact quote, but she said something along the lines of, "There is no such thing as a humane murder or painless torture." She didn't go into details, but she mentioned that the dairy industry was horrific. This was news to me! I'd been vegetarian for many years, but I'd had no idea about what really went on in the dairy industry, and I was inspired to research. Watching a video of a cow having her baby stolen from her so her milk could also be stolen from her—the way she cried, the way she bellowed for her baby for days—broke my heart. I cried and cried, and soon after, I told my husband I needed to go vegan. Luckily, he was on board and he went vegan too!
Q: Before you went vegan, what were your biggest excuses for not going vegan?
Kristy: My big excuse was definitely "I could never live without cheese!" I am a former fromagier, and my life used to revolve around cheese. When I started learning more about the atrocious things that go on at factory farms, especially in the dairy industry, I knew I couldn't be a part of it any more.
Q: Did you have any doubts when you first went vegan? And what has been the biggest challenge you've faced since you began cooking vegan food?
Kristy: Sure! I thought I would have to buy crazy ingredients, and I thought I would be hungry all the time. I thought I wouldn't be able to go without goat cheese or an omelet for brunch on Sunday. I was so wrong! I'm never hungry, I don't miss anything, and I eat a larger variety of foods than I did before I was vegan!
My biggest challenge—that would be cooking vegan food that my family would eat. My husband is vegan, so that wasn't a problem. It was trying to make meals for family get-togethers that wouldn't be scoffed at because they had no meat, dairy, or eggs. I've found that the key to winning over omnivores is a super flavorful dish, preferably with some sort of homemade vegan cheese.
Q: What are some of the craziest excuses you've heard as to why someone "can't" go vegan?
Kristy: Aside from the weird ethical excuses like "But then we'd be overrun by cows," I think the one I have the hardest time understanding is "But I'm from [insert city/country/area here]." We all have our own upbringings that involve certain food traditions, but those traditions don't determine who we are. We can change to live in accordance with our ethics. Just because something has always been done a certain way doesn't mean it can't change. If it did, women still wouldn't be able to vote.
Q: What is the most common excuse you hear? And how does your book overturn it?
Kristy: It's usually the old cheese excuse, but recently I've been hearing a lot of "I really need animal protein. I couldn't live without meat." In my book, I give a lot of satisfying, plant-based meat substitutes, varying from sausage made from sunflower seeds, BBQ cauliflower, hearty homemade seitan, tempeh bacon, and shredded jackfruit that can rival any kind of pulled meat! (Note: Kristy's chapter "Where Would I Get My Protein?" includes Falafel Tacos with a Sriracha-Tahini Sauce that we just can't stop eating!)
Q: What advice would you give to someone considering veganism?
Kristy: Just give it a try! If you make mistakes, it's okay. Veganism is not about perfection, it's about compassion, and as long as you're trying, you're doing alright. And be open to trying new things! You'll be amazed at the number of tasty foods you'll add to your diet—you'll never miss the few things that you gave up!
Q: Can this book be used by non-vegans?
Kristy: Absolutely! It was written with non-vegans in mind!
Q: What are a few of your favorite recipes in the book?
Kristy: I love all of them, but a few that I'm super fond of are the Seitan Reuben Pizza, Artichoke Crab Cakes, Roasted Broccoli and Apple Salad, and the Pecan Date Cinnamon Rolls. Oh, and the Salted Caramel Peanut Butter Bars. Love them!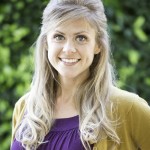 This interview can be reprinted in part or in its entirety with the following credit line:
Interview with Kristy Turner, author of But I Could Never Go Vegan!: 125 Recipes that Prove You Can Live Without Cheese, It's Not All Rabbit Food, and Your Friends Will Still Come Over for Dinner (The Experiment, Fall 2014). www.theexperimentpublishing.com