Are your young kids home all day for a snow day? Before they get cabin fever or spend too much time in front of the TV, check out some creative and fun activities that you can do at home. This Texture Balloons recipe is great for exploring senses like touch, sight, and sound. brought to you courtesy of Recipes For Play: Creative Activities for Small Hands and Big Imaginations.

Texture Balloons
Set-up time: high—Clean-up time: low—Mess factor: low
There can be more to balloons than just air. Filling them with different textures and tying them off leaves you with interesting malleable toys. Make pairs with the same fillings and ask the kids to match textures, or draw faces on the balloons with a marker and enjoy the change of expression with each squish.
Dig through the pantry for a selection of different fillings, such as flour, dried lentils, polenta, or salt. Watch out for sharp or pointy grains that could pierce the balloons, such as rice or angular pasta.
You will need:
-balloons (helium-grade work best as they are stronger)
-a funnel
-various dry goods as filling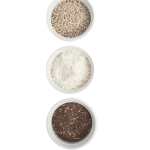 Some fancy finger-work may be required, as well as a bit of patience. Stretch the mouth of each balloon over your funnel and slowly feed the dry goods inside. This may involve some stretching and squeezing and wiggling of the balloon, or a sneaky prod with a chopstick to force reluctant filling into the vessel. If you're using flour, beware of squeezing, as the flour is likely to leap right back out of the funnel and into your face, which can be amusing but also frustrating.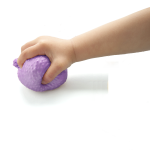 When tying off the end, slowly squeeze the air out before knotting the balloon. Alternatively, you can get really fancy and double back the balloon by twisting the neck a couple of times and folding it back over the body, then stretching another balloon over the top and repeating the twisting technique. It does offer a cleaner finish but, really, kids aren't that fussy, and if you're grumpy after getting a face full of flour, a basic knot will suffice.
Recipes for Play contains easy and inexpensive ideas for engaging your child's senses. Many wonderful hours can be spent playing with natural ingredients found in your kitchen cupboard or backyard garden. Make your own face paint in minutes, whip up a batch of oozy slime, create clouds of color with rainbow rice, and so much more.
Sisters Rachel Sumner and Ruth Mitchener have created Recipes for Play for parents and teachers—or anyone with a child in their life—who want to encourage tactile learning but don't want their lives to be controlled by chaos. Each recipe has easy-to-follow instructions for setting up activities and simple steps for cleaning up once the fun is finished.
Bonus: Know a teacher, store owner, or librarian looking for some kid friendly activities? Download an authorless event kit for Recipes for Play to host interactive playtime for children ages 2 to 6!