BONUS POST! BONUS POST? Bonus Post.
So you need a stocking stuffer for Everyone You've Ever Met?
(Or to have on hand for the person who got you something and you did the "Oh, yours is coming tomorrow…" bit.)
We suggest: 2015 Moon Calendar by Kim Long
Why? How often do you look up at a beautiful, bright moon and wish you had a reference card to tell you the current status of the moon cycle? Well, even if you've never actually thought that…this moon card will still come in handy for 1) impressing your date 2) impressing your kids 3) having something to refer to as you ponder the size of the universe. Perfect for amateur astronomers, fishermen, kids, gardeners, hikers, followers of the moon cycle, star gazers, and even those looking to plan the perfect nighttime picnic, this convenient little reference card provides all the at-a-glance moon cycle information needed. Dates, times, and graphics of every phase change, eclipse, apogee, and perigee mean that whatever your reason for moon watching, you won't miss a thing!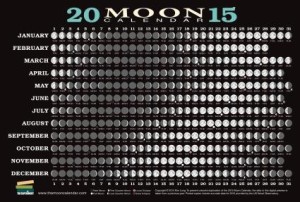 Note: The data in the above image is actually from 2014. No Peeking!
Bonus: Depending on how many stocking stuffers you need, you can easily buy these babies in bulk packs of 5, 20, or 40! A budget-friendly solution for everyone!