So you know a Veggie-Lover with a New Year's Resolution?
We suggest: Plant-Powered for Life: Eat Your Way to Lasting Health with 52 Simple Steps and 125 Delicious Recipes by Sharon Palmer

Why?: Because who doesn't need to work more veggies into his or her diet? Sharon Palmer makes it easy for anyone to incorporate more plants into a daily diet. Plant-Powered for Life provides 52 (hold on—that's one for every WEEK!) simple steps as well as 125 delicious recipes to help anyone that's been meaning to eat more whole plant foods. If you don't want to hear your beloved aunt promise for the sixth year in a row that in 2015 she'll eat more veggies, then make sure she accomplishes her goal this year with this indispensable guide! Recipes such as Tofu Ratatouille, Moroccan Vegetable Tagine with Couscous and Creamy Peanut Butter Pie will inspire Mildred (or anyone) to enjoy a healthy, plant-powered life.
The 52 simple steps let you explore one idea a week over the course of a year. That way you have an easy resolution that's guaranteed to result in at least a few habits you can keep for the long term.
Bonus: If your aunt got you an extra nice gift last year, make it a set with Sharon Palmer's Plant-Powered Diet.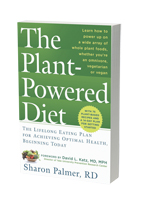 On the ninth day of December, my neighbor gave to me: plants full of power, eight pounds a-shedding, veggies for a-cooking, recipes for playing, knowledge of science, three hundred dinos, a guide to eating vegan, one book on running, and a cookbook that's all gluten-free!