So you need a gift for The Calorie Counter?
We suggest: The Calories In, Calories Out Cookbook by Catherine Jones, Elaine B. Trujullo,
and Malden Nesheim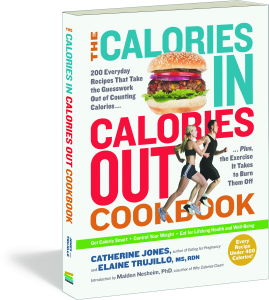 Why?: This book takes all of the work out of counting calories: 200 delicious recipes along with their exact calorie counts and how much exercise it would take to burn those calories. Even your obese cat could drop a few pounds with this book.
Everybody knows that person at the dinner table who refuses a second piece of pie because it has 8,000 calories or the relative in the corner insisting that everyone go for a walk after the big family dinner. This is the book for those people! Instead of turning down dessert, Billy can have a slice of his own Lemon Ricotta Cheesecake with Blueberry sauce knowing full well that it only has 362 calories! Or, your Uncle Bob can sit still and enjoy the company knowing he only has to walk for 36 minutes to burn off his Grilled Lemony Lamb Chops.
Bonus: Besides eating well and dropping some poundage, this book is also a great health guide to have on hand. It includes nutrition stats as well as the calorie count and nutritional info for 1,000 popular foods and drinks.
On the eighth day of December, my girlfriend gave to me: eight pounds a-shedding, veggies for a-cooking, recipes for playing, knowledge of science, three hundred dinos, a guide to eating vegan, one book on running, and a cookbook that's all gluten-free!
EXTRA SPECIAL PREVIEW BONUS: The recipe for Pumpkin Bread is included below—save us a slice please!

Perfect Pumpkin Bread
Makes 2 Large Loaves or 5 Small Loaves; Each Large Loaf Serves 12, Each Small Loaf Serves 5
222 Calories In//1 Slice of Large Loaf
Protein: 4 g; Carbohydrates: 36 g; Fat: 8 g; Fiber: 2 g; Sodium: 173 mg; Carb Choices: 2½; Diabetic Exchange: 1 Starch, 1 Fruit, 2 Fat
222 Calories Out
Women: Walk: 54 minutes; Jog: 25 minutes
Men: Walk: 45 minutes; Jog: 21 minutes
Calorie Cuts: Skip the walnuts and save 48 calories and 5 grams of fat per slice. Skip the cranberries and save 23 calories per slice.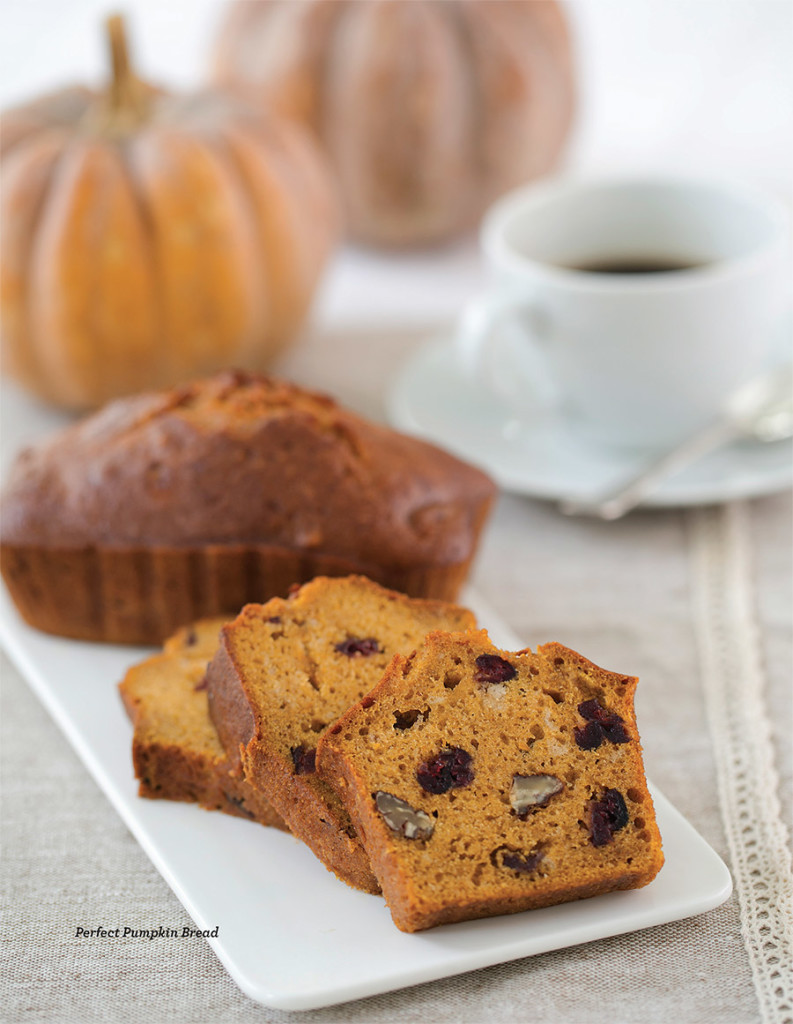 Canola oil cooking spray
2 cups (260 g) unbleached all-purpose flour
1½ cups (195 g) whole wheat flour
2¼ cups (514 g) sugar
2 teaspoons baking soda
½ teaspoon baking powder
½ teaspoon salt
2 teaspoons ground cinnamon
1 teaspoon ground nutmeg
½ teaspoon ground ginger
½ cup (125 ml) canola oil
½ cup (125 ml) unsweetened applesauce
2 large eggs plus 2 large egg whites
2/3 cup (160 ml) water
One 15-ounce (425 g) can solid-pack pumpkin (not pumpkin pie mix)
1 cup (140 g) dried cranberries or cherries, optional
1 cup (100 g) chopped toasted walnuts, optional
1. Center an oven rack and preheat the oven to 375°F (190°C). Spray two 8½ x 4½ x 2½-inch (21.5 x 11 x 6 cm) or five 5¾ x 3 x 21/8-inch (14.5 x 7.5 x 5 cm) loaf pans with cooking spray; set aside.
2. In a large bowl, combine all the dry ingredients and whisk until well blended; set aside.
3. In another large bowl, combine the canola oil, applesauce, eggs, egg whites, and water and whisk to mix. Add to the dry ingredients and mix until combined. Add the pumpkin and the cranberries and walnuts, if using, and mix until well combined.
4. Divide the batter evenly among the prepared loaf pans. Bake for about 70 minutes for large loaves, about 40 minutes for smaller loaves, or until a cake tester inserted in the center comes out clean. If the loaves are browning too quickly on top, cover them loosely with a piece of foil. Let sit for 5 minutes, then remove from the pans and cool completely before slicing.