So you need a gift for Ross Geller (or another less famous Dino Enthusiast)?
We suggest: Dinosaurs—The Grand Tour: Everything Worth Knowing from Aardonyx to Zuniceratops by Keiron Pim with field notes by Jack Horner
Why?: Maybe it's for your anthropology professor that just wrote you a recommendation,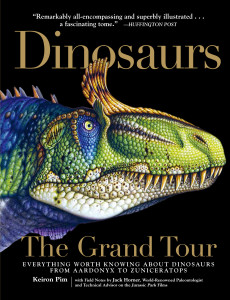 or maybe it's for your seven year-old nephew who doesn't need another video game. Or perhaps it's for your brother who's seen Jurassic Park 400 times. He's ready to graduate to more advanced knowledge, don't you think? With this book he'll be able to identify all the creatures in the new movie that comes out in just a few months! Jack Horner, who compiled the field notes for the book, served as the inspiration for Paleontologist Dr. Alan Grant in the first Jurassic Park and has served as the technical advisor on all the films.
The great thing about Dinosaurs is that it appeals to dino-lovers of all ages. It's full of pictures (might we suggest it's perfect for keeping the kids home from school occupied…), engrossing facts, important scientific discoveries, and the lowdown on over 300 species of dinosaurs.
Bonus: If you flip through it before wrapping it up you can whip out dino trivia as a holiday party trick! Fact: a dinosaur discovered in 2006 was named Dracorex hogwartsia inspired by the Harry Potter books!
On the fourth day of December my brother gave to me: three hundred dinos, a guide to eating vegan,
one book on running, and cookbook that's all gluten-free!