So you need a gift for your Vegan-Curious sister?
We suggest: But I Could Never Go Vegan!  by Kristy Turner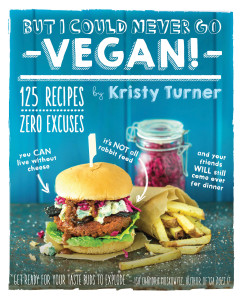 Why?: This book counters every argument non-vegans make about going vegan. Afraid your friends will stop coming over for dinner? Worried that you'll never learn to love again after cheese? What about cooking for the holidays? Kristy Turner, the brains behind the blog, "Keepin' It Kind," has the answers to all your vegan-curious friends and relatives' questions so your sister can finally learn all of the facts and get the encouragement she needs to switch to a healthy, vegan lifestyle. Complete with recipes and beautiful photographs, this book is perfect for those already following a vegan lifestyle as well as those just beginning to consider the possibility.
Worried that you'll never eat pizza again? Try Kristy's Roasted Garlic White Pizza with Macadamia Ricotta.
Afraid you won't be able to bake anymore? Salted Caramel Peanut Bars to the rescue!
What about ice cream?? Dark. Chocolate. Sorbet. ('Nuff said.)
With 125 recipes (and photos to boot), even the most skeptical of all the skeptics will find the recipes to calm their vegan worries. Here's a trailer to give you an idea.
Bonus: If you have another, perhaps older, vegan/vegan-curious recipient in the same crowd, we can also suggest Never Too Late to Go Vegan by Carol J. Adams, Patti Breitman, and Virginia Messina, MPH, RD.
On the third day of December, my mother gave to me: a guide to eating vegan, one book on running, and a cookbook that's all gluten-free!