So you have a Relative Who Signed Up For a Post-Holiday Race?
We suggest: Build Your Running Body by Pete Magill, Thomas Schwartz, and Melissa Breyer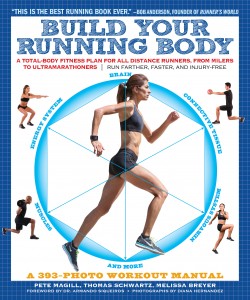 Why?: Well the title sort of speaks for itself here. Build Your Running Body is the essential guide to building a fit, fast, injury-free running body for beginners to ultramarthoners. This book provides over 150 workouts that can be tailored to runners of any skill level. Complete with photos; interviews with leading runners, scientists and coaches; and recipes to speed recovery and cement fitness, this guide will be indispensable to your uncle panicking about his 5K as well as your cousin that just signed up for her third marathon.
Peter Magill heads the Build Your Running Body team and, considering he is the fastest American over 50 in the 5K and 10K, we tend to trust his program. He is also a senior writer and columnist for Running Times magazine and the 2013 USA Masters Cross Country Runner of the Year. We couldn't leave you in better hands for your training.
Check out www.petemagill.com
Bonus: Who couldn't use a fitness guide post-holiday season? New Year's resolutions people…
On the second day of December, my nephew gave to me: one book on running and a cookbook that's all
gluten-free!