While we do believe that a book is the perfect gift for every person on your shopping list, they aren't a one-size fits all kind of present. You can't order twenty in varying colors and distribute at random. Grandma probably doesn't want to read the same book as your 14 year-old nephew. Which is why we are here to help! We have put together a 12-day guide to finding the perfect book for all of the characters on your list. Follow along for the next twelve days (get it . . . like a partridge in a pear tree?) to find the right book for the right recipient.
So you need a gift for the Gluten-Free Eater in your life?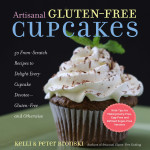 We suggest:
The full line of Peter and Kelli Bronski Gluten-Free Cookbooks
–Artisanal Gluten-Free Cooking
–Artisanal Gluten-Free Cupcakes
–Gluten-Free Family Favorites
Why?: The holidays (with their unending meal traditions) can become pretty stressful when someone in the family has to go gluten-free. With celiac disease and gluten sensitivity on the rise, it's almost certain you've got at least one cousin eschewing gluten. Luckily, we have the Bronskis! Your friends and family will be well-equipped for any holiday get together with the Bronski's three gluten-free cookbooks, which prove that switching to gluten-free is easier (and much more delicious) than it may seem.
Perfect for anyone with celiac disease, gluten sensitivity, or simply a desire to switch to gluten-free, these cookbooks offer all the variety, nutrition, and delicious tips the gluten-free eater on your gift list needs.
Artisanal Gluten-Free Cooking offers 250 delicious, from-scratch recipes that are both simple and fresh. It also shares the Bronski's revolutionary Artisan Gluten-Free Flour Mix, which helps make their recipes nearly indistinguishable from the gluten versions. Artisanal Gluten-Free Cupcakes (using the same miraculous flour mix) has recipes for every imaginable cupcake—from the classics (such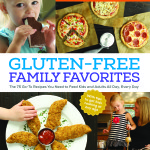 as Red Velvet) to the nutty (Pistachio Cupcakes) to the fruity (Very Strawberry) to the downright extraordinary (Tiramisu).
Finally, the Bronski's newest cookbook, Gluten-Free Family Favorites, is the first book of its kind to target cooking for the whole gluten-free family. (And with more and more kids being diagnosed with celiac disease or gluten sensitivities, they're just in time.) The cookbook covers childhood favorites from breakfast (French Toast Sticks) to snacks (Soft Pretzels) to familiar classics (Chicken Fingers) and everything in between. With tips and ideas for getting kids involved in the kitchen, this is the indispensable guide not only for those with gluten-free children, but for gluten-free parents as well (after all, who wants to make two different dinners?).
Bonus: Not that you hadn't already thought of this, but, we suspect these cookbooks could be put to good use by gluten eaters as well . . . Who, really, is going to turn down a Tiramisu Cupcake?
On the first day of December, my sister gave to me: a cookbook that's all gluten-free!