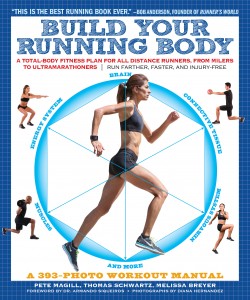 We're very excited for the release of Build Your Running Body: A Total-Body Fitness Plan for All Distance Runners, from Milers to Ultramarathoners—Run Farther, Faster, and Injury-Free, tomorrow July 29!
The author team behind "the best running book ever" (as Bob Anderson, founder of Runner's World magazine, calls it)—headed by renowned coach Pete Magill, the fastest American over 50 in the 5K and 10K—presents over 150 workouts, from weightlifting and cross-training to resistance work and plyometrics (jump training), that can be tailored for distance runners of any skill level. With exercises for every element of a well-rounded running body—muscles, connective tissue, cardiovascular fitness, energy production, the nervous system, hormones, and the brain—this accessible guide is the ultimate running resource.
Highlights of this unique fitness book includes:
Photos that make it easy to follow every step of every workout
Training programs to help runners of all levels integrate the total-body plan into their daily routines
Charts and tables that illuminate the physiological gains of full-body strengthening
Interviews with leading runners, exercise scientists, and coaches that reveal how elite runners train today
Injury-prevention exercises to help runners avoid and rehabilitate all the most common running-related ailments
Recipes to speed recovery and cement fitness gains.
The book offers practical advice on simple topics such as running gear, from guidelines for beginners—like, "Keep your focus on the running. Don't spend all your enthusiasm on a shopping spree. Start with a single pair of shoes and two simple running outfits—shorts and shirts (either cotton T-shirts or Dri-FIT will do). When you're certain the sport is for you, that's the time to add more gear"—to advice on shoes for seasoned runners.
Our intern Gretchen gave us her take on it:
Earlier this month, I finally ran my first 5K race: the NYCRuns Shore Road 5K in Brooklyn, right along the river. The sun was shining, the water was glittering and dotted with boats, and the race organizers provided a free carb-fest of bagels and fruit afterwards, so I'd say it was an ideal way to spend a Sunday morning. Still, I'm a novice runner, so running 3.1 miles at a faster-than-usual pace left me feeling sore and exhausted even two days later.

Fortunately, Build Your Running Body provides a wealth of information—from training tips to cross-training workouts to nutrition guidelines. I was able to leaf through an advance copy (one of the perks of being an intern in publishing!).

The book is extremely thorough: it's intended for runners at every level of experience, from beginners like me to ultra-marathoners. I was able to read about why I'm still sore from the race (DOMS, or Delayed Onset Muscle Soreness), the importance of rest days (you actually get stronger when you're recovering, not when you're training), and suggestions for improving my time (hill sprints). It's an all-in-one training and plan, running encyclopedia, myth-buster and source of inspiration.
Publishers Weekly gave the book a starred review, writing, "With over 300 photos to illustrate everything from strides to strength programs, the authors clearly and concisely give readers helpful advice to improve their practice. Runners of all levels will appreciate the book's breadth and encouraging tone . . . This is an informative, friendly guide that all runners can grow with and will likely return to over time."
And for a sneak peek at a workout, check out this excerpt on WorldLifestyle.