From Quick and Easy Vegan Bake Sale by Carla Kelly: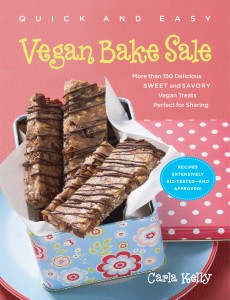 What would Easter be without Hot Cross Buns? Please believe me when I tell you that homemade is best, by far. You have the option of changing the fruit in your buns for what you like, upping the spice if you are a cinnamon
fiend, and that's not to mention the satisfaction of making them yourself. As a bonus, your house will smell divine for the rest of the day!
If it isn't Easter, or you don't celebrate this festival, then omit the piped crosses, for delicious fruit buns.
Buns
1 cup boiling water
3⁄4 cup raisins
1⁄2 cup golden raisins
3⁄4 cup warm soy milk
1 tablespoon vegan margarine, room
temperature
2 teaspoons dry yeast
1 teaspoon granulated sugar
2 cups white bread flour, or 2 cups all-purpose flour and 2 tablespoons vital wheat gluten
2 teaspoons granulated sugar
1 teaspoon ground cinnamon
1 teaspoon pie spice
1 teaspoon salt
1⁄2 teaspoon ground nutmeg
1 cup white bread flour, or 1 cup all-purpose flour and 1 tablespoon vital wheat gluten
1⁄4 cup dried cranberries (see Note)
1⁄4 cup dried blueberries (see Note)
Flour, for kneading
Canola oil, for the bowl
Crosses
2 tablespoons water
2 tablespoons all-purpose flour
2 tablespoons confectioners' sugar
1 tablespoon cornstarch
Glaze
2 tablespoons granulated sugar
1 tablespoon water
In a medium bowl, combine the raisins, golden raisins, and water. Set aside for 10 minutes, then drain, reserving ¾ cup of the soaking water, which should still be warm.
In a large bowl, combine the soy milk, raisin-soaking water, margarine, yeast, and granulated sugar, stir to combine and melt the margarine, then set aside for 10 minutes to proof.
Add the 2 cups of flour, granulated sugar, and spices, then stir one hundred times with a wooden spoon to mix really well. Set aside for 10 minutes.
Add the remaining flour and turn onto a floured board for kneading. The flour may not completely incorporate at first, but that is fine; it will become part of the dough as you knead. Add more flour by the tablespoonful, as required, to ensure the dough is not sticky.
Knead for a total of about 15 minutes, until your dough is smooth and supple. You can do this in 3-minute bursts—that is, knead for 3 minutes, rest, and repeat—if you find kneading vigorously for the whole time too tiring.
Coat a large bowl with a thin film of oil, place the dough ball in the bowl, and turn the dough to coat it in oil. Cover the bowl and place in a warm place until the dough is doubled in size (1 to 1½ hours).
Punch down the dough, knead for about 3 minutes to get it looking dough-like again. Return the dough to the bowl, re-cover, and return the dough to your warm place for a second rise. It will take less time than before, 30 to 45 minutes, to double in size.
Prepare a 9 by 13-inch baking (brownie) pan by lining with parchment paper during the second rise.
Once the dough has risen, remove it from the bowl, and on a lightly floured board knead for another 3 minutes, before dividing into twelve equal pieces. Roll each piece into a ball and place in the prepared pan. Cover as before and set aside for 20 to 25 minutes, for a final rise.
While the buns are rising, preheat the oven to 400°F and prepare the cross mixture by mixing all its ingredients together in a small bowl until smooth. Transfer to a piping bag fitted with a narrow, smooth tip.
Once buns have risen, pipe the top of each with a cross, then bake for 20 to 25 minutes until well risen and golden. While baking, prepare the glaze by mixing the granulated sugar and water together. Heat in a small saucepan or in a bowl in the microwave on high in 10 second bursts, until the sugar is dissolved. Keep warm until required.
Remove the buns from the oven. Glaze while still hot from the oven and let cool completely on the pan prior to serving, if you can make them last that long!
Note: If you'd prefer a more traditional taste to your Hot Cross Buns, use dried currants or more
raisins in place of the dried blueberries and cranberries.