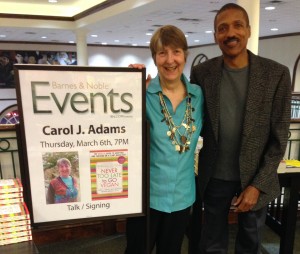 The authors behind
Never Too Late to Go Vegan
have been spreading the word far and wide about the book, and if you live in the Dallas area, maybe you caught Carol J. Adams at Barnes & Noble last night speak and sign copies. A surprise guest met with Carol after the event: Donald Moy, pictured here with Carol, whose testimonial appears in the book.
And just last Sunday, Carol was in Western New York, appearing on
WGRZ's Daybreak
giving sage advice (our favorite nugget of wisdom? "Change isn't hard. What's hard is open heart surgery"). Meanwhile, Ginny Messina was interviewed for the
Our Hen House podcast
, and Patti Breitman was featured on
VegNews.com
.
All three authors will be making several stops around the country in the coming months and over the summer. Head to our events page to see if they'll be in your area!