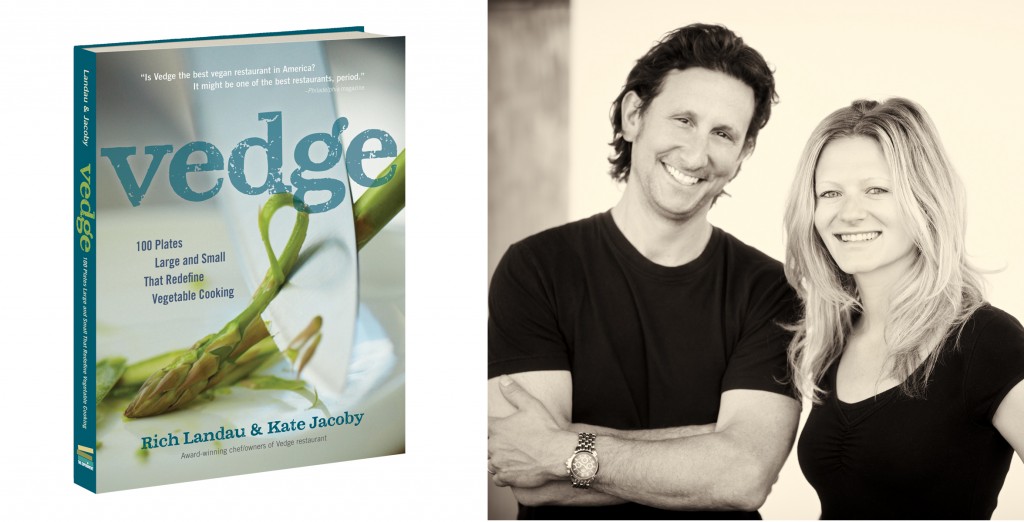 September has been an exciting month for Rich Landau and Kate Jacoby, the chef-owners of the acclaimed Philadelphia restaurant Vedge—September 3 marked the release of their long-awaited cookbook Vedge: 100 Plates Large and Small That Redefine Vegetable Cooking. To celebrate the release, Food52 featured the duo as guest editors for a week, including four recipes from the book. Vegetarian Times also hosted Rich and Kate for a Facebook chat on the 10th, giving fans a chance to ask them questions directly, and Rich and Kate were happy to oblige. They offered insight into everything from how they've achieved their signature smoky flavor at the restaurant, to the best way to prepare Spaghetti Squash, to what dishes from the cookbook kids would love the most (Rich and Kate's son Rio is partial to the Broccoli Rabe Philly Style).
Although a self-described "carnivore at heart," Rich became a vegan for ethical concerns, and embraced a plant-based diet as the perfect opportunity to experiment with bold, complex ingredients and flavors. At Vedge, Landau and Jacoby have wowed diners with their Dirt List, a collection of vegetable sides that are changed daily, and their fresh seasonal "are you sure this is vegan?" fare. Foobooz, Philadelphia magazine's food blog, included the cookbook on its Fall Reading List, writing: "While vegan cookery is often the punch line of jokes, Vedge is proving that roots, shoots, and fruits, employed in sophisticated and thoughtful ways, can be just as stunning as any meat-centric entrée." It's no wonder Philadelphia named Rich 2013's Best Chef.
Vedge is now available online and in brick and mortar bookstores. If you're in Philadelphia next weekend, head to the Greensgrow Farms Fall Festival on September 28th to see Rich and Kate demo three recipes from Vedge and sign copies. They'll also be doing a demo at the James Beard Foundation's Taste America event in Philadelphia on October 4, and they'll be at the Williams-Sonoma at the King of Prussia Mall in King of Prussia, PA, on November 2.