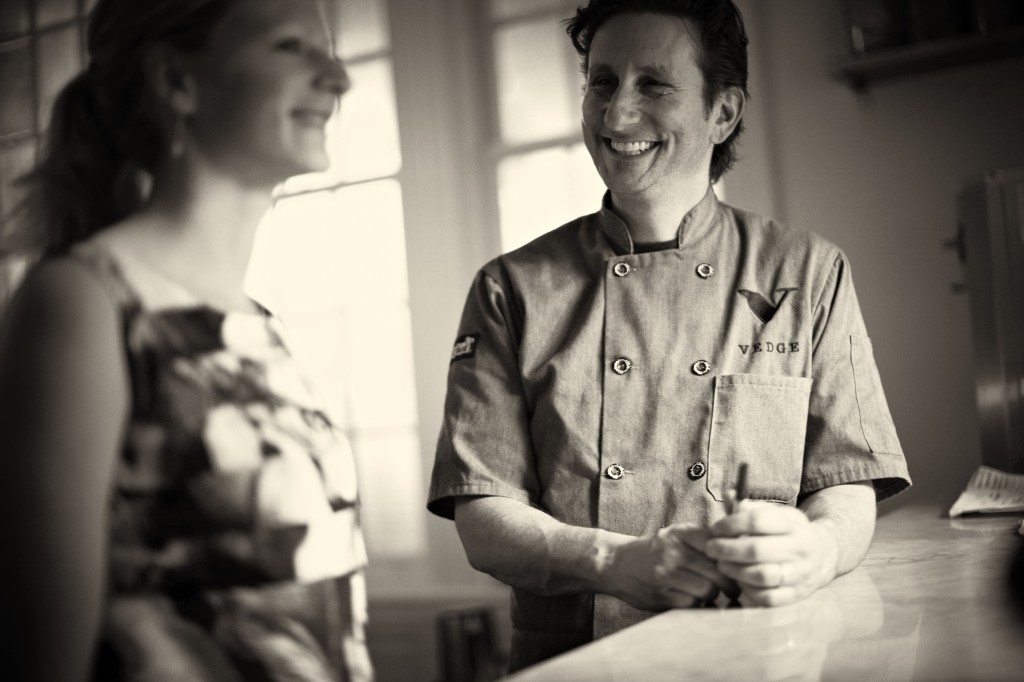 On Tuesday night, Rich Landau, chef and owner of Vedge in Philadelphia, competed against three other accomplished chefs on Food Network's cooking competition Chopped. If you haven't seen the show, in each round contestants prepare an appetizer, entrée, and dessert that incorporate a new batch of mystery ingredients while judges decide who advances based on the presentation, taste, and creativity of their creations. This week's episode exclusively featured plant-based ingredients, Landau's specialty. Drawing on his love of vegetables, he created three impressive dishes that offer a glimpse of what you'll find in the forthcoming cookbook Vedge, written together with his wife and co-owner of Vedge, Kate Jacoby (who is also the restaurant's pastry chef), which we'll publish later this summer.
For his appetizer on Chopped, Landau incorporated rice paper, dried morel mushrooms, chia seeds, and dandelion greens into a horta summer roll accompanied by a mushroom stock and chia seed topping. The judges praised his reinvention of horta, a Greek dish of boiled greens, and its unique blend of textures. Likewise, Landau's entrée of steak spice tempeh, marinated golden beets, wheatgrass vinaigrette and Italian salsa verde received high marks. Judge Alex Guarnaschelli was especially impressed with the beets, noting, "There is a cohesiveness to this that I have to stand back and kind of admire." As a devoted vegan, locally sourced honey—one of the required ingredients for the dessert round—posed a special challenge. Nonetheless, his edamame turnovers, made from green tea dough and served with a honey cranberry sauce, earned the approval of the judges.
This emphasis on fresh ingredients and exciting flavors can also be found in Vedge. Using the same resourcefulness and creativity he displayed on Chopped, Landau has created a hundred vegan recipes, techniques, and tips for cooks to recreate in their own kitchens. If the food on Chopped had your mouth watering, the dishes in Vedge are sure to pique your appetite. For those who also want to see Rich Landau work his cooking magic, Food Network will air the episode again on June 27th, 8:00 PM ET.