It's that loving time of year again, but more often than not Valentine's Day conjures feelings that are anything but. Along with the added pressure that the day can't be just another Thursday, Time.com reported today that Valentine's Day comes at a time when we are already emotionally and financially stressed (hello Christmas spending). According to the latest Zagat survey, 53% of couples are planning on having Valentine's dinner at a restaurant, and they also expect the average bill to be $142.11. You would think that at least the restaurants would be happy for the extra business, especially with January being a slow month for restaurants, but it turns out the extra Valentine's Day diners cause extra stress and turn the kitchen into a real pressure cooker. So what's a romantic to do?
We at The Experiment are firm believers that the fastest way to someone's heart is through their stomach, so instead of spending too much money, and possibly stressing out all those restaurants, might we suggest wooing your special someone with a sweet homemade dessert instead? This year, skip the flowers and whip up Claire Ptak's Rose-Pistachio Whoopie Pies—they're the perfect elegant yet indulgent treat to serve a Valentine.
Rose-Pistachio Whoopie Pies—from The Whoopie Pie Book by Claire Ptak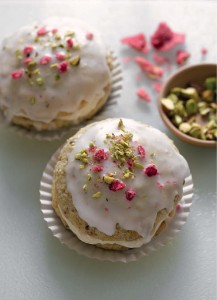 The exotic flavors of delicate rosewater, tender pistachios, and sweet cherry liqueur might seem strange in a whoopie pie, but the evocation of the taste and texture of soft nougat is lovely here.
Makes about 9 large or 24 mini whoopie pies
2 cups plus 2 tablespoons (300 g) all-purpose flour
1 teaspoon baking soda
¼ teaspoon salt
9 tablespoons (1 stick plus 1 tablespoon) unsalted butter, softened
1 cup (200 g) sugar
1 large egg
½ teaspoon rosewater
¾ cup buttermilk
¾ cup pistachios, finely chopped or ground, plus extra for sprinkling
1 cup ground almonds
Crushed candied rose petals, for garnishing
Preheat the oven to 350°F. Line two baking sheets with parchment paper.
In a bowl, sift together the flour and baking soda. Stir in the salt and set aside. In a separate bowl, cream together the butter and sugar until light and fluffy, using an electric hand mixer or a standing mixer fitted with the flat beater. Add the egg and mix well. Measure the rosewater and buttermilk into a liquid measuring cup and then add half of this to the butter mixture. Slowly add the dry ingredients, mixing until just incorporated. Add the remaining buttermilk mixture until well combined and then fold in the ground nuts. Chill for 30 minutes.
Drop 18 large or 48 small scoops of batter, about 2 inches apart, onto the prepared baking sheets. Bake in the middle of the oven for 10-12 minutes for large whoopies or 8-10 minutes for mini whoopies, until the cakes are left with a slight impression when touched with a finger.
Remove from the oven to a wire rack and cool completely.
To assemble:
Pipe or spread a generous scoop of Kirsch Swiss Buttercream (see below) on the flat surface of a cooled whoopie. Top with another whoopie and drizzle with Rosewater Icing (see below). Sprinkle with the remaining chopped pistachios and some crushed candied rose petals.
Kirsch Swiss Buttercream
Makes enough to fill about 9 large or 24 mini whoopie pies
2 sticks (1 cup) unsalted butter, softened
3 large egg whites
½ cup (100 g) sugar
1 tablespoon golden syrup
1 tablespoon Kirsch cherry liqueur
In a bowl, beat the butter until fluffy, using an electric hand mixer or a standing mixer fitted with the flat beater, and set aside. In the bowl of a standing mixer, combine the three large egg whites with the sugar and golden syrup. Place over a saucepan of barely simmering water and whisk continuously by hand until the sugar has dissolved and the mixture is frothy and slightly opaque (10-15 minutes).
Transfer the bowl of egg whites to the standing mixer, add the Kirsch, and whisk until fluffy and cooled (about 10 minutes). Once cool, start adding the creamed butter in batches, whisking well after each addition. The mixture will curdle but then come back together again. Switch to the flat beater and beat for 3 minutes more.
Will keep in a sealed container in the fridge for up to 5 days. Bring to room temperature and beat with a flat beater before using.
Rosewater Icing
Makes enough to cover about 9 large or 24 mini whoopie pies
1¾ cups (200 g) confectioners' sugar
2 teaspoons rosewater

Sift the confectioners' sugar into a small bowl and then whisk in the rosewater until smooth. If you prefer a thicker consistency spread on top of the whoopie pie, add slightly more confectioners' sugar to adjust.
Claire Ptak's The Whoopie Pie Book: 60 Irresistible Recipes for Cake Sandwiches Classic and New is currently available for $2.99 from any e-retailer for Workman's Blue Place Special.