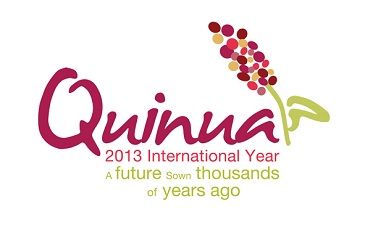 In 2007, Peru exported 1,347 tons of quinoa. By the end of 2011, the country had exported 6,956 tons of the grain, its destination most likely the United States. Quinoa's meteoric rise in popularity can no doubt be attributed to its high nutritional value and lack of gluten. It's no wonder, then, that the United Nations officially declared 2013 the International Year of Quinoa.
The high demand for quinoa has come under fire recently, though, thanks to a Guardian article that accused vegans of single-handedly depleting Bolivia of its staple grain, sending millions into famine and poverty. The piece puts forth that the high demand has seen prices skyrocket, and Bolivian farmers can't even afford the crop that they work so hard to cultivate. Since the article's publication, though, Ivo Vegter, author of Extreme Environment, has pointed out that the claims are highly exaggerated—vegans are hardly destroying a country's economy. Bolivia's economy is actually doing rather well, with farmers able to afford other foods, like rice and pasta, and voluntarily opting out of eating quinoa. Vegter quotes journalists and filmmakers Stefan Jeremiah and Michael Wilcox, who are developing a documentary on quinoa and responded to an NPR article published last November making the same claims as the Guardian piece. Jeremiah and Wilcox were in Bolivia when they wrote:
"The overwhelming evidence suggests that as demand for quinoa increases, Bolivians growing quinoa is providing a viable way of working themselves out of poverty. Perpetuating these myths and half truths only serves to damage a growing economy and undermine hard working farmers' efforts to lift themselves out of poverty in an honest and sincere endeavour."
The rest of Jeremiah and Wilcox's (quite scathing) open letter to NPR is available here.
The hope behind the UN campaign, which was proposed by the Bolivian government, is that because quinoa can withstand wide ranges of humidity and temperature, and poor soil quality, awareness will encourage and expand quinoa production into other countries, increasing global food and nutritional security. Expansion should also lead to high prices dropping—good news for those just discovering the "golden grain of the Incas," and even better news for those who already consider it a staple food. So, Happy Year of Quinoa, everybody!
Recipes
Spanish conquistadors at one time considered quinoa a junk crop, but they probably never had Lukas Volger's Quinoa and Celery Root Gratin.
Quinoa and Celery Root Gratin—from Lukas Volger's Vegetarian Entrées That Won't Leave You Hungry
Here's one of those dishes where the magic is in the simplicity. Celery root and quinoa are deeply complementary, and they find perfect harmony with the small amount of cream that lightly binds the dish together. The quinoa and bread crumbs provide some crunch, while the celery root becomes fork-tender in the oven. In a dish like this, it's important to use homemade bread crumbs, ones that you could snack on. Celery root, also known as celeriac, has a knotty, hairy appearance that belies its clean taste and wonderful texture—snappy and fresh when raw, and tender and nuanced when cooked, as in this recipe. Just be careful as you're cleaning it. A vegetable peeler doesn't cut deeply enough to do the job efficiently, so I've provided instructions for peeling it with a knife. This kind of gratin is wonderful with a crusty loaf of bread and a simple arugula salad—tender baby leaves of arugula, a few shavings of fennel, and a shower of fresh Parmesan—dressed lightly with Lemon-Cumin Vinaigrette.
Serves 3 or 4
Preparation and cooking time: 1 hour and 15 minutes
1 cup (170 g) quinoa
2 cups (475 ml) water
2 tablespoons cold butter
2 leeks, white and pale green parts, halved lengthwise, sliced into thin half-moons, and cleaned
¼ cup (30 g) toasted bread crumbs, preferably homemade (page 17)
1 teaspoon olive oil or melted butter
Salt
1 large celery root (about 1 pound, 450 g)
8 tablespoons (240 ml) heavy cream or half-and-half
Freshly ground black pepper
Preheat the oven to 375°F (190°C). Butter a 1½-quart gratin or soufflé dish.
Thoroughly rinse the quinoa in a fine-mesh sieve. Combine the quinoa and water in a small saucepan over high heat. Bring to a boil, then lower the heat, cover, and simmer for 15 minutes, until the water is absorbed and the tail-like germ of the quinoa is exposed. Drain off any excess water.
Meanwhile, melt 1½ tablespoons of the butter in a sauté pan over low heat. Add the leeks and sauté until tender, about 10 minutes.
Put the bread crumbs, oil, and a pinch of salt in a small bowl and mix gently until well combined.
To prepare the celery root, trim the ends so as to make flat surfaces. With a flat end on the cutting board, peel the celery root with a sharp, sturdy knife, cutting off the skin in strips from top to bottom. Trim off or carve out any hairy spots with a paring knife. Quarter the celery root lengthwise, then lay the quarters on the cutting board flat side down and cut crosswise into thin, 1/8-inch (3 mm) slices. (If you do this ahead of time, keep the prepared celery root in a bowl of cold water to prevent discoloration.)
To assemble the gratin, layer one-fourth of the quinoa over the bottom of the prepared gratin dish. Drizzle 2 tablespoons of the cream over the quinoa, then sprinkle with salt and pepper. Arrange one-third of the celery root over the quinoa, followed by one-third of the leeks. Repeat these layers two more times. Top with the remaining quinoa, drizzle with the remaining 2 tablespoons cream, then scatter the bread-crumb mixture evenly over the top. Cut the remaining 1 tablespoon of cold butter into small pieces and dot them over the surface.
Cover tightly with aluminum foil and bake for 30 minutes. Remove the foil and bake for 5 to 15 more minutes, until a thin knife inserted into the center meets no resistance from the celery root. Serve hot.
Variation
Substitute béchamel sauce (see page 126) made from 2 tablespoons butter, 2 tablespoons flour, and 2 cups (475 ml) milk for the cream, using ½ cup (120 ml) atop each layer of quinoa, and scatter 1/3 cup (85 g) of grated Gruyère cheese over each layer of celery root.
Leftovers
This dish is best eaten freshly cooked, but wrapped tightly or stored in an airtight container, it will keep for 1 day in the refrigerator.