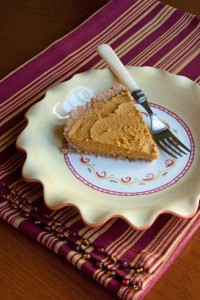 Vegan Thanksgiving Menu
With Thanksgiving fast approaching I'm feeling particularly lucky to work in an office with a wall full of mouthwatering vegan cookbooks. For those less fortunate, here's a menu that is sure to delight omnivorous relatives, foodie friends, veteran vegans, and—most importantly—you.
Thanksgiving can be a difficult holiday for us vegans, whether tempted by dishes dripping with the rich gravy of nostalgia, gastronomically discomfited by surviving on nothing but cranberry relish, or mildly annoyed by a daylong onslaught of well-intentioned dietary questions. However, thanks to The Experiment's wonderful vegan authors, with a little effort even a novice vegan chef can turn Thursday's dinner into a celebration of new takes on classic flavors instead of a pale imitation of remembered pleasures.
Jeanne Lemlin's Kale and Vegetable Soup is a perfect way to prepare your pallet for the feast to come. The tomato base, paprika, and cayenne pepper keep the flavor bright and clear, while the kale is in keeping with the season.
I, like most vegans I know, have eaten commercial faux-turkey more than a few times. Though it's an easy fix, it never quite does it for me. The brands I've tried have tended to be salty, tough, bordering on dryness, and undeniably artificial. To remedy this, I'm moving to a wholly different main course this year: Carla Kelly's "Not-Meat" Loaf and Mushroom Gravy from Quick and Easy Vegan Slow Cooking. The flavor will be rich and complex, not just salty, and the texture will pair perfectly with Alicia Simpson's Roasted Garlic Smashed Potatoes from Quick and Easy Vegan Celebrations. (Incidentally, the roasted garlic in this toothsome dish is the perfect sophisticated response to those who insist that nothing compares to butter, cream, and salt.) Best of all, the "Not-Meat" Loaf takes a mere thirty minutes in the morning before you can set it, forget it, and focus on friends and family.
Finally, Alicia's unique Raw Sweet Potato Pie (also from Quick and Easy Vegan Celebrations) will cap off the feast in style, without the extra helpings of guilt.
Recipes
Kale and Vegetable Soup—from Jeanne Lemlin's Simply Satisfying
This meatless version of the traditional Portuguese soup Caldo Verde is both distinctive and substantial. Kale gives the soup a wonderful flavor and texture, and along with the kidney beans provides a good source of iron.
Serves 6 as a main course
½ cup olive oil
3 large onions, diced
4 cloves garlic, minced
2 bay leaves
10 cups Vegetable Stock
16-ounce can diced tomatoes with their juice
16-ounce can kidney beans, drained and rinsed
1½ teaspoons paprika
⅛ teaspoon cayenne pepper
1½ teaspoons salt
Liberal seasoning of freshly ground pepper
1 pound fresh kale (total weight with stems), cleaned and stemmed
3 medium potatoes, unpeeled and diced
2 tablespoons vegan butter substitute
In a large stockpot heat the olive oil over medium heat. Add the onions, garlic, and bay leaves, and cook for 10 minutes, stirring often.
Add the vegetable stock, tomatoes, kidney beans, paprika, cayenne pepper, salt, and pepper and bring to a boil.
If there are any coarse ribs on the kale leaves, then rip the leaves off and discard the ribs. Roughly chop the kale. You should have 8 to 10 cups.
Add the kale and potatoes to the soup and cook 30 minutes, or until the beans and potatoes are tender. If the soup is too thick add additional stock.
Remove the bay leaves and discard. To give the soup a wonderful creamy consistency remove about 2 cups of it and purée it in the blender. Return it to the pot.
Before serving add the butter substitute and stir to melt.
"Not-Meat" Loaf—from Carla Kelly's Quick and Easy Vegan Slow Cooking
Still moist, as a good meatloaf should be, yet hearty and satisfying, this traditionally flavored loaf is made extra "meaty" by the inclusion of grated seitan. It is great served with Mushroom Gravy (below). Even real meat-and-potatoes people will go back for seconds of this loaf. Try one of the flavor variations for a less "oldschool" meatloaf taste. It is truly delicious served hot, or cold at a picnic. The slices reheat well, and it is freezer friendly. The longer it stands the easier it is to slice.

Serves 6 to 8
Preparation Time: 30 minutes
1/2 medium onion, finely chopped
1 celery stalk, finely chopped
2 garlic cloves, minced
1 shallot, finely chopped
1 medium carrot, peeled and grated
1 tablespoon seeded Dijon mustard
2 tablespoons soy sauce
1 teaspoon liquid smoke
1 teaspoon Marmite
1 tablespoon tomato paste
1 teaspoon dried thyme
1 teaspoon dried rubbed sage
1 cup cooked millet, packed (see Note)
1 pound seitan, preferably dark, store-bought or homemade, grated, or commercial soy crumbles (about 4 cups)
¾ cup vegetable stock, store-bought or homemade
¾ cup Simple Tomato Sauce, or canned
Salt and black pepper
½ cup vital wheat gluten
Note: If you are cooking millet specifically for this dish, start with ¹⁄³ cup dry; it will triple in volume when cooked.
Line the slow cooker insert with 2 sheets of foil placed in opposite directions, leaving enough foil at both ends to serve as handles. Spray with nonstick spray.
Combine the onion through the tomato sauce in a large bowl. Taste and season with the salt and pepper as required.
Stir in the wheat gluten. The mixture will look damp but will not feel wet and will hold together when pressed.
Transfer to the slow cooker and press in the mixture evenly, smoothing the top.
Cover, set heat to LOW, and cook for 8 hours, or until firm and browned.
Uncover, cool for 10 minutes, remove using the foil handles, and let stand 10 minutes prior to serving.
Mushroom Gravy—from Carla Kelly's Quick and Easy Vegan Slow Cooking
This is a lovely, thick, creamy, and mushroom-y gravy. Although I call for cremini mushrooms, I've made this using an equal amount of button mushrooms, portobello caps (about half of a large cap), and reconstituted dried porcini mushrooms, so use what you have available. Hold the gravy on low heat until ready to serve or make in advance, refrigerate, and reheat if required. Blend it smooth or serve as is. If it thickens too much, add a little extra liquid 1 tablespoon at a time until the desired consistency is reached.
Makes about 1½ cups
Preparation Time: 30 minutes
 
3 tablespoons vegan margarine
2 garlic cloves, grated
½ medium onion, grated
3 cremini mushrooms, grated
½ teaspoon dried thyme
¼ teaspoon black pepper
3 tablespoons chickpea flour, sifted if lumpy
½ cup mushroom or dark vegetable stock, storebought or homemade
½ cup plain soymilk
1 tablespoon soy sauce
1 tablespoon nutritional yeast
Salt and black pepper
Melt the margarine in a medium pot over medium heat.
Saute the garlic through the pepper until very soft, about 5 minutes.
Add the chickpea flour to make a roux and cook lightly so just blended.
Alternate adding the mushroom stock and soymilk ¼ cup at a time. Add the soy sauce after the first addition of each. After each addition stir well and allow the gravy to thicken slightly before adding the next quantity. After all the liquid is added, cook at a gentle simmer for 5 minutes.
Add the nutritional yeast just prior to serving; do not boil.
Taste and season with the salt and pepper if desired.
Roasted Garlic Smashed Potatoes—From Alicia C. Simpson's Quick and Easy Vegan Celebrations
There are two types of people in the world: those who hate garlic and those who put it in every dish they possibly can. Just in case you haven't noticed yet, I'm on the side of those who put it in every dish possible. Roasted garlic has a milder, sweeter flavor than raw garlic. For you true garlic lovers, two heads of roasted garlic might not be enough. Feel free to roast up a couple extra heads of garlic to add as you like.
2 heads garlic
1 tablespoon plus 2 teaspoons extra-virgin olive oil
2 pounds russet potatoes (about 4 medium potatoes), scrubbed and cut into uniform chunks
Fine sea salt
¾ cup unsweetened soy or rice milk
Freshly ground black pepper to taste
Preheat the oven to 400°F.
Peel away the outer layers of the garlic bulb skin, leaving the skins of the individual cloves intact. Cut ¼ to ½ inch off the top of the bulb, exposing the top of the individual cloves of garlic.
Place the garlic heads in a baking pan and drizzle the 2 teaspoons olive oil over them, using your fingers to make sure each is well coated. Cover with aluminum foil. Bake for 30 to 35 minutes or until the cloves feel soft when pressed.
While the garlic is baking, put the potatoes in a medium saucepan with a pinch of salt and enough water to cover them by 1 inch. Bring to a boil over medium-high heat, cover, and boil until fork-tender, about 15 minutes.
When the garlic is cool enough to touch without burning yourself, use a paring knife to cut the skin slightly around each clove. Use a cocktail fork or your fingers to pull or squeeze the roasted garlic cloves out of their skins.
Drain the potatoes and transfer to a large bowl. Add the milk, the 1 tablespoon olive oil, and the roasted garlic cloves. Mash with a potato masher until you have your desired consistency. Season with salt and freshly ground pepper. Serve warm.
Raw Sweet Potato Pie—From Alicia C. Simpson's Quick and Easy Vegan Celebrations
Thanksgivings in my home aren't complete without the sweet potato pie. Traditionally I make a cooked sweet potato pie that takes only seconds to prepare but almost 1 hour to bake. Raw Sweet Potato Pie only takes minutes to make and is actually good foryou. So this year when you get ready to cut that second slice of pie, don't feel guilty—you're actually eating a healthy, wholesome dish.
2 cups raw almonds
¼ teaspoon fine sea salt
1 cup Medjool dates (about 10 dates), pitted
4 cups raw garnet sweet potatoes or yams, peeled and cut into ½-inch cubes
½ avocado
¼ cup agave nectar
1 teaspoon ground cinnamon
1 teaspoon ground nutmeg

Grind the almonds and salt in a food processor until you have a coarse meal. Sprinkle ¼ cup of almond meal on the bottom of a pie plate. Add the dates to the remaining almond meal in the food processor and pulse until well mixed and the dates are broken down. Press this mixture into the bottom and sides of the pie plate.
Put the sweet potato, avocado, agave nectar, cinnamon, and nutmeg in a high-speed blender or food processor and process until smooth. Spoon out into the crust. Allow to set in the refrigerator for at least 2 hours.
Cook's Tip
The pie filling should be smooth and velvety, so if you don't have a highspeed blender you'll need a good-quality food processor to get the desired texture.
Depending on the size of your food processor, you might need to process the filling in two small batches instead of one big one.