Baseball Field Guide
An In-Depth Illustrated Guide to the Complete Rules of Baseball
Third Edition
Now in its third edition—a clear guide to the complete rules of baseball!
Admit it: Even if you're a diehard fan of our national pastime, sometimes an umpire's call can be a little baffling. And for newer fans, Major League Baseball's nuanced rules—developed and revised over decades—can be downright perplexing
Now updated throughout with the latest changes, such as the "Buster Posey rule" on collisions at home plate, the Baseball Field Guide explains every rule in plain English:
Rules that apply before, during, and after the game
Equipment specifications and field requirements
Duties of the coaches, managers, and umpires
Rules for spectators (yes, they have rules, too!)
The clearest explanation anywhere of the infamous Infield Fly Rule, and much more!
Designed for quick and intuitive searches, this entertaining reference will help you understand every aspect of the game and add to your enjoyment of the sport.
Errata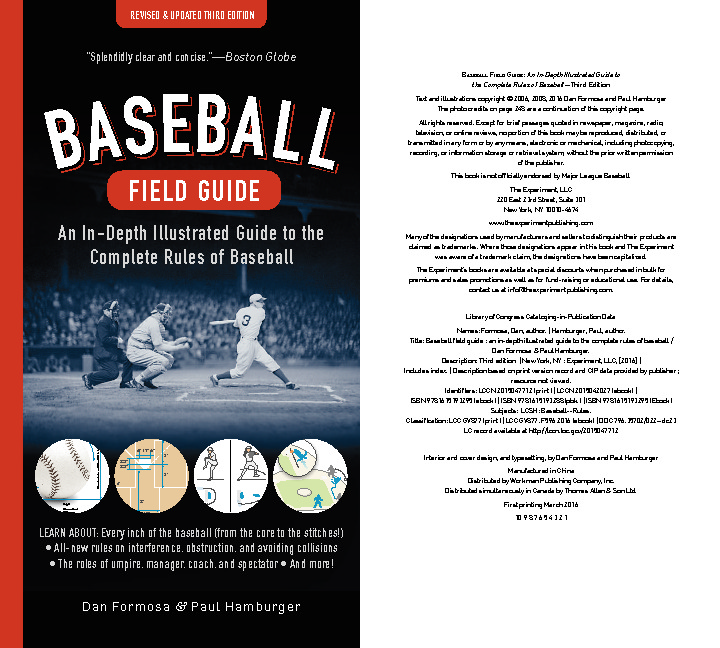 The first print contained some minor errors. Please print out this errata slip for your copies.
Boston Globe
"A useful and entertaining resource."—
Choice
"Unlike the official rulebook, which has codes as dense as the Dewey Decimal System, this illustrated reference is easy to read and covers everything."
—San Diego Union-Tribune
Errata
Several errors appear in the first printing, which will be corrected in future printings:
P. 15:
The playoffs now begin with a wild card game, followed by the Division Series, then the League Championships (the "pennant"), and finally the World Series.
P. 16:
The American League and the National League now each have fifteen teams, and not fourteen in the American League and sixteen in the National League, as previously stated. The Houston Astros went to the American League.
PP. 18–20:
Rather than three division winners and one wild card, there are now three division winners and two wild card winners. The two wild card winners then face off in a one-game playoff to determine which team will then face the top division team in a best three-out-of-five-game series.
P. 20 diagram:
A wild card game takes place before the Division Series; there are 15 teams in the National League since the Houston Astros have moved to the American League.
P. 53:
The Mets stadium outfield has been modified. You can view updated specifications
here
.
P. 54:
The Houston Astros are now in the American League.
Available in a 6-copy counter display
9781615193349
$89.70
To order, please contact our distributor,
Workman Publishing
, and reference product number 779334.