My Baby Album with Sophie la girafe
Featuring the wildly popular teether toy from France—Sophie la girafe—a charming album for capturing memories from birth through baby's second birthday
What parent doesn't want to record their baby's start in life, rich as it is with once-in-a-lifetime moments and firsts of all kinds? Now My Baby Album with Sophie la Girafe® offers the perfect place for parents to capture every unforgettable moment and occasion.
This large-format album features Sophie, the wildly popular French toy giraffe who has taken America by storm and is already a part of so many babies' lives, plus a colorful menagerie of her animal friends, and other modern illustrations (suitable for girls and boys). A hidden spiral binding, sturdy board covers, and a built-in elastic band will keep your treasures safe. Sophie provides designated spaces to record all the milestones and details of baby's life, including:
family tree
baby shower
birth announcement
first bath
first haircut (with envelope for first lock of hair)
eating habits
nighttime habits
first holiday
first vacation
first steps
favorite activities
family resemblances
first words and amusing phrases
second birthday
and more
Readers can create 16 of their own themed pages inspired by their baby's unique journey, making this a baby album just waiting to be personalized and sure to be cherished.
"Sophie la Girafe has come out with a new baby book series that is simply ADORABLE. I cannot get over the cuteness of these books! Oh, they are just so dang CUTE!"—ShopWithMeMama.com
Books featuring Sophie la girafe
Available in a 5-copy counter display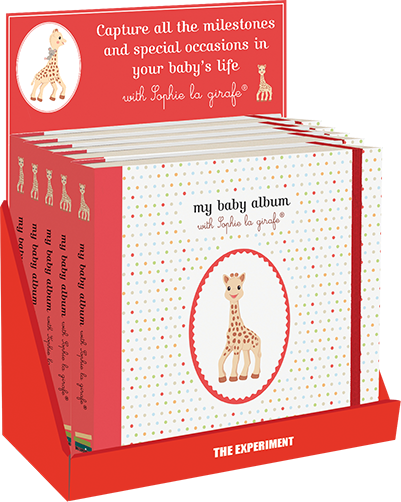 978-1-61519-099-7
$99.75
To order, please contact our distributor,
Workman Publishing
, and reference product number 779099.