The countdown is on. Your days left to shop are numbered. The clock is ticking. Have we sufficiently panicked you yet?
It's true that the holidays are fast-approaching, but you don't have to panic. We are confident that there exists the perfect book for everyone on your list–maybe you already found it in Part 1 of our Holiday Gift Guide–but if not, we've got plenty more options for you. Read on for your no-stress shopping reference for everyone in your life, from your coloring book-loving boss to your outdoors-obsessed nephew.

###
Books for the Artist:
Paint This Book!: Discover (or re-discover) artistic genius with Paint This Book!. The paints, the brush, and the watercolor paper are all included—plus irresistible encouragement and exercises from authors John Cassidy and Thacher Hurd.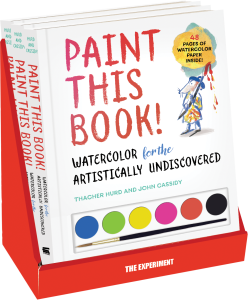 Rogues' Gallery: Rogues' Gallery bursts with unforgettable anecdotes and astute judgments about art and artists, honed by author Philip Hook's more than forty years in the art market—making it essential reading for anyone interested in the hidden history of art.
Visions of the Universe: For curious minds throughout history, math was truly an art. Here, you can pick up right where Isaac Newton, Blaise Pascal, and other luminaries left off—by coloring 58 exquisite patterns inspired by great discoveries in math.
Books for the Outdoorsman:
The Field Guide to Knots: With more than 80 time-tested knots and more than 600 color photos, this guide is indispensible for backpackers, climbers, sailors, anglers, hunters, equestrians—and anyone else who's ever needed to change a sail, reposition a climbing rope, or splice a tent pole!
Birding at the Bridge: Perfect for the aspiring birdwatcher, Birding at the Bridge is packed with more than 150 stunning photographs that will entrance birders and bird lovers, wherever their local patch may be.
One Magic Square Vegetable Gardening: Ever encouraging, often charming, and always practical, this expanded second edition of One Magic Square Vegetable Gardening will help first-time gardeners get started—and help veteran gardeners get results—on a small, easy-to-maintain plot.
Books for the Cook:
YumUniverse: Pantry to Plate: With the flexible templates in YumUniverse Pantry to Plate, gluten-free, plantiful goodness is at your fingertips: What you crave + What's in your cupboard = Joyful cooking your way.
But My Family Would Never Eat Vegan!: Easy-to-follow, bursting-with-flavor recipes—free of all animal products!–make it easier than ever to please vegans and non-vegans at gatherings.
Good Veg: Good Veg showcases ebullient vegetables, fruits, and grains—in inventive, reliable dishes to sustain you (and family and friends) all day, through every season.
Books for the Scientist:
Citizen Scientist: Award-winning writer Mary Ellen Hannibal has long reported on scientists' efforts to protect vanishing species, but it was only through citizen science that she found she could take action herself.
A Brief History of Everyone Who Ever Lived: A Brief History of Everyone Who Ever Lived will upend your thinking on Neanderthals, evolution, royalty, race, and even redheads. Plus, here is the remarkable, controversial story of how our genes made their way to the Americas—one that's still being written, as ever more of us have our DNA sequenced.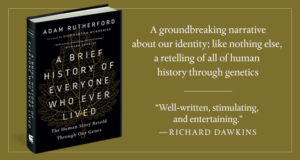 We Are All Stardust: In this collection of intimate conversations with 19 of the world's best-known scientists (including three Nobel Laureates), Klein lets us listen in as today's leading minds reveal what they still hope to discover—and how their paradigm-changing work entwines with their lives outside the lab.
Books for the New Parent:
The Happiest Kids in the World: Rina Mae Acosta and Michele Hutchison—an American and a Brit, both married to Dutchmen and raising their kids in the Netherlands—report back on what makes Dutch kids so happy and well adjusted.
Breathe, Mama, Breathe: Psychotherapist Shonda Moralis outlines the benefits of daily meditation and shows moms how to do it—in just five minutes! Plus, she shares over 60 "mindful breaks" that help moms tune into their own well-being (along with everyone else's).
Raised by Animals: When it comes to family matters, do humans know best? Leading animal behaviorist Dr. Jennifer Verdolin argues otherwise in this eye-opening book. By finding common ground with our furry, feathered, and even slimy cousins, we can gain new insight on what "natural" parenting really means—and perhaps do a better job of forgiving ourselves for those days when we're "only human"!
Books for the Athlete: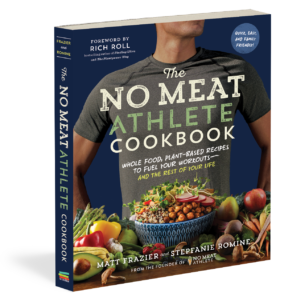 No-Meat Athlete Cookbook: A fast-growing global movement, No Meat Athlete (NMA) earns new fans every day by showing how everyone from weekend joggers to world-class competitors can become even healthier and fitter by eating whole plant foods. Here, NMA founder Matt Frazier and longtime health coach, yoga teacher, and food writer Stepfanie Romine—showcase 125 delicious vegan recipes, many inspired by plant-based foods from around the world.
The Born Again Runner: From the lead author of Build Your Running Body ("the best running book ever"—Runner's World founder Bob Anderson), a one-of-a-kind guide for everyone who wants to run but feels they can't.
Baseball Field Guide: Now in its third edition—a clear guide to the complete rules of baseball!
Books for the Diarist:
Dot Journaling–A Practical Guide: What the heck is a dot journal? It's a planner, to-do list, and diary for every aspect of your life: work, home, relationships, hobbies, everything. Early adopter Rachel Wilkerson Miller explains how to make a dot journal work for you.


Sixty: A Diary: As acclaimed journalist and author Ian Brown's sixtieth birthday loomed, Brown chose to notice every moment—to try to capture precisely what he was experiencing, without panicking. Sixty is the result: an uncensored, seriocomic report, a slalom of day-to-day dramas, inquisitive reporting, and acute insights from the line between middle-aged and soon-to-be-elderly.