Now that the school year has started up and we're back in the swing of things, you might be racking your brain for some easy, quick, healthy brown-bag lunch ideas time of year again… back to school! We know you're busy, so load up your kids' lunch boxes with three easy recipes from our favorite plant-based, gut-friendly cookbooks. Read on…
***
Vegetable Chips
Makes one large bowlful (enough for 8–10 nibblers)
So simple you'll stop buying the overpriced store-bought varieties. The great thing about these crispy beauts is that you can moderate the amount of salt – and eat them warm. A warm chip is a thing of deep and meaningful wonder. You can use most vegetables here, but the starchier the better. I like adding an apple to the mix as it's something a bit different.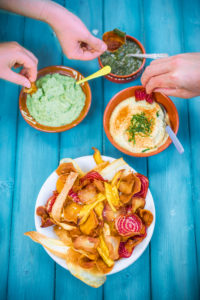 Using a mandoline is very dangerous, so take it easy and always use the protective guard that's provided. You can use a thin blade on your food processor, although this has varying results. Most will be fine, but you'll probably be left with some chunks. Just cut these as thin as you can.
1 beet
1 parsnip
1 potato
1 carrot
1 small sweet potato
1 apple
cooking oil, for deep-frying
sea salt to taste
Preheat the oven to 300°F (150°C).
Scrub all the produce, peeling any that are marked or bruised, and slice them very thinly, using a mandolin if you have one (be careful!) or the fine blade on a food processor. Fill a large, flat pan one-third full with oil and heat to 350°F (180°C), or until a slice dropped in sizzles immediately – this takes about 4 minutes.
Dry off your veggies in batches, pressing them quite firmly between kitchen towels or paper towels to remove as much moisture as possible, then fry them. They all take different times to cook, so keep them separate – don't mix potato with apple, for example. Give them a little stir, making sure they don't stick together. Fry the beet and carrot first, as they can become soft after frying and need longer in the oven to crisp up.
When the chips are golden, they are ready. Drain each batch on paper towels to remove excess oil, then place on a baking tray and put them in the oven. Bake for 10–15 minutes, until they are all crispy.
Serve warm, sprinkled with sea salt.
Check out Peace & Parsnips here.
Loaded Sweet Potatoes with Chickpea Sour Cream
Makes: 1 ½ cups sour cream/Serves: 4 to 8/Prep Time: 12 hours/Cook Time: 2 hours
These loaded sweet potatoes are a perfect meal on their own or a great dish to serve as a side. The sour cream is chickpea flour–based and needs a good day or so to cool and set up, so planning to make it ahead of time is something to consider. It can be made 2 days before serving, and lasts about 5 days in the refrigerator. Once the cream does set, you can use it to top just about anything as you would with traditional sour cream.
Sour Cream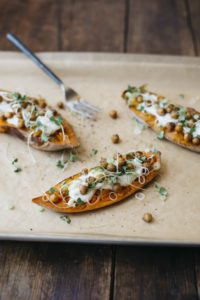 ¼ cup (33 g) plus 1 tablespoon cashews, soaked overnight and drained
2 teaspoons apple cider vinegar
1 teaspoon lemon juice
½ teaspoon Dijon mustard
½ teaspoon sea salt
1 cup (240 ml) water
¼ cup (30 g) chickpea flour
Potatoes
4 medium sweet potatoes
One 15-ounce (425 g) can chickpeas, drained and rinsed
½ cup (120 ml) plus 1½ teaspoons extra virgin olive oil
1 teaspoon sumac
1 teaspoon sea salt, plus more to taste
Freshly ground pepper
1 bunch scallions, ends trimmed and white and light green parts sliced thin
Handful of microgreens
Make the sour cream ahead of time so that way it's ready when you want to use it. Place the cashews, vinegar, lemon juice, mustard, and salt in an upright high-speed blender. In a small saucepan, whisk together the water and flour until no lumps remain. Turn the heat to medium and continue to whisk every few seconds. At around 4 minutes, the mixture will begin steaming and will get increasingly creamy; keep whisking for another 2 to 3 minutes, until thickened (like the consistency of a roux or a thin pudding). Quickly and carefully, pour the hot mixture into the blender; blend on high for 1 minute, scraping down the sides as you go along. Taste and adjust any seasonings. Place in a lidded jar and let cool with the top off, stirring every 10 minutes or so until cool. Cover with a lid and place in the refrigerator until ready to use.
Preheat oven to 400°F (200°C) and line a baking sheet with parchment paper. Pierce the potatoes with a fork and place on the baking sheet; bake for 1 hour, until potatoes can be easily pierced with a sharp knife. Remove from the oven and let cool.
While the potatoes are baking, toss the chickpeas with 1½ teaspoons of oil, sumac, salt, and pepper, to taste. In the last 25 minutes of the potatoes baking, add the chickpeas and cook for 25 to 30 minutes, until the chickpeas are crisp and lightly browned.
Slice the potatoes in half; use a fork to mash about 1 tablespoon of oil and a few pinches of salt into the flesh of each. Remove the sour cream from the refrigerator and give it a stir; top the potatoes with sour cream, chickpeas, sliced scallions, and a handful of microgreens.
Check out Chickpea Flour Does it All here.
Baked Eggplant with Tomato & Mozzarella
Serves a family of 4 to 6
This easy dish is a delicious combination of chunks of silky eggplant in a sweet tomato sauce, topped with golden melted mozzarella. It's a great way to broaden your baby's experience of textures and flavors – and it freezes well, too.
2 large eggplants, cut to suit your baby
1 tablespoon olive oil
Freshly ground black pepper (optional)
1 batch Super-Speedy Tomato Sauce (see p. 142)
One 8-ounce (226g) ball of mozzarella cheese
Preheat the oven to 350

˚

F (180

˚

C). Heat the oil in a large frying pan or wok (preferably nonstick) over high heat and add the eggplant. Season with black pepper (if using) and stir-fry for 5 minutes, until lightly browned – the eggplant will absorb the oil very quickly, so you'll need to keep it moving to prevent sticking. If necessary, add a few more drops of oil.
Transfer the eggplant to a large baking dish. Add the tomato sauce and stir well. Tear the mozzarella into large chunks and arrange them evenly on top of the eggplant.
Bake for 30 to 40 minutes, until the eggplant is really tender. If the cheese browns quickly but the eggplant is still firm, cover with foil and bake for a further 10 minutes.
Serve warm, maybe with some green salad or steamed green beans.
Check out The Baby-Led Weaning Family Cookbook here.
***
Credit line: Recipes from The Baby-Led Weaning Family Cookbook © Gill Rapley and Tracey Murkett, 2017. Photographs copyright © Ruth Jenkinson; Chickpea Flour Does It All: Gluten-Free, Dairy-Free, Vegetarian Recipes for Every Taste and Season © Lindsey S. Love, 2016; Peace & Parsnips: Adventurous Vegan Cooking For Everyone © Lee Watson, 2016. Photographs copyright © Ruth Jenkinson. Reprinted by permission of the publisher, The Experiment. Available wherever books are sold.  theexperimentpublishing.com