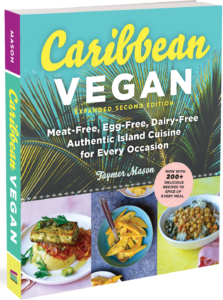 It's almost August, and we don't know about you, but our summer's-almost-over blues are starting to kick in. The good news is, summer's not over just yet! While the time to take a last-minute vacation to the Caribbean is dwindling, that doesn't mean we have to scroll Facebook and jealous-like friends' vacation photos. Call some friends, set a date, and bring the Caribbean to your kitchen. Treat yourself to your very own Caribbean staycation with these tasty, beachy recipes from Taymer Mason's cookbook Caribbean Vegan!
With recipes for everything from seasonings and sauces, breakfasts, and appetizers, to mains, desserts, and drinks and cocktails, Caribbean Vegan will help you host the ultimate summer staycation right from your own back yard, fire escape, or neighborhood park!
Appetizer:
Callaloo Fritters
Serves 8

The term callaloo refers to the green leaves of a root vegetable, usually taro. Callaloo is also a dish made from the greens, cooked in coconut milk with meat. These fritters are crunchy morsels that have nontraditional hemp seeds in the batter, which gives the callaloo a protein kick and extra flavor. Serve these at your next cocktail party on toothpicks.
2 tablespoons olive oil
4 cups (120 g) chopped raw callaloo
2 cups (250 g) unbleached all-purpose flour
1 medium yellow onion, coarsely chopped
3/4 cup (75 g) chopped green onions
2 tablespoons fresh thyme leaves
1 teaspoon minced Scotch bonnet pepper
1 1/2 cups (360 ml) water, or more as needed
3 tablespoons hemp seeds
1 1/2 teaspoons pink or sea salt
2 teaspoons black pepper
1 tablespoon baking powder
1 cup (240 ml) canola oil
Heat the olive oil in a small frying pan over medium heat. Add the callaloo and sauté until wilted, about 15 minutes. You should get around 1 cup of sautéed Place the flour in a bowl and add the cooked callaloo mixture.
Place the yellow onion, green onions, thyme, and Scotch bonnet in a blender and blend on high until pureed. Add the onion mixture to the greens.
Slowly add the water and mix to form a batter. Stir in hemp seeds, salt, and black pepper. Add the baking powder, stirring just until incorporated. Let sit at least 30 minutes, or ideally overnight, covered in the refrigerator, to let the flavors meld.
Heat the canola oil in a large skillet over medium heat for 8 minutes. Test the oil by dropping a bit of the callaloo batter into the pan; the oil should sizzle all around the batter.
Carefully spoon the batter into the oil, using about 1 tablespoon for each fritter. Depending on the size of the pan, you may be able to fry 6 at a time. As soon as you have 6 fritters in the pan, reduce the heat to medium-low and shallow-fry evenly on both sides, 2 minutes on each side and 2 minutes again on the first side.
Drain on paper towels and serve warm.
Entree:
Beachside "Fish" Tacos
Serves 6

Tacos are not the biggest rage in these parts, but many expat businesses serve them at their establishments, especially if they are catering to the American market. You can use two things to stand in for the fish; the first one is our trusty friend tofu cut into cubes instead of fillets; or you can make your "fish" taco really authentic by using an unripe soursop, also known as guanábana. When marinated and cooked, this fruit has the exact texture as a firm white fish. If you are looking for the perfect vegan stand-in for fish, this is it. It is almost too real! Like tofu, soursop has a neutral flavor, but it has to be marinated overnight, which makes it pliable and amenable to seasoning.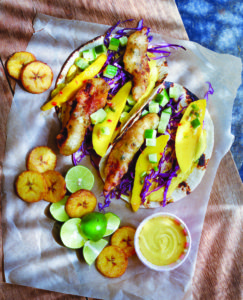 Soursop "Fish"
1 tablespoon pink or sea salt
1 medium green (unripe) soursop, sliced into 2 × 5-inch (5 × 13 cm) pieces, seeds removed
½ cup (100 g) Bajan Seasoning
1 tablespoon neutral-flavored oil, plus 1 cup for frying
Beer Batter
2 cups (250 g) unbleached all-purpose flour
2 nori sheets, toasted and crumbled
1 tablespoon onion powder
1 tablespoon seasoning salt
1 teaspoon black pepper
½ teaspoon baking powder
3 tablespoons minced fresh herbs (try a mixture of thyme, parsley, and marjoram)
2 green onions, minced
Two 12-ounce (355 ml) bottles beer (lager)
For the Tacos
6 soft flour tortillas
2 cups (150 g) shredded lettuce
1 avocado, sliced artfully
1 cup (100 g) sliced red cabbage
1 red onion, thinly sliced
1 cucumber, chopped
To make the "fish," salt the soursop and let stand for 2 hours on the counter.
Rinse the soursop and pat dry. Season with Bajan Seasoning and 1 tablespoon of the oil. Leave to marinate overnight or for 1 hour minimum.
To make the batter, mix the flour, nori, onion powder, seasoning salt, pepper, baking powder, herbs, green onion, and beer. Mix well and allow to stand on the counter for 15 minutes before using.
To fry the soursop "fish," heat 1 cup of oil in a small, heavy-bottomed saucepan over medium heat until hot, about 10 minutes.
Dip the seasoned soursop in the batter and carefully place it in the hot oil. Shallow-fry until golden brown, 4 to 6 minutes. The batter should puff up a bit. Fry two pieces at a time. Transfer the soursop to paper towels to drain.
To serve, layer the "fish" in the tortillas and add some of the suggested zesty toppings to really sizzle up your vegan fish tacos!
Dessert:
Rum Cake
Serves 8

There are two common rum cakes in the Caribbean. One, called "black cake," is made during Christmas holidays and for weddings using rum-soaked fruit. The other is made like a regular cake and has a buttered rum glaze, which is this recipe.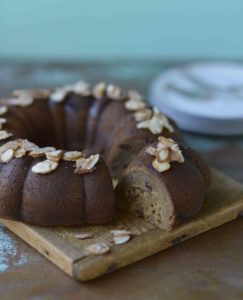 Cake
¼ cup (60 ml) + 2 tablespoons dark rum, preferably Mount Gay
¼ cup (60 ml) white rum, or additional dark rum
2 tablespoons falernum
½ cup (75 g) raisins
½ cup (115 g) vegan margarine
½ cup (115 g) vegetable shortening
1 cup (200 g) light brown sugar
2 tablespoons warm water
1 tablespoon Ener-G egg replacer
1 teaspoon vanilla essence, or ½ teaspoon vanilla extract
2 cups (250 g) unbleached all-purpose flour
1 teaspoon ground cinnamon
½ teaspoon pink or sea salt
½ teaspoon baking powder
½ teaspoon baking soda
1 teaspoon apple cider vinegar
1 cup (240 ml) nondairy milk
1 tablespoon molasses
Rum Glaze
¼ cup (60 g) vegan margarine
¼ cup (60 ml) water
3 tablespoon brown sugar
1 teaspoon vanilla essence, or ½ teaspoon vanilla extract
¼ cup (60 ml) dark rum, preferably Mount Gay
To make the cake, pour ¼ cup (60 ml) of the dark rum, the white rum, and the falernum over the raisins and let them soak overnight in a covered container.
Preheat the oven to 350°F (180°C). Grease a 9 × 3-inch (23 × 8 cm) Bundt pan.
Cream the margarine and shortening with the sugar until fluffy using an electric mixer. Whisk the water and egg replacer together, then add to the sugar mixture, along with the vanilla essence. Stir until evenly incorporated. Add the flour, cinnamon, salt, baking powder, and baking soda and mix until just incorporated.
Stir the vinegar into the milk, then mix into the batter. Fold in the raisins and their liquid, the molasses, and the remaining 2 tablespoons of dark rum.
Scrape the batter into the prepared pan and bake for 35 to 40 minutes, until brown and the top of the cake springs back when gently pressed.
Meanwhile, make the glaze. Combine the margarine, water, brown sugar, and vanilla essence in a small saucepan over low heat. Cook, stirring frequently, until the sugar has dissolved. Turn off the heat and stir in the rum.
Glaze the cake as it cools. Let cool completely before serving.

For more recipes, check out a copy of Caribbean Vegan wherever books are sold!