This Sunday was dedicated to making my lunches for the week. My problem this week, though, was that I was bored with all of my regular lunches and I wanted to try something new. As I was leaving the office on Friday, I happened to grab a copy of our newest title, YumUniverse: Pantry to Plate by Heather Crosby, so I decided to flip through and give one of the recipes a try!
Now, I'll start off by saying that I am not vegan or vegetarian, and I do not require a gluten-, dairy-, or egg-free diet, so I was glad to learn that YumUniverse encourages improvisation! Right off the bat, Crosby tells her cookbook readers that it's okay to mess around with these recipes; they're meant to be templates, and the recipes she presents in the book are easily changed or manipulated based on readers' personal preferences. The subtitle of the book, in fact, reads, "Improvise Meals You Love—from What You Have!"
Picking a recipe was definitely the hard part—everything in the book looks overwhelmingly appetizing—but the gorgeous photos throughout definitely helped the process. You can choose from breakfasts, munches, lunches, meals, and sweets, so I chose one of the meals so that it would be enough food to last me a whole week of lunches.
The Sriracha Mac was awesome. Crosby somehow makes squash and cashews really taste like a cheese sauce! It's a much healthier alternative to the calorie- and carb-packed classic mac and cheese that we all grew up on, and I'm here to tell you it tastes like magic.
A few things about my version of the Sriracha Mac: I used regular noodles, not gluten-free, and I substituted butternut squash instead of the delicata because my grocery store didn't have any delicata in stock. Despite that, my Sriracha Mac was seriously spectacular.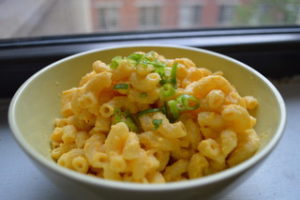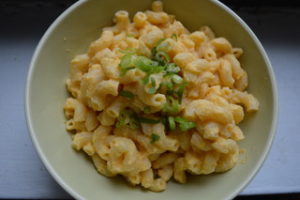 I was actually pretty shocked by how similar the sauce tasted to real cheese! I stuck a spoon in the sauce before it had the pasta in it and, wow! It was incredibly flavorful and had the perfect mac' and cheese texture. It's really amazing what some cashews and squash can do.
I really thought the sliced scallions as a garnish added something to the dish. It was the perfect cold, crunchy counterpart to the warm, gooey mac. The Sriracha was a really interesting touch, as well. I'm a mac' and cheese purist (no ketchup, hot sauce, or hot dogs for me!), but I thought the very mild kick added the perfect amount of interest.
Needless to say, I'm so excited to eat my lunch this week! Want to try out the recipe for yourself? Pick up your copy of YumUniverse: Pantry to Plate online or wherever books are sold, and try out Heather Crosby's Sriracha Mac recipe below!
YumUniverse Pantry to Plate
Improvise Meals You Love—from What You Have!—Plant-Packed, Gluten-Free, Your Way!
Heather Crosby
ISBN: 9781615193400
Paperback | $24.95 USD
Sriracha Mac
Serves 4+
One 12-ounce (340 g) package gluten-free macaroni noodles
2 cups (230 g) peeled, seeded, and diced delicata squash, steamed
3/4 cup (180 ml) water
1/2 cup (70 g) raw, unsalted cashews, soaked for 4 to 6 hours, drained, and rinsed
1 garlic clove
2 teaspoons fresh lemon juice
2 teaspoons unrefined coconut oil
1 teaspoon nutritional yeast
1 teaspoon sea salt, plus more to taste
1 teaspoon Sriracha (or any similar style hot sauce), plus more to taste
1/2 teaspoon peeled, minced fresh ginger, or 1/4 teaspoon ground ginger (optional)
4 scallions, sliced
Toasted sesame oil (optional)
Get a large pot of water boiling and prepare the macaroni noodles according to the package instructions.
While the noodles cook, combine the squash, water, cashews, garlic, lemon juice, coconut oil, nutritional yeast, salt, Sriracha, and ginger in the blender and purée until ultra-smooth. Taste and add more Sriracha if you like. Transfer to a large pot heated to low.
Drain the noodles and dump into the pot of sauce; add the scallions. Stir together, seasoning with more salt if necessary. Drizzle with toasted sesame oil if you like and serve warm.
Finally, be sure to check out this adorable trailer for YumUniverse Pantry to Plate, where you can get a peek at all the delicious meals and recipes from the book!