I have a genuinely insatiable sweet tooth, so when I was tasked with making a recipe from the new No Meat Athlete Cookbook by Matt Frazier, I knew the first thing I'd try would have to be his calorie bomb cookies!
Super tasty and oh-so-easy to make, these cookies are the ultimate snack for athletes! I, myself, would be kidding myself if I claimed to be an athlete—I can barely walk without tripping over my own two feet—but my best friend is training for the NYC Triathlon, and she was pumped about the idea of trying a snack made specifically for someone doing the kind of training she is.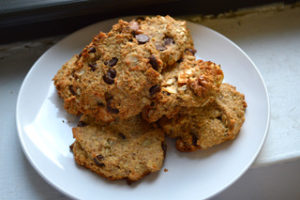 So, on a rainy Saturday afternoon, I invited her over for a baking party and we got to work creating calorie bomb cookies!
I will admit that we probably should have read the directions more carefully—instead of only grinding 2 cups of oats, we ground all 4—but despite that, they still came out really nicely. The texture was cakey but still chewy like a cookie should be, and I loved the addition of coconut flakes and chocolate chips. It really made them have an appetizing texture… and they're really pretty!
My roommate's boyfriend went totally nuts over these, too. I didn't advertise them as healthy, high-calorie, or vegan, and he had no idea that there was no dairy or eggs!
I would absolutely recommend these to any athlete (or any person, in general, if you're not worried about your waistline; they are called calorie bomb cookies, after all) for a treat before or after a workout, or just as a splurge-friendly treat.
Grab a copy of No Meat Athlete Cookbook here, or try out the recipe below for yourself!
Whole Food, Plant-Based Recipes to Fuel Your Workouts—and the Rest of Your Life
Matt Frazier & Stepfanie Romine
ISBN: 9781615192663
Hardcover | $24.95 USD
Calorie Bomb Cookies
Good for: fuel • before (as treat), during, and after (as treat) a workout
Makes: 12 giant cookies (or 24 regular cookies)
Time: 15 minutes to prep, 30 minutes to bake
These cookies fueled the BSM cycling team (cofounded by Stepf's husband, Sam) through a ten-hour road trip and epic adventure ride a few summers back. They're hefty yet easy to eat and digest in the saddle or driver's seat; they're also packed with as much real food and as many calories as possible, hence the name.
4 cups (385 g) old-fashioned rolled oats
1½ cups (225 g) whole wheat flour
1 teaspoon baking powder
½ teaspoon salt
3 ripe bananas
1 cup (200 g) raw sugar or coconut sugar
1/3 cup (80 ml) coconut oil (OF: coconut butter)
¼ cup plus 2 tablespoons (90 ml) water
2 tablespoons chia seeds or ground flaxseeds
2 teaspoons vanilla extract
1 cup (225 g) dark chocolate chips
1 cup (120 g) raw walnut pieces
½ cup (75 g) raw sunflower seeds
½ cup (40 g) unsweetened shredded coconut, optional
Preheat the oven to 350°F (180°C). Line two baking sheets with parchment paper.
Place 2 cups (195 g) of the oats in a food processor or blender and pulse until they are finely ground. Transfer to a large bowl and add the flour, baking powder, salt, and remaining oats.
Combine the bananas, sugar, oil, water, chia seeds, and vanilla in the blender or food processor. Add to the oat mixture and stir with a sturdy wooden spoon until combined. Add the chocolate chips, walnuts, sunflower seeds, and coconut.
With wet hands, form about ½ cup (60 g) dough into balls for giant cookies, about ¼ cup (30 g) dough for regular cookies. (There should be 6 balls on each baking sheet if making giant cookies.) Flatten them to ¾ to 1 inch (2 to 2.5 cm) thick.
Bake for 30 minutes, or until golden brown. Allow to cool completely before removing from the baking sheets. Store in an airtight container for up to 1 week or freeze for up to 3 months. Wrap in parchment paper for on-the-go eating.
Variations: Use coconut extract in place of the vanilla. Swap carob for the chocolate. Dice mini peanut butter cups and add to the mix.
Nutrition info (for the entire recipe; with shredded coconut): Calories 5,893 Total fat 291 g Sodium 1,371 mg Potassium 2,471 mg Total carbohydrates 819 g Dietary fiber 97 g Sugars 359 g Protein 97 g.