St. Patrick's day is just around the corner, which means it's almost time to embrace our inner Irishmen and bust out the green!
This year, we want to remind our readers to exercise a bit of diligence with regards to their celebration of all-things-green. Dress-up is great, but remember: you are what you eat. Everyone likes having an extra excuse to don a plastic leprechaun cap and bring out the shamrocks, but we should also extend that passion for green to the dinner plate, where it counts most.
If you're looking to inject a little green into your life this St. Patrick's Day, mealtime is a great place to start. If you're looking for a little inspiration, we've got you covered: see below for two exceptionally simple, exceptionally delicious, and exceptionally green recipes.
From two of our greenest cookbooks, Greens 24/7 by Jessica Nadel and Très Green, Très Clean, Très Chic by Rebecca Leffler, this Tropical Green Smoothie will pair perfectly with these Avocado Tartines. Together they add up for a lightning-quick, green, vegan, gluten-free, and delicious meal that will hit the spot at any time of the day.
Tropical Green Smoothie
Greens 24/7 by Jessica Nadel
Photo by Jackie Sobon
Wake up to the taste of the tropics with this super easy and very healthful breakfast. If you are new to green smoothies, this is a great starting point as spinach has one of the milder taste profiles of the greens and doesn't overpower the flavor of the fruit.
Makes 2 servings
• 1 banana
• ½ cup (75 g) frozen mango chunks
• 2 cups (60 g) baby spinach
• ½ cup (125 ml) pineapple juice
• ½ cup (125 ml) water
1. Place all the ingredients in a blender and blend until incorporated and smooth. Pour into glasses and serve.
2. Garnish with a couple of chunks of frozen mango if you wish
Avocado Tartines
Très Green, Très Clean, Très Chic by Rebecca Leffler
Photo by Sandra Mahut
Tartine is a fancy French word for, well, toast topped with a spread, otherwise known as an open-faced sandwich. Tartines are great for a quick breakfast or anytime snack, or served with a side salad for an easy lunch. Tartines can be sweet or savory. My favorite tartine is très simple: mashed avocado sprinkled with spices or mixed with fresh herbs or veggies du jour.

Makes 1 Serving
• 2 slices gluten-free bread
• 1 small avocado, pitted and peeled
• A pinch of cayenne pepper
• 1 teaspoon lemon or lime juice
• Salt and pepper to taste
1. Toast the bread.
2. In a bowl, mash the avocado and other ingredients together with a fork and spread onto the toast. Voilà!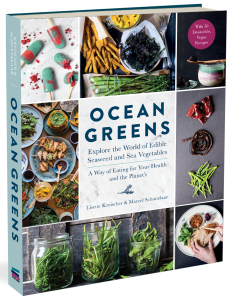 And if you can't get enough green, we're totally with you! But why keep it to just one day when it could be a year-round thing? Just remember to keep an eye out for Ocean Greens, an upcoming cookbook of ours that will zero in on seaweed-based vegan recipes. It is expected to publish in October 2016, dropping in on the front lines of the next big food trend: it's not for nothing that CNBC said that "seaweed is the new kale."