The fall season is full of cookbooks here at The Experiment, and, maybe we're biased, but we think fall is the perfect time for testing out new recipes. Not only is there a whole host of delicious produce in season during the fall, but it's in that sweet spot between finally not too hot to turn on the oven and winter exhaustion.
So, in honor of the arrival of fall, we are pleased to share a preview recipe from each of our upcoming cookbooks.
Growing Tomorrow
by Forrest Pritchard and Molly Peterson
Publishing: October 20
Growing Tomorrow is not only a cookbook, but also a profile of 18 of the heroes of the sustainable food movement across the country. Pritchard and Peterson spent a year traveling the country and meeting farmers committed to eco and sustainable farming. Along the way, the farmers each shared a few of their favorite recipes, featured in the book. Here is one from Potomac Vegetables Farm in Washington, DC.
Pear, Cucumber, and Sesame Slaw
Serves 2 to 4
• 1 pear, peeled, cored, and julienned
• 1 cucumber, peeled and julienned
• 3 carrots, peeled and julienned
• 1 celery stalk, diced
• 6 scallions, diced
• 1 tablespoon sesame oil
• 1 tablespoon sugar
• 1½ teaspoons apple cider vinegar
• 1½ teaspoons fresh lemon juice
• 1½ teaspoons sea salt
• 1 tablespoon sesame seeds, toasted, or black sesame seeds
1. Place all the ingredients except the sesame seeds in a large bowl and stir until thoroughly mixed.
2. Sprinkle with the sesame seeds for garnish before serving.
###
The Taco Cleanse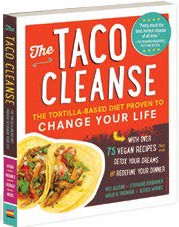 by Wes Allison and Stephanie Bogdanich and Molly R. Frisinger and Jessica Morris
Publishing: December 1
The Taco Cleanse was born in the 2013 Vegan Month of Food. It is a hilarious send-up of all cleanse fads proven to 100% reverse or prevent taco deficiency. The 75 tasty vegan recipes reward your body with everything it naturally craves: tacos al Pastor, refried beans, guacamole, and margaritas. Here, we're sharing the recipe for the Mighty Migas taco, because, breakfast is, after all, the most important meal of the day.
Mighty Migas
What started out as a way to use up leftover corn tortillas has become a staple of brunch tables. Migas tacos are transformational because they contain two superfoods, corn and flour tortillas. If you've been afflicted with collywobbles or gripe, try eating at least one migas taco a week. Because your homemade corn tortillas are probably too delicious to leave any leftovers, tortilla chips stand in here.
Fills 8 tacos


• 1 tablespoon cooking oil
• ½ cup (70 g) chopped onion
• 1 jalapeño, sliced in rings
• 14 to 16 ounces (397 to 454 g) firm tofu, drained
• 1 teaspoon salt
• ½ teaspoon ground cumin
• ¹/8 teaspoon pepper
• 1 cup (37 g) crumbled tortilla chips
• 1 cup (170 g) seeded, chopped tomato
• ¼ cup (15 g) nutritional yeast
• ¼ cup (60 ml) unsweetened plant milk or water
• ½ cup (48 g) vegan cheddar, optional
• 8 flour tortillas
1. Heat the oil in a large sauté pan over medium-high heat. Sauté the onion and jalapeño for 2 minutes or until onion starts to soften. Crumble the tofu into the pan, sprinkle with the salt, cumin, and pepper, and cook until the tofu is dry and browned on at least one side, about 10 minutes. Try not to stir too often as this prevents browning. Add the rest of ingredients, including the cheese if you're using it, and stir thoroughly. Cook until the tomato softens and the liquid is completely absorbed. Serve in flour tortillas.
###
Juice + Nourish
by Rosemary Ferguson
Publishing: December 1
In an entirely different sort of book, nutritionist Rosemary Ferguson presents 100 refreshing juice and smoothie recipes to cleanse, heal, and revitalize through the power of plants. Arranged by need, the recipes help with: detoxing, de-stressing, weight loss, immunity, sleep, and so much more! The following Turmeric Dream recipe is especially suited to helping wake you up in the morning and mop up any alcohol residue (might come in handy for those holiday parties…?).
Turmeric Dream
This juice will definitely wake you up. The lemon gets the liver going, helping it to produce digestive juices that boost the detox pathways. Turmeric is great for gut health, but it is the curcumin found in turmeric that is the key to this recipe—helping to mop up the acetaldehyde residues left by the alcohol.
• 1 apple
• 2 carrots
• 1 stalk of celery
• 1 pear
• juice of 1 lemon
• 1–2 tsps ground turmeric (start with ½ tsp and build the amount up)
Pass all the ingredients, except the lemon juice and turmeric, through the juicer. Stir in the lemon juice and turmeric at the end.
###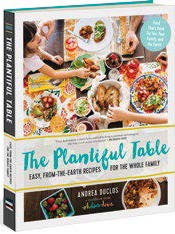 The Plantiful Table
by Andrea Duclos
Publishing: December 15
The last cookbook of the season is all about family. For author Andrea Duclos, a natural, plant-based diet is ideal, but her omnivore husband and young daughter mean that meals must be universally-pleasing to every member of the family no matter their diet. The results are the simple-to-make meals in The Plantiful Table: recipes that prove eating vegan doesn't mean taking options off the table. Here is her recipe for a traditional Vietnamese sandwich—simple and delicious.
Báhn Mì Chay
If you've never had báhn mì, a type of Vietnamese sandwich, now is a great time to start. There's something special about Vietnamese places that offer this vegetarian version; unfortunately, they can be hard to find. Luckily, it's not difficult to make one at home.
Makes 1 to 2 sandwiches
• French baguette
• Vegan mayo or other mayo alternative to taste
• A few slices of fried tofu, ¼- to ½-inch (6 to 12 mm) thick
• Very thinly sliced or mandoline-cut cucumber to taste (probably 4 to 6 slices or so)
• Pickled Daikon and julienned carrots (use the daikon pickling sauce to pickle the carrots) to taste
• A squeeze of lime
• Sriracha to taste (optional)
1. Toast the baguette, then slice it open.
2. Spread on some mayo.
3. Pile on the other toppings and add a squeeze of lime. Sriracha is a great touch, too!
4. Enjoy your bánh mì chay
###
We think these recipes speak for themselves. Yum! Fall here we come!