Gluten-free eating is more than just the latest food craze. For many, the diet is a necessity for health reasons and for others, living gluten-free simply helps them to feel and live better.
For the Bronskis, parents of three and co-authors of four popular cookbooks, the gluten-free lifestyle began with Peter Bronski's diagnosis with celiac disease. Since then, they have become fully committed to keeping their home gluten-free, and helping others do the same. Peter's first book The Gluten-Free Edge explores the health benefits that accompany a gluten-free diet and argues for a voluntary turn towards health but not away from delicious and nourishing food.
And if you thought being gluten-free meant mourning the end of pizza and dessert, the Bronskis are here to ease your mind. All three of their cookbooks utilize their signature gluten-free flour blend, and readers rave about the unparalleled texture and taste. In Artisanal Gluten-Free Cooking, the Bronskis offer recipes for beautiful meals that even your gluten-eating party guests will request again and again. And of course, no gluten-free baker's cookbook library would be complete without Artisanal Gluten-Free Cupcakes, a mouthwatering collection of delicious recipes from classics for the kids, to after-hours treats (like Mojito cupcakes…yum!).
However, the Bronskis also know that every day can't be a dinner party occasion, and in this newest book, Gluten-Free Family Favorites, they provide easy everyday recipes that have been thoroughly kid-tested and approved—both in the kitchen and on the table!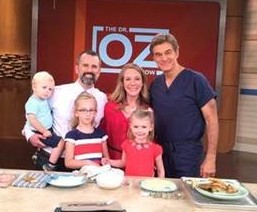 Families of all kinds are crazy about the Bronskis' easy to use and informative cookbooks. But don't just take our word for it—on September 22 the entire Bronski family visits Dr. Oz to discuss their books and how they maintain a gluten-free lifestyle with three young kids. See some sample recipes here.
Whether you're new to a gluten-free lifestyle or have followed one for years, the Bronskis and their delectable cookbooks are sure to add a little flavor to a diet that is too often associated with bland and restrictive eating. For even more of their tips, tricks (and charm!) check out their tasty blog No Gluten, No Problem, pick up a copy of their cookbooks, and get cookin'!

###
Kelli Bronski is a graduate of Cornell University's prestigious School of Hotel Administration, a ten-plus year veteran of the hospitality and restaurant business, and a lifelong baker and cook.
Peter Bronski is the coauthor of Artisanal Gluten-Free Cooking and Artisanal Gluten-Free Cupcakes and founder of the blog No Gluten, No Problem. Despite his celiac disease, he enjoys adventure sports, is a former Xterra off-road triathlon U.S. national championship competitor, and is currently an ultramarathoner.