Today, the crew at The Experiment went vegan! To celebrate the upcoming December 2 release of Kristy Turner's BUT I COULD NEVER GO VEGAN!, we baked, we ate chocolate, we got our protein, and we proved that vegan potlucks are more than possible.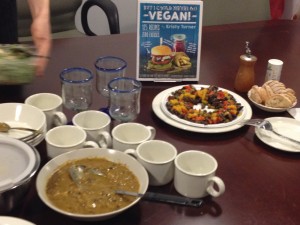 With a group ranging in culinary skills from food blogger to "my oven is where I keep my shoes," the challenge was exciting for most and nerve-wracking for some. That said, the hardest part of going vegan was perhaps the subway trip Molly had to take with slow cooker in hand (no spillage, for the record).
Not to toot our horns here (but certainly to commend Kristy), all of the dishes were delicious, healthy, and certainly nobody walked away hungry. The Edamame Spinach Hummus was the perfect start to the meal, and according to its maker, "very easy to prepare." We also enjoyed a variety of hearty salads including the Roasted Broccoli & Apple Salad with Lemon Tahini dressing—a perfect mixture of sweet and savory—and the Broccoli & Quinoa Tabbouleh salad with Tahini-Herb Dressing was described as "exceptionally refreshing, with bright and bold flavors."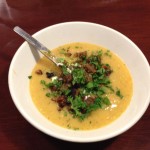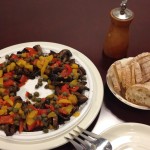 The menu also featured some of the heartier dishes from the cookbook. The sunflower sausage from the Potato and Sauerkraut Soup with Sausage Crumbles was more than an adequate replacement for "real" sausage—replicating both the texture and the flavor. Of the soup it was noted, "I loved how the flavors and textures of the toppings and soup came together in the bowl." The Portobello Carpaccio (turns out, you can "carpaccio" a wide variety of fruits and veggies) was "simple to prepare" and one of the favorites from the meal. We also enjoyed the Pretzel Dumplings with Mushroom-Sauerkraut Gravy—demonstrating that vegan food can be perfectly robust and flavorful.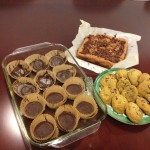 For dessert, we proved that vegan baking is possible with Pumpkin Chocolate Chip Cookies and Salted Caramel Peanut Butter Bars, and rest assured, neither the butter nor the eggs were missed! Finally, we got our chocolate fix in with Chocolate Peanut Butter Cups (which one taster noted were "streets ahead" of the shall-not-be-named leading peanut butter cups).
If you still think you can't make the switch, BUT I COULD NEVER GO VEGAN! has 116 more recipes that we couldn't carry on the train this morning…