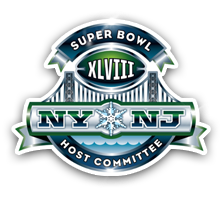 It's almost time for that most American of all American pastimes—the Super Bowl halftime show!
One in three Americans will tune in on February 2 to watch the Seattle Seahawks crush the Denver Broncos (wishful thinking?), and to go along with all that hootin' and hollering? Junk food! But what do vegans do when invited to a Super Bowl party? You can't show up empty-handed, but there has to be more than just Buffalo wings and cheesy nachos. Never Too Late to Go Vegan, coming out next month, has some ideas for classic junk food fare done meat and dairy free.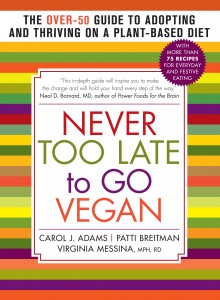 Check out the recipes below for vegan twists on classic artichoke dip and nachos—chances are your carnivorous friends won't even notice these delicious dips are vegan!
Never Too Late to Go Vegan by Carol J. Adams, Patti Breitman, and Virginia Messina, is the first book of its kind to explore the benefits of switching to a plant-based diet later in life, and give you all the tools to make it possible. It features 75 recipes for everything from vegan cheese and quinoa salads to seitan roast and cinnamon rolls, favorite cooking resources, and tips on eating out and navigating social occasions. This handy guide reveals how a vegan diet is not only good for animals and the planet, but also the best response to the complex health issues that can come with aging.
Enjoy your Super Bowl snacks!
Hot Artichoke Dip
This buffet favorite is traditionally packed with dairy products but is every bit as good with some easy vegan tweaks.
Serves 12 as an appetizer
One 14-ounce can artichoke hearts, drained and chopped
2 cups vegan mayonnaise (see page 000)
One 8-ounce package vegan cream cheese, softened
1 cup shredded vegan mozzarella cheese, such as Daiya brand
1/2 cup grated vegan Parmesan, such as Go Veggie! brand, or try our recipe (page 000)
Dash of vegan Worcestershire sauce
Salt and freshly ground black pepper
Preheat the oven to 350°F.
Combine the artichoke hearts, mayo, cream cheese, mozzarella, Parmesan, salt, pepper, and Worcestershire sauce in a large bowl. Mix together and transfer to an 8-inch baking dish, a pie plate, or a shallow gratin dish. Bake for 25 to 30 minutes, until the top is golden brown and the dip is bubbling.
Serve hot with crackers or crostini.
Variations: There are so many variations on the traditional version of this recipe that you should feel free to adjust the ingredients to suit your taste. You might decide that using 2 cups of vegan mayo plus cream cheese is just too rich. Cut back on the mayo and substitute silken tofu for some (or all) of it, and replace some of the cheese with nutritional yeast for a dip that is a little bit lower in calories. The recipe may need a little nudging if you do this—perhaps the addition of 1 tablespoon of Dijon mustard and 1 tablespoon of fresh lemon juice.
Nacho Sauce
Serves 4 to 8
1/2 cup nutritional yeast
1/2 cup all-purpose flour
1 teaspoon salt
1/2 teaspoon garlic powder
4 tablespoons (1/2 stick) vegan margarine
One 10-ounce can Ro*Tel brand tomatoes, or 1 small jar mild picante sauce
Mix the dry ingredients together in a saucepan, then add 2 cups of water and cook for 1 minute over medium heat, while whisking until the mixture thickens and bubbles. Remove from the heat and add the margarine.
Coarsely chop the tomatoes and add them to the sauce. Serve the sauce warm, with vegan chips.